How to use Twitter chats for your business
We love Twitter. It's fast. It's blunt. Best of all? It works. Most people know the tips and tricks when it comes to tweeting and retweeting, but not too many people know about Twitter chats and how it can significantly help out your business.
But first things first: What exactly is a Twitter chat?
A Twitter chat is essentially a live streaming chat.
It takes place at a certain time and covers a specific topic. Anybody can join in and tweet their comments and questions as long as they use the specific hashtag you created for your chat.
Getting started with Twitter chats
Here's what you need to do to get started with Twitter chats for your business:
Pick a topic
Do your research and choose a topic that will interest your followers. If you're struggling to come up with a good topic, check your general email. Is there a specific question or problem that most people seem to be asking?
Basing your T-chat on a recurring question will kill two birds with one stone. Not only do your followers get the answer to their question, you also save time and effort by not having to individually respond with the same answer to every single email you've received.
While addressing a narrow topic is perfectly fine, know that your chat probably won't last too long. If you want to hold a chat for an hour or more, make sure to pick a topic that has plenty of avenues you and your chatty Kathys can take part in.
Still out of ideas? Take a look at some of these:
Clarify a change. You've just upgraded your company website. It's bigger and better, but people are having a hard time navigating through it. Hold a Twitter chat to explain how your new website works and what you can find under each nook and cranny.
Describe your products. Your restaurant is holding a taste testing party. Host a Twitter chat so your followers can ask if your products are gluten-free, contain nuts, and if you have any vegetarian options before they decide to attend.
Cover a "101" topic. The broader the topic, the more ways you can steer the conversation. Remember though, when tackling a general topic, have specific points you want people to focus on so you don't start with Instagram Strategy 101 and end up with someone crying about how they just posted a picture of their deceased cat.
Create your hashtag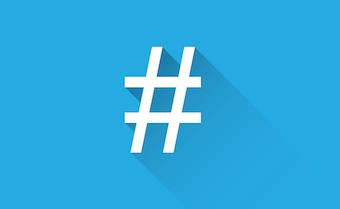 You know how in movies, all those semi-sketchy clubs require a password to get in? Your specially concocted hashtag will act as the secret password for your Twitter chat. When creating your hashtag, keep these things in mind:
Does it relate to my topic? Sure, #oogabooga234 is probably vacant, but any passersby won't have the slightest clue as to what you're talking about. Whereas #SEOForNoobs may grab the attention of an on-looking user fighting to understand SEO.
Can people remember it? Try to keep your hashtag relatively short and sweet. Also, make sure people don't have to look at the dictionary before they write it.
Is my hashtag unused? This is the hard part. Your hashtag needs to be unique and unused. You don't want someone to try and join in on your chat and end up at an entirely different T-chat, would you? Search for your hashtag on Twitter and Hashtagify.me to be 100-percent sure your hashtag is indeed your hashtag.
Have backup questions
At the beginning, a Twitter chat is like a 7th grade dance — the boys stand on one side and the girls stand on the other. Only in this scenario, it's you on one side of the screen and the rest of your followers blankly staring at their computer eating Hot Cheetos.
Instead of waiting for the sacrificial "conversation lamb" to step up to the plate, have a set of questions prepared. Start the discussion with a question and see how people respond. By having questions prepared, you can stimulate engagement and prevent all those awkward turtle moments from occurring throughout your chat.
Promote!
Promote your Twitter chat! Even if you're Beyonce, nobody is going to show up to your birthday party if you didn't tell anyone about it. The same thing goes for your Twitter chat; no one is going to attend your Twitter party if they have no idea it even exists. In order to prevent this from happening, promote your Twitter chat on all of your channels.
Promote your Twitter chat on all of your channels.
Let people know the date and time, topic, hashtag, and if they need to prepare anything beforehand. Make sure to emphasize that this is the perfect opportunity to ask all those questions they've had about how your new membership program is going to work or what your new seasonal menu of authentic tacos will include. This time is for them — make sure they know it!
Image by: juergen.mangelsdorf via Compfight cc