Using Facebook's local awareness ads to target Small Business Saturday customers
This post was originally published on Nov. 17, 2016, and was updated on Nov. 2, 2018. 
Small Business Saturday® is just around the corner and if you aren't using Facebook's local awareness ads — now called Reach ads — to bring in customers, it's time to start.
Facebook ads that target local customers have the potential to bring in foot traffic that your business might otherwise miss out on.
These local awareness ads target customers who are in close proximity to your business. You can use them to encourage people to shop local by highlighting special offers and promotions you have planned for Small Business Saturday® and the holiday shopping rush that follows. And, when the average U.S. adult spends 20 minutes per day on the platform, it's a no-brainer.
Related: What's the difference between Amazon advertising and paid ads on Google and Facebook?

Since first introducing ads into the network, Facebook has continually evolved its ad platform to allow businesses to more effectively target consumers. In October 2014, Facebook introduced local awareness ads, which allow businesses to target nearby consumers by placing ads in users' News Feeds. The newest iteration of Facebook's local awareness ads, Reach ads, make it even easier to:
Encourage people in close proximity to shop in your store or stores (if you have multiple locations).
Tell people about special sales and promotions and give them an incentive to shop local.
Use call-to-action buttons (four options available) that make it easy for people to get directions to your local business, call you, send you a private message, or learn more about your business on your blog or website.
Related: Google AdWords vs. Facebook Ads: Which is right for your business?
Tips for using local awareness ads to bolster local holiday shopping traffic
Use these tips to bring more customers through your doors during the holiday shopping season:
1. Attract the highly desired walk-in customer
As mentioned above, foot traffic is key on Small Business Saturday. With any brick-and-mortar business, simply targeting your Facebook ads to people in your city or state, like you might do for a basic Facebook ad, would be ineffective because the net is too wide.
With this function, you're able to send a quick message to people who are in and around your area to alert them your business is just a few minutes away.
If you add contextual cues to your messaging, you can make an emotional connection with people to drive slightly higher interaction. For example, if you own a café, you might try these contextual cues to drive traffic:
If it's a cold day, ask people to stop by your store for coffee or other refreshment.
If you live in an area that is mild in the winter, invite people to stop in for iced coffee or a baked good to refuel while shopping.
A few hours before lunchtime, send a targeted message to people promoting your lunch special and asking them to stop by to eat.
Related: Advanced restaurant marketing using Facebook advertising
2. Find a landmark where your target audience will be near on Small Business Saturday
If your business is near a mall, set your targeting to include the mall on Black Friday. Easy. Or, if you're near a stadium, airport or university, target your ads to reach specific interest groups.
If there is a sporting or music event on Small Business Saturday, and your business is nearby, a stadium provides a great opportunity to focus on a specific short engagement event with a defined audience. With stadiums hosting fans from two specific cities or schools, or fans of a specific sports team or music genre that is heavy in one demographic, a business can pinpoint its exact target customer while they're at the event.
Related: Why a target audience matters (and how to find yours)
3. Take advantage of geographic-specific events
Leading up to the big shopping day, you can use geographic-specific events — such as the weather or traditional local holiday celebrations — to target consumers. You might know about some events in advance, like if your city is kicking off its annual Christmas festival. You can't anticipate others, like freak snowstorms in the south.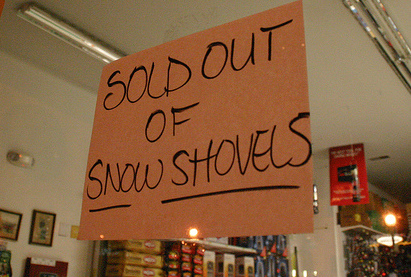 The week before Small Business Saturday, a clothing store might promote its deep discounts for finding that perfect gift. Either way, these events will spike demand for particular items and are a great opportunity to boost sales.
Related: 5 steps to prep your marketing for the holidays
Be relevant
The entire purpose of local awareness ads is to be as relevant as possible to nearby users. It is critical that the Facebook Reach ad be compelling and actionable, ideally including information such as special offers, events or upcoming sales. The No. 1 Facebook marketing tactic to influence a user to make an in-store purchase is an offer that is redeemable in-store. Happy targeting!
Image by: D1v1d via Visualhunt.com / CC BY