Want to sell books online? Read this first.
Three years ago, I decided I was tired of chasing a traditional publishing contract for my fantasy novels. I set about trying to sell books online. Seventeen novels and tens of thousands of copies sold later, I definitely feel I made the right choice.
With increasing numbers of people choosing to read either on their smartphones, tablets or a dedicated device like a Kindle, digital book sales have skyrocketed. This digital reading revolution is being led not by publishing houses, but by indie authors like me, who sell books online directly to readers.
You don't have to go far to read about indie success stories.
Often, these books don't have ISBN numbers, which means they're an invisible market when it comes to tracking sales. That doesn't mean there aren't readers out there — in fact, it's quite the opposite. Readers are voraciously devouring these self-published titles, and authors are getting rich in the process.
Mark Dawson earns mid-six figures each year from Amazon for his crime thrillers. Andy Weir self-published his science fiction novel, The Martian, which went on to sell millions of copies and became a blockbuster movie. Adam Croft is doing very well with his thrillers, and here are ten more self-published authors who are seeing success with their books.
There's never been a better time to self-publish and sell books online. In this article, we look at all the different options you have for getting your books on the best book selling websites.
Best book selling websites: Your options explained
The big 5 retail websites.

Subscription services.

Sell books online through crowdfunding.

Sell via your own website.
You have several options to think about when selling your books. In fact, there are four key ways you can make money from your books. We'll address each of these in turn.
1. The big 5 retail websites
Although this varies depending on the genre and audience of a book, the majority of online buyers will purchase books through retail websites. Often, these sites are linked to the device readers are using — iPhone users buy from the Apple iBooks store, and Kindle readers shop nearly exclusively on Amazon.
There are several websites online that make books available to consumers in print, audio and eBook formats. There are many other small and specialist websites you can also target, but in the first instance, you want to focus on these five.
It's free to upload your eBooks to all five websites. If you use POD platforms for print and audio, you can also list these and have them linked to your eBook.
Amazon
Amazon is the king of all online retailers. You'll probably find the majority of your sales come from this retailer. To sell books online through Amazon, you need to sign up with Kindle Direct Publishing, Amazon's indie-publishing platform. You'll receive 35- to 70-percent on your book sales, depending on their price range.
Barnes & Noble Nook
Only U.S. residents or people with a U.S. bank account can upload directly to Nook, through their platform NookPress. The rest of us have to use a distributor (more on those below). Nook pays 40- to 65-percent royalties, depending on their price range.
Apple iBooks
You'll need to own an Apple device if you want to upload directly using iTunes Producer (uploading books) and iTunes Connect (managing your books). Apple pays 70-percent royalties on your book's list price.
Kobo
Use Kobo's Writing Life platform to get your books on Kobo. Kobo has relationships with several international brick-and-mortar retailers, meaning that many of your sales here will be in international markets. They pay between 40- to 70-percent royalties, depending on book price.
Google Play
This small store doesn't have much traction right now, but considering it's owned by the biggest internet company, it's likely to become a major mover in the future. Currently, Google Play is closed to new writers, but you can place your books on there by using certain distributors.
In order to upload your books, you'll need to have a completed manuscript appropriately formatted to the platform (most platforms will include a formatting guide, and you can find several thorough manuals online. Alternatively, invest in software like Vellum, or hire someone to format for you). You'll also need an eye-catching cover and a blurb describing the book, as well as an author bio and headshot.
A note about distributors
There are several companies ready to help you sell books online by distributing them to retailers for you, in exchange for a percentage of your royalties. Draft2Digital, Smashwords, Pronoun and Streetlib are four of the most popular.
Advantages to using distributors
Getting on to platforms you wouldn't normally be able to reach. (I use Draft2Digital to reach Nook because as a New Zealand author I cannot go direct with them).
Ease of uploading. Instead of uploading on individual platforms, you can create one single book page and it will be uploaded across all platforms. It makes life much easier if you want to update your file.
Platform-specific advantages. Some platforms have other features and benefits that can make them a great choice. Pronoun, for example, offers 70-percent royalties on Amazon for all books, meaning books priced at $0.99 or over $9.99 on Pronoun will earn a higher royalty than $0.99 books on Amazon. I'm debating using Pronoun myself for a higher-cost box set.
Major disadvantages to operating through a distributor
Merchandising. Many platforms prioritize books uploaded directly, and it's harder for authors using distributors to take advantage of promotional opportunities. Kobo, for example, offers an additional tab on their platform where authors can apply for upcoming promotions. This is not available to authors who upload via a distributor.
Lower royalty rate. Most distributors take 10 percent of your royalties for their services. That can be a significant amount of money if you start selling big. You need to decide if the decreased royalty rate is worth the ease of uploading once.
2. Subscription services
Another way authors sell books online and reach new readers is by placing their books into subscription services. In a book subscription, readers pay a monthly fee to read as many books as they like from a library of available titles. It's like Spotify, but for books. Readers love the chance to sample different authors for a low perceived cost.
Voracious readers enjoy being able to devour several books a week without a huge cash outlay.
Authors enrolling their books in subscription services are paid a percentage of the money earned through the subscriptions every time their books are read. Each subscription company has different ways of calculating this payout. Generally, it will be lower than royalty you'd receive if you'd sold that reader a copy of your book.
Many authors steer clear of subscription services for this reason. However, bear in mind that subscription services can reach a wide range of readers — a built-in audience you might not reach on your own. Readers are more likely to take a chance on an unknown author if they get it as part of their subscription, because they don't have to take a "risk" by paying for a book they may not enjoy.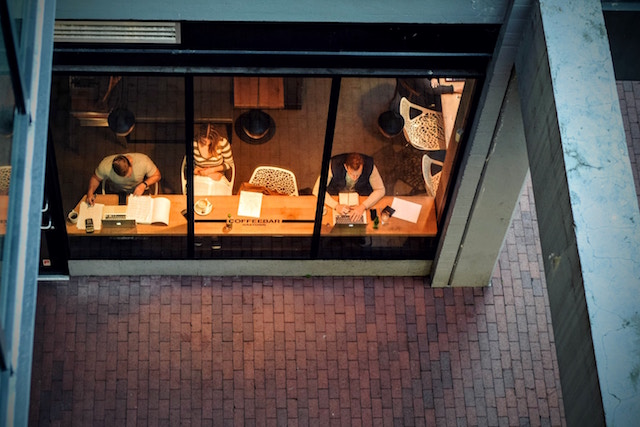 Kindle Unlimited
Kindle Unlimited is Amazon's subscription service, and it's the biggest one in the game. As an author, you enroll your books in Kindle Unlimited for 90 days at a time. During this time, your book may not be published on any other website, including your own. You'd need to unpublish it from platforms like iTunes and Kobo, and take down any buy buttons you've made.
Kindle pays you a certain amount for every "page" of your book your reader reads.
Readers are able to borrow your book and read it. This amount you earn varies every month, as it's calculated based on the total amount of money subscribers have paid for the service, and the total number of pages read that month. Usually, the amount is between a fraction of a cent per page read.
Books enrolled in Kindle Unlimited receive preferential treatment in Amazon's algorithms. They're also able to take advantage of some promotional offers, such as being able to set a book free for five days or drop the price of a book for five days (called a "Countdown Deal") while still receiving the 70-percent royalty.
Many authors make the majority of their income through Kindle Unlimited borrows, but it's important to consider all the advantages and disadvantages when trying the program.
Scribd, Kobo Plus and Playster
There are other, smaller platforms that also offer subscription models — Scribd, Kobo Plus and Playster are just three such platforms. Without the clout of Amazon, these platforms won't be able to give you the huge earning potential you'll get from Kindle Unlimited, but it's always good to have your book available on as many retailers as possible.
Most authors use distributors like Draft2Digital and Smashwords to reach these smaller platforms, rather than uploading directly.
But remember, if you're going to place your book in Kindle Unlimited, you'll need to pull your books down from these platforms.
3. Sell books online through crowdfunding
Crowdfunding is a relatively new way of gaining an audience for your work, but for some authors, it's been really successful. The creators of Good Night Stories for Rebel Girls raised over a million dollars and went on to sell more than 500,000 copies. The Wollstonecroft series of books raised $90,000 on Kickstarter and went on to earn a book deal.
Crowdfunding is most successful when you already have a loyal following.
Authors like Seanan McGuire and Kameron Hurley use Patreon to provide a regular monthly income to help them pursue their writing careers. I'm on Patreon myself, where you can sign up and follow along with my progress as I write eight-plus novels a year.
Pitfalls of crowdfunding
You may spend more time on fulfillment than on the creative process. Thinking up cool rewards is one thing, but make sure you make them easy and cost-effective to fulfill. There's no point promising bonus short stories to $10 backers every month if you don't have the time to create those stories. Likewise, make sure you're still earning money from rewards — don't price physical rewards so low that you don't have a margin on top of them.
You really need to have an audience already. The most successful crowdfunding campaigns start with a ton of support from the author's own network. Patreon, in particular, works best when an author already has a decent audience. Crowdfunding is a great way to raise money from your community, but not the best way to actually create that community.
4. Sell via your own website
One of the best book selling websites is actually your own. You can sell books online directly through your website and keep 100-percent of the profits (after processing fees). This can be a great way to reach your audience directly and ensure you aren't reliant on other retailers.
You keep 100-percent of the profits when you sell from your own website.
First, you'll need a domain name. I recommend choosing your author name. If it's already taken, then try adding "books" or "author" to the end. If you're having trouble finding the .com you want, try searching the same name with .club after it. This new domain name works just like .com, but hasn't been around as long so there are still lots of names available. GoDaddy has a great post with more tips on choosing your domain name.
Once you've secured your domain name, you'll need to build out a website that has the ability to function as a bookstore. You'll need some specific things in order to make this happen:
An SSL certificate. This is a vital security measure so that when your readers enter their credit card details, these remain private and secure.
Payment processing. You need a way to actually collect payment info and transfer that money to your bank account. We call this a "payment gateway" or "shopping cart system." Popular options include PayPal and Payoneer.
Download and shipping functionality. Once a person has purchased your book, you need a way to get their product to them.
Launching your own digital bookshop
Confused yet? Don't worry, you don't have to become Amazon overnight — there are plenty of ways for you to create an eCommerce website to sell books online. You can use WordPress plugins like WooCommerce to create a store on a WordPress site, or — and I reckon this is by far the easiest — try GoDaddy's new GoCentral Online Store.
The GoDaddy store includes all the features you need to create one of the best book selling websites — including inventory management, payment processing and streamlined checkout designed for smartphones. And it only takes five steps.
1. Start your free 30-day trial
Start your free trial and tell GoCentral what your site's about — you don't even need a credit card. Then choose a theme you like.
2. Add a great photo at the top
Click Header in the right sidebar and scroll to Cover Photo. Upload a photo of you at work or choose an interesting image from the GoCentral library. To adjust how your business name and the photo look together, scroll through the themes (click Theme at the top in the middle).
3. Fill your shop
Add books and short stories one by one, filling in name, price, description, SKU and up to 10 photos. When you're done adding products, click the Products tab and choose All Products.
4. Complete the informational pages
In addition to a home page, GoDaddy's new Online Store comes with the following sections built in and ready to be customized with your own words and photos:
About Me. This is where you tell your story.
Subscribe. Invite shoppers to sign up for coupons or a newsletter.
Contact Us. Make yourself available to customers with suggestions or complaints.
Footer. Include "Copyright © 20xx Your Business Name"
Fill these out completely. These will be viewed not just by customers but by search engines (remember, search engines looooooove words, as long as they're valuable to your readers. More is more).
5. Preview and publish.
Take your time previewing your website, making any changes you want to make, then previewing again. When everything looks spot on, publish. Congratulations! Your site is now visible to book lovers around the world.
Now attract a crowd
Once you've created your store, you can promote it using content, ads and social media, in order to attract readers.
This can be easier for non-fiction writers: You contribute blog posts to well-known websites, write your own blog and build a reputation for being an expert. When people land on your website looking for answers to their questions, you can direct them to your online bookshop. It's the "soft" way to sell books online.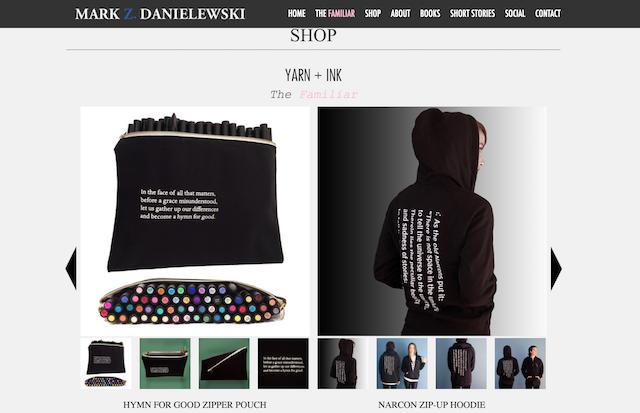 Fiction writers can also use content, ads and social media to attract readers. You may even like to sell other products — such as t-shirts featuring your cover art, book quotes, audiobooks and whatever else your imagination conjures up. See Mark Z. Danielewski's website for a great example of how a fiction-writer does this.
6 tips to sell books online successfully
Ask any six successful self-publishing authors for their secrets and you're likely to get six different answers. Here's what worked for me.
Great cover
Whoever said "don't judge a book by its cover" is very, very wrong. We're drawn to books with great covers that suggest the type of story we want to read or offer to answer our questions. When selling online, think about how your cover looks in small "thumbnail" format — make sure the fonts are easy to read and the colors stand out.
Intriguing blurb
After the cover, the short description or "blurb" is the next biggest selling tool, so tweak it a hundred times until it shines. The key is to refrain from giving away the whole plot in the blurb but to give readers a taste of the initial conflict and how it could escalate.
Fascinating title
Choose a title that gives your reader an idea of what to expect. Check out other titles in your niche and follow the trends.
Brand your books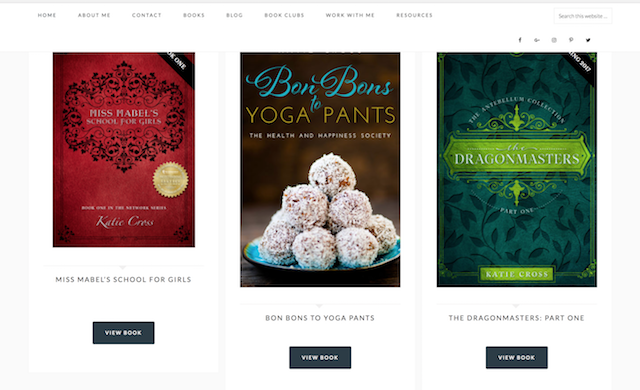 To successfully sell books online, make sure you have a cohesive author brand across your books, your website and all your design and content. You want readers to glance at a book cover and instantly be able to tell it's one of yours. Katie Cross is one example of a writer with excellent branding.
Team up with other writers
Make friends with other writers in your genre to run promotions, cross-promote in your newsletters and reach more readers. You may even consider placing fellow author's books in your store to earn affiliate income.
Use your mailing list
Offer books, short stories or bonus chapters for free with newsletter signup. Encourage readers and those visiting your store to sign up for these freebies. When you release new books or have a sale, your mailing list is a vital tool to help push those numbers.
Slow and steady wins the race
Learning how to sell books online is definitely hard work. With so many options, you can be forgiven for feeling a little overwhelmed, but if you've taken the time to write a killer book, you want to give it the best chance of success. I hope I've managed to provide some clarity on your options and shown you there are many different paths to success.
All the best for your writing adventures!
Image by: Jiří Wagner on Unsplash