Website monitoring tips for WordPress
Whether you are doing website monitoring yourself or equipping someone else with the right tools, keeping vigilant is key to the successful management of a website. How to do this? Incorporate uptime, performance and security checks upfront and not as an afterthought. It can seem overwhelming to track everything for every site, and all of the time, but with a few simple tools, you can stay on top of things. This ultimately means less stress and worry for your clients.
Use website monitoring to get alerts for site downtime
As you know, if your clients are selling anything on their sites, whether it's services or products, optimal uptime numbers are critical. When their site is down, even if just for a few minutes, it can damage their brand's reputation and result in lower search engine rankings.
To get a good grasp of your uptime stats, sometimes you will need a plugin with a fee-based service that provides reliable reports. Pingdom is a popular service for WordPress and non-WordPress sites alike. It has been around for a long time and has several different pricing plans. They also provide a WordPress monitoring plugin for easy installation.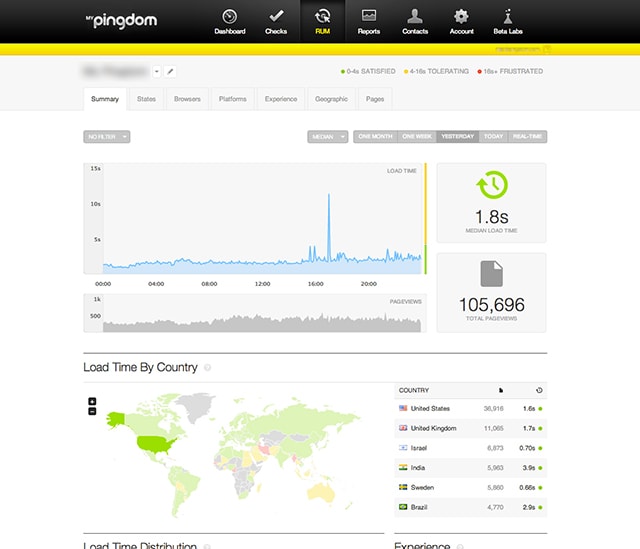 Editor's note: Uptime monitoring is included with GoDaddy Pro, a free program for web professionals. Learn more about GoDaddy Pro.
If you are managing a WordPress site and you are using Jetpack, you can access its monitoring system. Jetpack checks your site in 5-minute intervals. Do note that if you are on shared hosting or have a lot of resources on the site, Jetpack may trigger unnecessary warnings because of longer load times.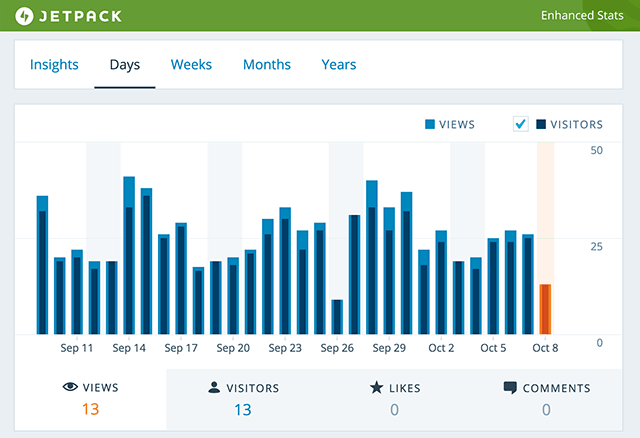 There are other free plugins that come with uptime monitoring, but you may want to test them first. Other plugins that run on paid services like ManageWP Worker can provide accurate reports as well.
Streamline your WordPress updates
If you work frequently with WordPress, you know that frequent maintenance updates are a constant across the core WordPress platform, your theme and your plugins. To keep your site healthy and secure, it's important to keep up with them. For many, this means constantly popping into a site, and, if you manage several sites, logging into them separately. Fortunately, some hosting companies are now doing auto-updates for WordPress.
Depending on how many client sites you are monitoring and how they were developed, you may choose to avoid auto-updates and do them yourself. The ideal option is to find a way to oversee all your plugins all at once. Jetpack lets you manage connected sites in one dashboard. You can easily deactivate or activate plugins there, but unfortunately, you can only update free plugins that are accessed via WordPress.org. A step up from that is a paid service.
There are tons of others out there, small and big, that provide maintenance and updates for sites, such as WP Site Care, or give you a single dashboard to do it all like ManageWP. Of course, they have a monthly fee but the time you save may well be worth it.
Find broken links and 404 errors
Nothing is more frustrating to a site visitor than a broken link. If you have tons of content and like to change things up frequently, it increases the chances that broken links—and the dreaded 404 page — will rear their ugly heads.
For links that are broken within your site, consider using a plugin like Broken Link Checker to occasionally run a check on broken links and either replace or remove them.
Editor's note: Broken Link Checker is not supported by some managed WordPress hosts, including GoDaddy. You can use a desktop app alternative like Xenu Link Sleuth or Screaming Frog SEO Spider instead.
Broken links from outside sites are tougher to control because you never know if someone has an incoming link to a post, service or product that you have removed. In that case, you will want to use the Google Search Console. This free tool is a lifesaver because it allows you to easily create redirects.
Secure your WordPress installations
Security is a critical need for any WordPress site. It's a challenge keeping up with the hackers. And there is nothing worse than discovering out of the blue that your site was blacklisted on Google or that an ominous warning is popping up whenever someone accesses your site.
You need to decide whether you want to monitor each of your client sites or use a tool or an outside source to do it. There are some very good security plugins with built-in alerts that show you what is happening with your site. It's worth considering if you have the time to set up the site and perform website monitoring it this way.
A word of caution: If you do offer your clients a plugin like this, you will be handing over the entire site to them and even if you educate them on the plugin, they can get freaked out about all the attempted breaches and hacks, even though they were averted.
In some cases, it may be better to see if your hosting provides enough security or perhaps an extended security package. Another option is to leave it entirely in the hands of pros like Sucuri. It'll take the worry out of it for both you and your clients.
View site visitors' behavior
Monitoring the analytics of your clients' sites often gets bumped down on the list of priorities because it can be a confusing—and overwhelming—undertaking. Understanding analytics can make a huge difference in the success of your sites. There are numerous choices out there, but Google Analytics is a reliable, free way to keep up on what is happening with your site. It gives you a ton of information on who is visiting your site and what they are doing while they are there.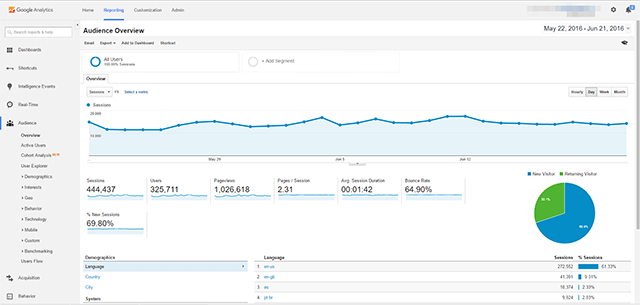 There are several other tools that can help you monitor what is happening on the user end. For example, SumoMe has a couple of great features. You can place heat maps on any page of your site and see where people are clicking through the most. This allows you to test landing pages and, more specifically, allows you to test your homepage. It also has something called Content Analytics that shows you where a reader stops reading on a specific page. Of course, there are other options out there; these are just two.
Use these tools to make informed decisions
The more ways you have of performing website monitoring on your clients' sites, the better decisions you—and they—can make to improve functionality, website health and usability. The tools recommended here are ones that I have used personally, but there are a lot more out there that you may want to research and explore. A healthy site is a happy site.
Image by: NASA Goddard Photo and Video via Compfight cc