Strong website monitoring tools to test website security and keep hackers out
Why do you need website monitoring tools? Well, it's probably not news to you, but there have been tons of security breaches lately. From the WannaCry ransomware that went after England's National Health Service in May to the massive hack at HBO, 2017 has been a not-so-banner year for web security.
And it's not just huge corporations at risk. Nearly half of cyber attacks worldwide go after small businesses. Considering that the average cost of a breach is $36,000, it's not just a headache — it's a risk to your business.
That's why it's so important to test your website security, prevent attacks, and monitor its status with the latest website monitoring tools.
4 strong website monitoring tools
In this post, we're going to explore the top website monitoring tools in your arsenal that can help you prevent and detect security breaches. Here are our top four you should consider testing out for your business.
GoDaddy Website Security, powered by Sucuri
Wordfence Security
Vega
McAfee SECURE
Security should be an active practice. You don't want any potential threats to slip through the cracks, and these key website monitoring tools can help.
1. GoDaddy Website Security, powered by Sucuri
GoDaddy Website Security, powered by Sucuri, can help you take your security to the next level.

All plans from GoDaddy come with advanced security monitoring, unlimited malware and hack removal, and Google blocklist monitoring and removal. Which is extremely important, because when Google feels like a site is dangerous to users, it blocks them from visiting. Instead, people will find this image when navigating to your site:
GoDaddy Website Security can get your website back on track if it's been infected with malware and/or if Google has flagged your site as a potential threat to visitors. GoDaddy's guaranteed malware cleanup ensures malware removal no matter how many scans and cleanups it takes — unlike other cleanup tools that only use auto-removal tools. Then the Website Security team submits reindex requests to Google and Bing on behalf of the customer, so the site will be removed from blocklists.
2. Wordfence Security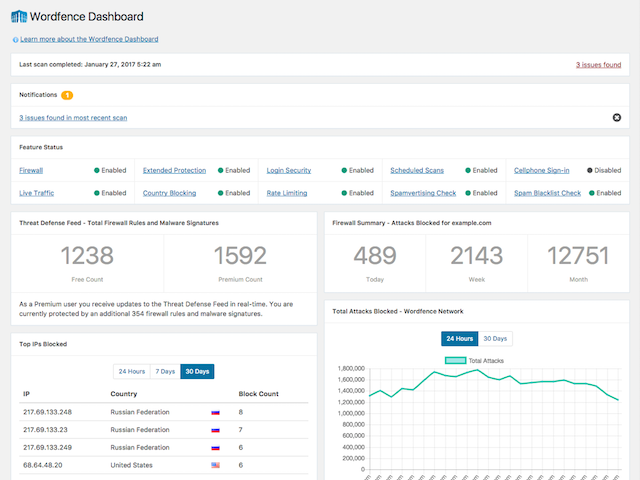 With millions of installs, Wordfence is one the most popular WordPress security plugins out there — and it's not too difficult to see why. It provides a firewall that blocks hackers and baddies, gives you two-factor authentication, lets you scan for malware, and monitors your traffic for dangers.
What's more, because it relies on a large network of users, it's strengthened by the network effect— if they identify an attack on one user of Wordfence, all the other users will be protected from that same attack in the future.
3. Vega
Even if you've got a firewall and blocklist protection, you still want to get yourself a vulnerability scanner.
A vulnerability scanner lets you test your website security.
A vulnerability scanner is like the flipside of a firewall. While a firewall is all about thinking about new ways of keeping the bad guys out, a vulnerability scanner is all about thinking like the bad guys.
It probes your network for weaknesses — just the way a hacker would. But once it discovers them, it lets you know what you need to do to address those weaknesses. This keeps your network secure and your valuable data safe.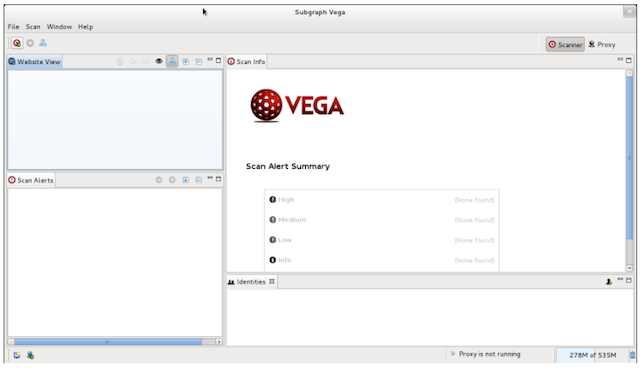 Vega is a free vulnerability scanner (and free is always good for small businesses) developed by Subgraph. It provides you with all the tools you need to test your website security. You can use the automatic scanner to let Vega do the lifting for you, or you can also manually test your network.
Vega tests for many common vulnerabilities, such as SQL injection and cross-site scripting, and helps you resolve them. Plus, it runs on Mac OS, Windows and Linux, so there's no need to worry if it will work on your platform.
4. McAfee SECURE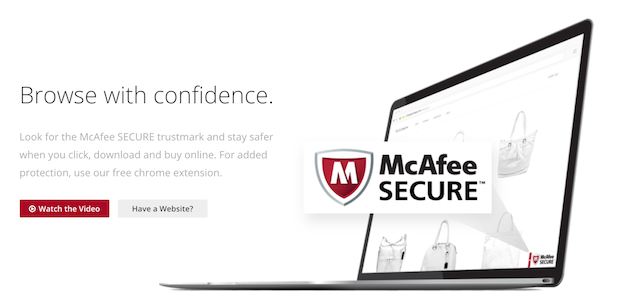 While you should care a huge deal about your website's security, you also need to worry about your customers. Because even if your site is safe and you're using the above tools, your visitors might not know it.
In fact, unless you're an enormous site like Amazon, visitors might think your small business website isn't as secure, and that could lead to less sales. That's where McAfee SECURE comes in. Like some of the other services, the McAfee SECURE certification provides security monitoring against hacking, phishing, malware and other things that can hurt your site.
But because this information is displayed in an always-visible floating trustmark, your visitors won't ever have to doubt if your site is safe. All they'll have to do is click on the trustmark and see this: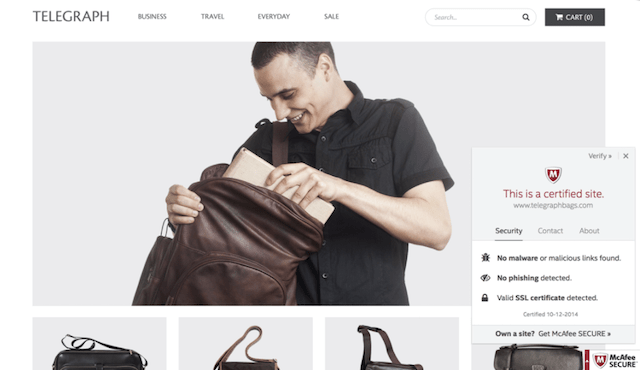 By seeing the trustmark, visitors will have the confidence to become your customers. And at the end of the day, that's what a business is all about. Even better? The McAfee SECURE service integrates with all GoDaddy SSL plans for free.
Ongoing security
It's important to test website security and use website monitoring tools to keep your site safe. These four tools are just the first steps a business needs to take to protect itself online. All of them address your baseline security needs, but it's important to remember that security is an ongoing practice. Be vigilant with your security needs, and keep your customers safe.
If you'd like to explore additional ways to secure your site, find out what 15 WordPress experts had to say are their top website security tips in this article.