Websites for artists to sell their work (a few options)
The internet has changed the way people and businesses sell their goods and services, and this includes artists of all kinds. There are dozens of excellent websites for artists to sell their work, although it takes more than simply uploading a photo and hoping an interested buyer sees your art. Just as selling your art through a storefront requires time, effort and dedication, so does selling your work online. Pre-planning will go a long way toward ensuring that your online art venture will be successful.
Start with a solid strategy
You can sell your art in one of two ways online: Through a marketplace or your own website. However, before you begin either, you need to have a plan.
The old adage "Fail to plan, plan to fail" is certainly true, so creating a plan for selling your art online is a must.
Without a strategy, you risk wasting time and money on online features and tools that do little to promote your work. Consider the following before starting to list your work for sale:
Research your competition. Know what marketplaces similar artists use to sell their work and at what price points.
Outline your shipping policy. Shipping costs that are too high will often make a buyer abandon his or her shopping cart.
Define your return policy. If you will accept returns, be sure to specify a maximum time frame and other terms.
Create your privacy policy. Many marketplaces have their own privacy and security policies. This may only need to be created if you are selling from your own website.
Obtain excellent photos of your work. While a picture may be worth a thousand words, the photos you post of your work can determine whether it sells.
Create exceptional descriptions. The description of each piece of your art is almost as important as the photo. Take the time to help a potential buyer understand exactly what your work is about.
Investigate payment processing options. Most marketplaces take care of the payment processing, and you may be required to use theirs. For your own website, accept payment in several ways, if possible.
Websites for artists to sell their work
Think of art marketplaces as the art galleries of the online world. Some of these websites for artists to sell their work are quite selective in whose work they will promote, while others will allow anyone to post their art for sale.
Much like a gallery, art marketplaces handle the selling for you.
A buyer places an order, you package and ship the piece and the marketplace will pay you — minus their commission, which varies depending on the marketplace.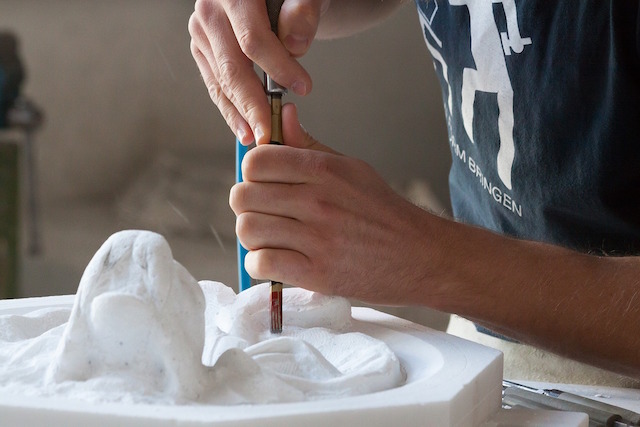 Many serious art buyers spend time on these marketplaces, so your work will be exposed to a broad audience. You can use these sites to direct interested buyers to your own website by including links on your postings. Some of the more common marketplaces for selling art include:
When choosing the right marketplaces for you, consider whether the site offers direct sales or promotion, print-on-demand services and more. Tools such as these can help you reach a larger audience and make it easier for buyers to finalize their purchases.
Take your time creating your profiles on the various marketplaces.
Provide a thorough, engaging biography instead of a one-line sentence that tells what type of medium you work in. When potential buyers come into your studio or by your booth at an art fair, they get a chance to speak with you, ask questions and learn more about your process. Websites for artists to sell their work — such as large marketplaces — can get your art in front of the masses. However, you should have enough information listed in your profile, art descriptions and more so potential online buyers feel like they know a bit about you.
View our free step-by-step guide to selling your art online. 

Sell from your own website
When you sell your art from your own website, you are in complete control of the sales process. For some, the idea of running a website can be intimidating. In reality, it is easier than you might think. There are many tools and templates that make creating an attractive, robust website quite simple.
Choosing your domain name
The first step in creating a website is choosing your domain name. This will require some thought and consideration because the domain name you choose is your internet identity. Not only should your domain name be easy to find and promote, but it should also fit your business.
Consider the following when choosing your domain name:
It should be easy to type.
To avoid customer misspellings, keep it short.
Use keywords that describe your business, goods and services.
Avoid using hyphens and numbers because they can be easily misunderstood.
Think of something memorable, as there are millions of registered domain names and you want yours to stand out.
If you find one you like, act quickly because domain names sell fast.
When someone purchases a domain name, there will often be an option to buy other domain names that only vary by the domain extensions, such as .art or .gallery. This provides several "doors" through which buyers can discover an artist's work, but the artist only has to build one site. They can forward the other domain names to the primary domain.
Creating your eCommerce website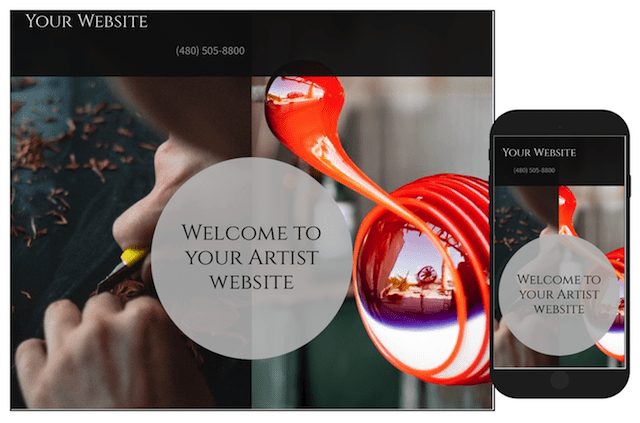 The next step will be to build your website — and this is not as difficult as you might think. An eCommerce website is simply where goods and services are bought and sold online. Your eCommerce website will need an eCommerce platform, which will manage the listing of your art, including photos and descriptions. There are dozens of eCommerce platforms available, but you may want to consider GoDaddy's new GoCentral Online Store. It has everything you will need to sell your art online, including:
Easy-to-use inventory management.
Payment gateways to accept payments.
An SSL security certificate to protect buyers' credit card information.
Complete shipping functionality.
Some artists prefer using WordPress for their websites because there are so many great templates to choose from and it can be easily customized using plugins. For those who want WordPress but have no interest in doing regular technical maintenance, there's GoDaddy's WordPress Websites. It's the easiest way to build a WordPress site.
Make your art stand out
The next step in creating your own website is to add photos of your work. Upload several photos of each piece of your work and make sure these photos are excellent representations of your art. Well-written descriptions of your art are also needed. When it comes to adding your personal story, take extra time to create an engaging, well thought-out piece that will connect you with potential buyers.
Pro tip: Be sure to tag your titles and images so that search engines also take notice. In order for art buyers to find an artist's website, search engines must find it first.
The necessity of online marketing
Once your website is complete, you can't simply sit back and wait for buyers to swarm your site. You will need to bring people to your new online store through search engine optimization (SEO) and social media sites like Facebook, Twitter and Instagram.
Selling art still relies on relationships, so use these networks to build them.
These types of online marketing are free, but it can take a bit of time, especially at first.
Another way artists can catch the attention of buyers online is through blogging. Because most people use Google to search for things they're interested in, blogging is a great way to bring potential collectors to your website. A buyer types "original art for sale" into Google and comes across your blog post on the topic. They follow the link you've included straight to your website. Get start-to-finish details on how to start a blog here.
You also have the option of paid online advertising through various vendors including Google Adwords. What this does is place ads in front of art buyers that, when clicked, bring them to your website. It takes some know how to make this work and it's super easy to waste a lot of money if you go into it blind. So this probably shouldn't be your first choice.
Interact with potential buyers
In addition to a Contact us section, your website should include a form visitors can complete to be added to your mailing list or for a newsletter. Email is one of the least expensive and most effective forms of promotion and there are plenty of tools available (email marketing is built into GoCentral Online Store). You can use it to notify potential buyers of new works as they are added to your site or of upcoming showings — which keeps you top of mind with art lovers itching for a new piece.
Selling art isn't hard, but it does take effort
The problem isn't opportunity — turns out, there are many websites for artists to sell their work. The trick is standing out among an ocean of equally talented artists all vying for the same pool of collectors. But through a combination of marketplace listings, your own website and active outreach through social media and email marketing, you can succeed.