What you can learn from the best real estate blogs
Real estate agents are salespeople, and if they're doing the job right, they're out and about, meeting people, listing homes, selling homes and generating leads. They're usually not writers sitting in cubicles crafting articles. And they really don't care much about how Google crawls websites with changing content and how that drives drives page views. But they should. A review of the best real estate blogs shows why.
The best real estate blogs have 7 things in common
Useful information.

Actionable advice.

A steady stream of articles.

Great photography.

A newsletter.

Free resources.

Entertainment.
Moving toward a more perfect world
In the best of all worlds, every agent should be blogging. Blogging is the quickest way to generate traffic to your real estate website, thereby increasing leads and sales. And it's not as much work as you think, because there are outsourced resources to do it for you (and they're not that expensive). In fact, some of them are even free. You will have to take a look at the content and see if it fits your needs, but you can find these resources on Google.
If you aren't blogging yourself, you should at least be reading the best real estate blogs to find out what you can learn from them.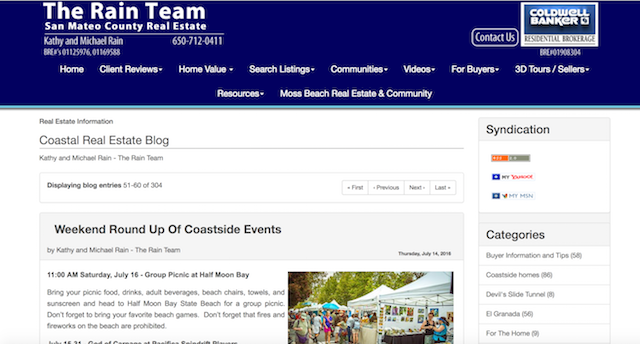 Kathy and Michael Rain, a husband and wife team in Half Moon Bay, Calif., have been selling homes in the area for 25 years. They've positioned themselves as authorities in the neighborhoods they "farm" through their excellent written communications program, which includes The Coastal Real Estate Blog. Some of it is outsourced, some republished from other sources, but it all drives traffic to their website.
Must-haves from the best real estate blogs
There is much you can learn from looking at the best real estate blogs. Yes, some of them are done by large companies with professional writers, but many are not. If you're starting your own blog, check out the best real estate blogs first — and don't be afraid to borrow ideas.
1. Useful information
The obvious first requirement for a real estate blog is useful information. The Rain Team blog has the statistics for San Mateo County, the most up to date neighborhood news and a post with obvious relevance called, "Seven Reasons to Stop Renting."
2. Actionable advice
Everybody loves to read advice they can follow. If you do start a blog, fill it with information that's worth having. How to know how much house you can afford, tips on a stress-free move, which months are best for home sales — if it's of interest to buyers and sellers, you should be writing about it.
3. A steady stream of articles
The best real estate blogs are updated with new content frequently so they don't look abandoned. The Rain Team updates its blog several times a week — it doesn't involve writing each time because they republish information from other sites and sources. Because they're a small team, their site is a good example of what can be done on a fairly small budget.
Likewise, the Jills (two women who happen to be named Jill and are business partners) have a blog that showcases their luxury listings while also offering homeowner advice through posts like "Gadgets for your Pets When You're Not at Home."
4. Great photography
The blog for lending company Clara uses photography to lure visitors in and an easy-to-navigate layout that includes categories for refinancing, home loans and resources. The resources section includes a First Time Home Buyers Guide you could reference in a post on your blog.
Take photos and video when you're out in your neighborhoods.
Photo galleries are popular on real estate blogs, and the tools to create multimedia come with your smartphone, so don't think you have to compose all your blog posts on your laptop. Train yourself to take photos and video when you're out and about.
5. A newsletter
The best real estate blogs are part of a complete content marketing program and offer a way for people who aren't in the market yet, but will be, to keep in touch by subscribing to a newsletter. The Redfin blog, which is one of the best, is different from individual agent blogs because it isn't confined to a single market or neighborhood, but talks about trends all over the country and invites the reader to have the content delivered as email.
6. Free resources
Free resources are a highlight of the best real estate blogs. The BankRate blog is good for information everybody wants to know — consider borrowing some of its financing material for your own site (make sure to cite BankRate as the source). The site is divided into categories, and you can learn a lot about financing from reading it before you adapt it to your own needs.
7. Entertainment
When it comes to attracting viewers, there's no substitute for being entertaining. The Zillow blog offers to take you through Taylor Swift's former rental property if you find yourself in New York and looking for a place to live. In fact, Zillow has a whole section on celebrity real estate, to which you can subscribe. And remember, every email address you collect constitutes a potential lead.
The future is in your hands
Take what you've learned from this review of the best real estate blogs to start your own. In time, you just might see an increase in the number of leads coming in and, as a result, the number of properties moving through business. You already have the info buyers and sellers crave — share it with a blog!
[advertisement id="17440″]