Why all electrical contractors should have websites
Perhaps you have a steady electrical contracting business and you're well known around town as the place to go to for electrical services. But you've noticed lately that many people have been turning to the web to find electrical contractors, and customers are demanding to know why you don't have a website for your business.
If you don't have a website, many customers will never find you.
Today, online is the name of the game. Electrical contractors with websites extend their reach to audiences that start their search for local services on the internet. It's a big one, too. Having a website will make you not only the place to go to in your town, but perhaps in your county! With all the web tools out there nowadays, it's fairly simple to make your own electrical services website.
[advertisement id="25749″]
Where do I begin?
Good question. Creating a website may sound like a massive undertaking, but there are companies eager for a chance to make your life easier when it comes to website creation.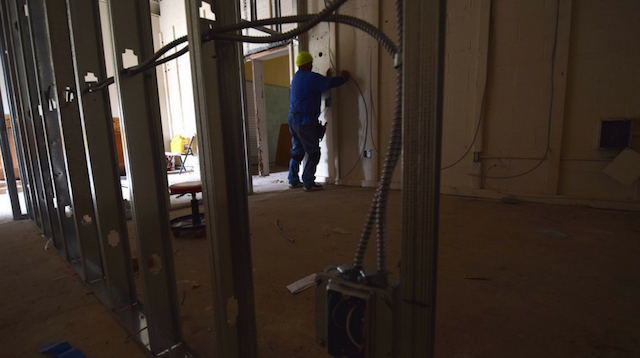 Browse around for a few different website builder options. Website builders are online programs that let you easily design your own website by hand — no experience needed. Look for website builders that have been highly rated for their design, ease of use, features, flexibility, popularity and pricing — like GoDaddy GoCentral.
A template is a pre-set web design with pictures and text already in it. Find one you like and adjust it to fit your business.
I'd be remiss to skip over WordPress here. The world's most popular content management system, WordPress features thousands of available themes and plugins that enable users across myriad industries — including electrical contractors — to create highly flexible websites. And with managed options such as GoDaddy's WordPress Websites, you can focus on building an effective website while GoDaddy handles the hosting setup, core WordPress security updates and more.
WordPress
 is the world's most popular site builder.
What's more, there are a number of WordPress themes available that are specifically designed for electrical contractors. Check them out to see if any of these appeal to you or fit the style and tone of your business.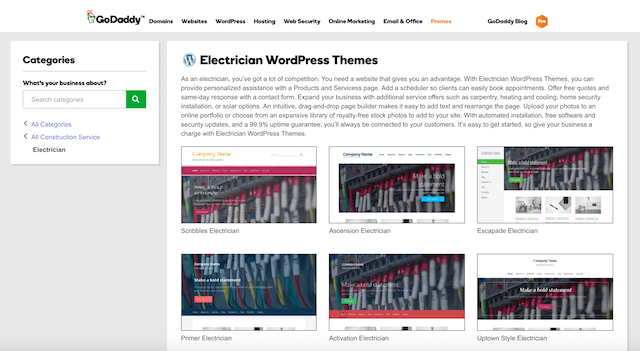 What to put on your electrical contractors website
In addition to an attractive design, you want to make sure your electrical contractors website includes content that will help sell your services. At minimum, you'll want to include:
The types of electrical services you offer, either in the main navigation (residential, commercial, etc) or in a dropdown menu (or both) so customers can quickly get to the right section.
Contact information/form. Since setting up appointments is your No. 1 priority, make sure website visitors know how to contact you. Put your phone number, physical address and email address on every page of your website. One great way to increase sales is to create a contact form on your home page where customers can submit information, such as what kind of services they're looking for. Get more tips for creating a contact page that converts.
Detailed product descriptions with photos. If you sell electrical equipment, be sure to provide detailed product descriptions with photos from multiple angles.
Customer testimonials/reviews. One of the best ways to convince new customers to choose your business is to have satisfied, loyal customers telling them how great you are. Get tips for gathering customer testimonials.
Portfolio. Include a page where you showcase photos of amazing lighting or ceiling fans you've installed.
If you'd like to see some highly rated electrical contractors' websites, check this out.
Bonus tip: Stay on top of trends like solar paneling or "green lighting" and offer them to customers on your website.
If you're out of your depth …
No worries there. It can be really difficult to run a business and design a website. If you're in over your head, call up an expert. There are plenty of web design companies that would be more than willing to take on your project. In fact, there are some companies that even specialize in website design for electrical contractors.
Do a Google search of any variation of "electrical services web designers" and see what you come up with.
Find more customers — on the web
Your customers still recommend you to friends and family, only now they do it online. Consider it the word of mouth of the 21st century. Get on board. If you really want to boost your sales and expand your reach, there's no better way than creating a electrical contractors website for your business.
Image by: davidseibold via VisualHunt / CC BY-NC