Why now is the best time to solicit donations
When it comes time to solicit donations for nonprofit organizations, there are several things to keep in mind: Who to ask, how to ask, and perhaps most importantly, when to ask. When is the best time to solicit donations for your nonprofit?
The first quarter of the year is your best bet for starting the process of building relationships and asking for funding.
What is so special about the beginning of the year, you ask? For starters, it's when people are thinking about their New Year's resolutions. Something about the holiday season, combined with the fresh start January brings, inspires individuals and companies to want to contribute more to their communities and important causes.
It's when most companies renew their budgets for the year as well. Furthermore, it's when corporations are getting ready for tax season, and thinking about tax deductions they could qualify for.
Whether it's your nonprofit or a cause you want to get funding for, keep reading for tips you can use to solicit donations now — and all year long.
The first quarter is the best time to solicit donations and build relationships
At the beginning of each year, companies are usually considering things like:
How much time and money they will spend on promoting themselves
The amount of donations they will give for the year to qualify for tax deductions
Income projections and how to earn more
Events and conferences to attend or host
How can you use these considerations to your advantage? The best way is to solicit donations with the idea that it's much more than money. Make it a marketing ploy for you, and for them.
Here's a great example of what I mean:
A travel agency was looking for a way to get more clients. At the same time, a nonprofit performing arts center was trying to solicit donations for the year. The two teamed up and promoted each other in what I consider to be a brilliant way.
For every client the agency booked, a portion of the profits for the trip went to the performing arts center. In exchange, every ticket sold for a show at the art center had an advertisement for the travel agency printed on the back of it. It was a win-win for both the agency and the performing arts center.
Throughout that entire year they promoted each other, and they both made extra money. It all happened because they built a reciprocal relationship.
Related: Tips for partnering with other local businesses
I've also seen authors and course creators solicit donations this way. They team up with nonprofits to encourage book and course sales by giving a portion of the proceeds to their favorite causes. The nonprofit then promotes the books and courses on their database. A great example of this is J.K. Rowling, who gives a percentage of proceeds from several of her books to the children's charity Lumos.
Everyone who purchases a book can enjoy the good feeling of helping children grow up in families, not orphanages.
And the charity has an avenue to promote themselves while offering a product for sale to the public. In this case, the charity was co-founded by Rowling, but you can still use the idea of teaming up with an author to help your own nonprofit get more donations and spread the word about your cause.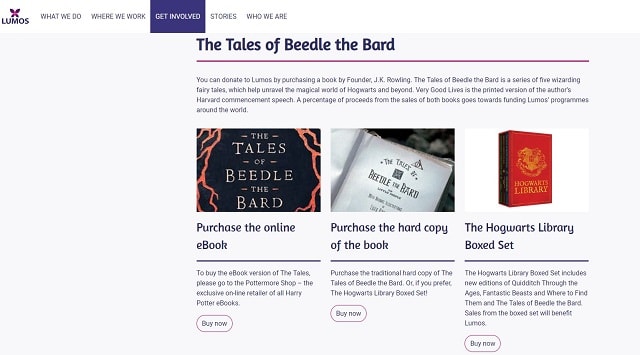 The question to ask yourself is how could your nonprofit partner with a company, or several companies, to solicit donations in the first quarter and help each other throughout this entire year?
Could you host an event and have companies sponsor it to promote themselves?
Perhaps you could simply ask for a portion of the proceeds from product sales in exchange for promoting them at an event. Consider how you could team up in a mutually beneficial way — and pitch it now.
Remember, companies are thinking about promotional ideas and income projections for the year now. So, you have to strike while the iron is hot. You don't want to wait to get on the radar of companies, only to be told they have planned their budgets already and that all their funding is spoken for.
Related: How to market a local business through strategic collaboration
Tax season is upon us — use it to your advantage
I can guess what you're probably thinking: "It's going to be difficult to solicit donations now, when companies can't claim donations for this year until next year's tax season." However, I still contend that quarter one is still the best time to solicit donations and build relationships with the community.
First, when a company realizes all the tax breaks they missed out on this year by not contributing to charitable causes, they will want to know how to qualify for them for the next year.
That's where you come in to solicit donations.
Your donation campaign could be as simple as laying out the tax benefits of giving to a nonprofit. From there, you share why your nonprofit is the one they should be compelled to give to.
The other reason you want to start soliciting now is so they will think of you when they are ready to donate. Even if they don't donate until the middle or the end of the year, at least you've put the bug in their ear early on. That also gives you the entire year to work on creating and solidifying your relationship with the company, which could yield more donations over time.
Related: 9 ideas for Giving Tuesday emails that drive donations
As The Fundraising Authority says, "The most important thing you can do, as someone who is fundraising, is to build deeper relationships between your prospect and the organization you are fundraising on behalf of. Sure, bringing in a $100 check is nice, but building a strong relationship that results in 100 volunteer hours, $1,000 in donations, and several new contacts, all over three or four years, would be much more valuable."
Related: 5 ways to show appreciation for your nonprofit volunteers
Make donating on your website easier
Now that you know why the first quarter of the year is the best time solicit donations and start building relationships, let's talk about making the acquisition of funds easier, too.
These days, it's easier to give money to nonprofits online than ever before.
It's faster than writing out and mailing a check and the money is deducted from the donor's account sooner so they know exactly much they have left in their budget.
If you want to get people to give you more money online, you have to make it as easy as possible. In other words, your nonprofit website should have a simple process for donating money online.
Test this by walking through the donation process yourself. If it's difficult to navigate or takes too long, you need to streamline it. The goal is to make it faster and easier so your potential donors will actually complete their transaction.
The last thing you want is for people to have to jump through a bunch of hoops to give their money to you.
Odds are people won't be willing to go out of their way to give, so you want to avoid annoying them. As soon as a donor gets frustrated, they are more likely to exit your web page and take those precious contributions with them. Good luck getting them back!
Your website should have one simple call-to-action, and direct to one donation page. Your donation page should include an option to click or type in how much they want to donate, and an easy to read form to fill out their payment and contact information.
Also keep this in mind: Once a donor has landed on your donation page, they want to donate and be done. Therefore, you should refrain from making them watch a video or reading mission statements before they can finally give you the money. You've already hooked them, so don't give them a reason to leave the page without donating.
Editor's note: Visitors to your website will want to know their financial information is safe when they are donating online. An SSL certificate from GoDaddy will give your patrons peace of mind as they donate to your cause.
Bottom line: Don't wait to solicit donations
If nothing else, I hope this post has inspired you to start cultivating real relationships with potential donors. The best time to solicit donations is right now — you might not get any money if you don't start asking as early in the year as possible.
With all the people in your organization counting on those funds to be raised, I only have one thing left to say: What are you waiting for? Start working on getting your piece of the financial pie today.
Related: 8 ways to give back to your local community as a small business