Will Mobilegeddon impact your mobile search presence on Google?
Mobilegeddon, did you say? Yes, I did say Mobilegeddon, which appears to be the search community's ordained name of the imminent Google algorithm update that will be released on April 21. The moniker alone suggests the update will impact the world of mobile search — and that's a correct assumption.
Search is Google's main product, and it's constantly evolving to provide users with a better search experience. Mobilegeddon will improve our experience using Google when searching from a mobile device.
Ramping up
For several years Google has been hinting at what defines a sound mobile search experience. They began pushing site speed because they found that when we're browsing the web on our phones we lack the patience for a site to s—l—o—w—l—y—l—o—a—d. Instead, we immediately return to the search results and explore another destination.
Google also discovered that usability plays a major role in our tolerance for browsing on tiny screens. You know the sites I'm talking about — the ones that force you to zoom in on the screen so you can finger tap a button to load another page on the site. Ever try booking a hotel room or flight on a website not built for mobile? Break out the pliers because I would rather pull off my fingernails than frustratingly try dozens of failed booking attempts.
Hence the need for Mobilegeddon. Google wants to reward mobile friendly websites with higher keyword rankings because they will provide a better customer experience.
So, how will you know if the new algorithm change has helped or hurt your search engine visibility? Here's simple monitoring plan:
No. 1: Develop an understanding of your site's performance before April 21.
I prefer to look at organic traffic year-to-year as well as month-to-month. Many sites have seasonal peaks, so I want to account for those annual events. Once you have trending organic referral traffic data by month, it's time to slice and dice. I would look at these charts: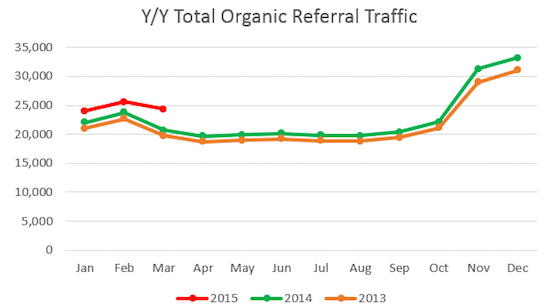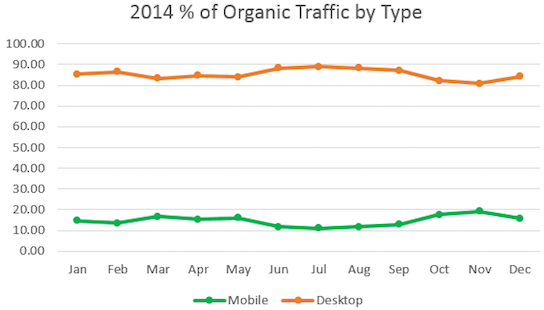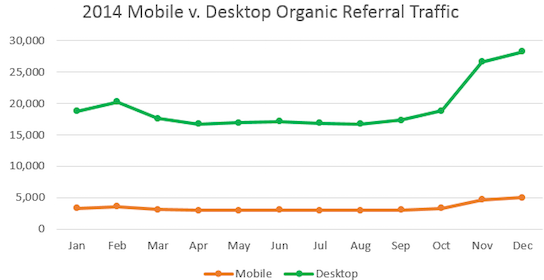 No. 2: Determine the impact of the algorithm update after April 21.
Google has proclaimed this algorithm update will not impact your site's desktop performance, but I would still pay attention to both mobile and desktop after April 21. In some cases you'll notice a change by the end of the day. So look at these metrics daily after April 21. Has your total organic traffic increased or decreased? If yes, which source has realized the increase or decrease? If your mobile referral traffic is declining, you probably need to resolve the mobile issues that are nearest and dearest to Google's heart.
No. 3: Utilize the Google PageSpeed Insights tool.
Using the PageSpeed Insights tool, you'll want to evaluate the following pages:
Home page
Category Page
Sub-Category Page
Article/Blog Post Page
The PageSpeed Insights tool will analyze each page and provide recommendations that will improve your site's mobile performance. Here is a list of some of their primary concerns:
Eliminate blocking JS
Reduce server response time
Optimize images
Minify JS, CSS, HTML
Leverage browser caching
Size content to viewport
Use legible font size
All of these recommendations require the assistance of an engineer or web designer — and yes, you should make the investment to resolve those issues. Mobile is not going away. Each month the gap widens between mobile and desktop total searches in favor of mobile.
What's next?
If you see an increase in organic mobile referral traffic, bravo! However, I would continue to monitor over the next couple of months and I would even add this metric to your monthly reporting going forward. Just because you see an immediate benefit does not guarantee it will remain.
I can hear the disbelieving reaction now, "But didn't I just defeat Mobilegeddon if my mobile traffic went up?" Yes, for the time being. However, some of your competitors just got thumped; don't expect them to roll over and completely die. They will see the value and need for deploying mobile improvements. When they finally release a mobile friendly website, they'll climb Google's mobile rankings again — perhaps usurping your coveted keyword rankings. That's why it's a grand idea to continue monitoring this aspect of referring traffic.