WordPress 4.4: What's new and what's nixed?
WordPress 4.3 — named "Billie" after jazz great Billie Holiday — was released August 18 — so it seems that our friends at WordPress are giving us an early gift with the expected release of WordPress 4.4 on December 8. WordPress has already released four beta versions for testing and feedback, and progress is going well.
WordPress 4.4 is slated for release on Dec. 8, 2015.
Before we get into the details of the release, here are some links for you to check out the features, download the beta releases, and observe progress: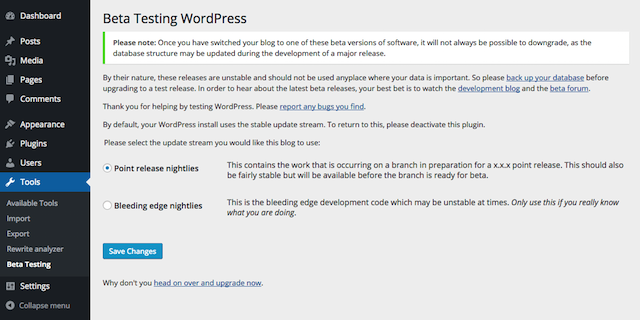 WordPress 4.4: What's going away?
This first one is huge! WordPress wants to do away with the wp_title function for rendering the title tag in your html. The code typically looked like this:
I'm not sure of too many themes out there that do not have this code utilized, so the team has walked back deprecating the function to avoid breaking millions of sites and tens of thousands of active themes.
WordPress 4.1 introduced a new, recommended means of displaying titles in themes. If you'd like to implement it, remove the reference and, instead, add this backward compatible code to functions.php:
Better to clean up your themes now rather than later, when WP devs do decide to deprecate this function altogether!
New themes can add support just by adding the following code to functions.php:
add_theme_support( 'title-tag' );
So …. it's not going away just yet, but something to keep an eye on in the future.
WordPress 4.4: What's changed?
We've talked about what's going away. So what's changing in version 4.4? Quite a bit, starting with a number of changes related to the REST API.
WordPress 4.4 lays the groundwork for REST API support.
A few changes are happening to enhance performance and provide additional capabilities within WordPress:
REST API — some underlying infrastructure code is being added to roll out and support WordPress having its REST API built in. Currently, it requires a REST API plugin.
Term Metadata — Taxonomy term metadata will be included. Adding additional metadata to the tags and categories has always required plugins, so this should implement a great standard, reduce a lot of plugin conflicts, and will take advantage of WordPress's caching.
Comment Queries — Comment queries are being split to improve overall site performance and will take advantage of caching.
WordPress 4.4: What's new?
In addition to all of the tweaks noted above, there are some new goodies coming into play in version 4.4, a number of which focus on more robust handling of images in various situations. There's also a new Twenty Sixteen theme coming online, just in time for the new year.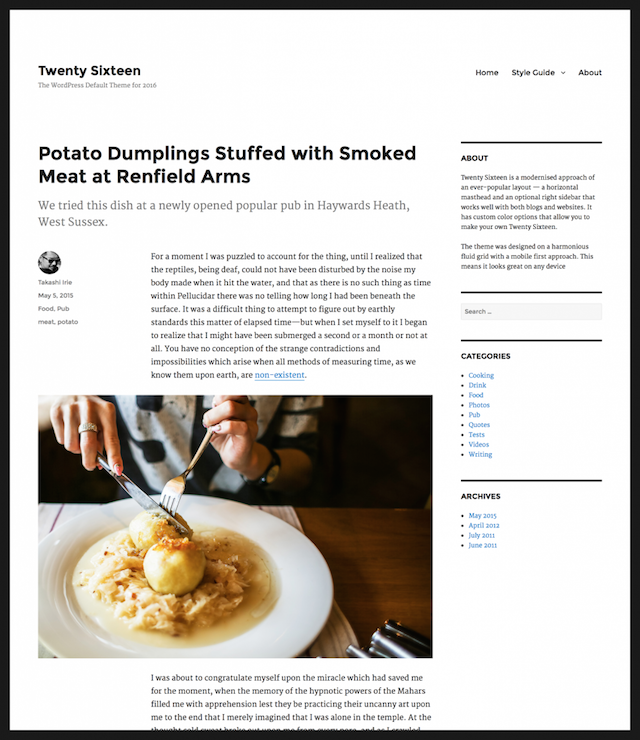 Twenty Sixteen
The incredible team at WordPress loves to surprise us with a new, amazing theme each year, and 2016 will be no different. We'll be fully reviewing the theme in an upcoming post, so stay tuned. In the meantime, feast your eyes on this preview of Twenty Sixteen.
Responsive images
Woohoo! Rigid image sizing has long been a problem with WordPress working seamlessly on different viewports and responsive sites. WordPress 4.4 will now incorporate some of the features of the RICG Responsive Images Plugin.
WordPress 4.4 will support srcset, a method for browsers to select the right image to display based on size, resolution and even bandwidth.
This plugin includes all image sizes with each upload then sets a srcset attribute to publish the appropriate size and resolution. The great thing about srcset is that the browser determines the best image rather than you having to program detection into your theme. It may even select a lower resolution based on bandwidth! That's a superior experience for your users without a ton of development for you.
oEmbed
oEmbed is an open format designed to allow embedding photos, videos, links or rich content from a website into another page. If you link to a post on a site that's oEmbed capable, then the link is clicked it can show an excerpt and additional rich information.
With version 4.4, WordPress can now embed rich content from any site or service using the oEmbed standard.
With oEmbed in the core WordPress code, you'll even be able to embed other WordPress blog post previews into your blog posts! Check out the working samples at WordPress.
So that's a wrap! There are a lot of changes coming into play in version 4.4, especially around the REST API and image handling. Here's to a great release, and we're looking forward to what's going to be in 4.5!