ZUP: Bringing a game-changing board to the watersports market
We're chatting with Glen Wade Duff, creative director, co-founder and co-inventor of ZUP, to see how he's taking steps to make ZUP a fun, go-to, water-riding board for everyone. A resident of Williamsburg, Va., Glen has provided feedback to other entreprenuers who use Flare — a GoDaddy app built to help entrepreneurs source feedback and bring their idea to fruition. Check out the website and follow the startup on Facebook, Twitter and Instagram to keep tabs on the growth of ZUP.
The beginning of ZUP
What inspired you to start your business? When?
In 2008, our small group at church decided to celebrate our youth group by going out on my boat with our student leaders. My family loves water sports, so we invited everyone to share in our passion and fun experiences. We got out the standard water sports products — waterskis, wakeboards and kneeboards — but practically everyone failed when it came to getting up on them.
So the next day, we got together to devise a creative way to ride safer with less stress. It was disheartening to see our happy group struggle — we wanted to see everyone learn to ride quickly.
After several quickly evolved wooden and fiberglass prototype ZUP boards, we finally discovered a solution. And while the first couple failed (we were the crazy people at the marina testing out ideas), we really enjoyed prototyping. We were just a small group of leaders from a growing student ministries program. We were totally ignorant of water sports design. Nevertheless, we had fun.
I think a good invention has to solve a problem or just be fun. Ours was both.
What first steps did you take to launch the business?
Once we invented a workable prototype people could get up on, we filed for the first of our three utility patents. Basically, we knew we needed to validate our concept within the marketplace, so we went to the largest water sports trade show in the world, Surf Expo in Orlando, Fla.
There, my wife and I walked the trade show, and eventually we were introduced to the President of the Water Sports Industry Association. We shared our new concept via a homemade video. He loved the idea and helped us get into the largest water sports retailer in the world (we had actually tried to get into that retailer many times, but failed on our own).
Most industries thrive on innovation, and it's often the outsiders who think in a disruptive way.
It was that experience that resulted in our first order. Then, we worked together to establish our new company philosophy, branding and goals with our group of friends.
What obstacles did you face as a startup, and how did you overcome them?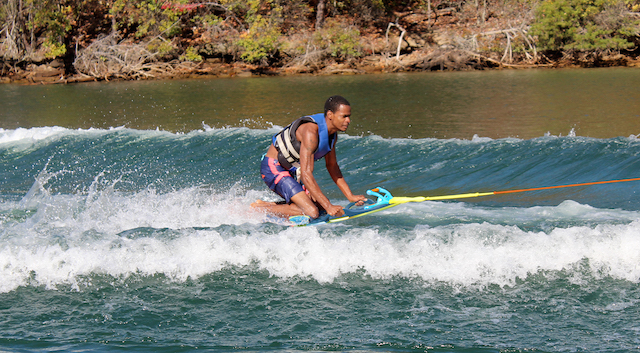 We had three major obstacles: ignorance, cash flow and protection.
Ignorance. We were new to watersports design. At first, our ignorance was beneficial — we saw a solution that most people in the industry missed because we were everyday users. But that alone didn't mean we could start a successful watersports company. We needed some experienced guidance once we disrupted the industry standard.
So, we enlisted support from one of the inventors of the wakeboard. He loved our game-changing idea and helped us navigate re-designing our hydrodynamics. He also taught us manufacturing processes and how to sell to top watersports retailers all around the world.
Cashflow. Like most startups, this was a daunting obstacle. But we did have a few things working for us. With a watersports veteran on our team who the industry knew and trusted, we were ready to tackle the market. That, and a patent a our first order gave our investors confidence.
Protection. When we saw the first knock-off of our patented ZUP Board at Surf Expo, we were shocked (and somewhat complimented). The knock-off was from a leader in the industry who actually signed a non-disclosure/non-compete agreement with us to manufacture on our behalf!
Needless to say, patents do not prevent you from getting copied — they give you the right to protect your idea.
This competitor had traction in the industry. Soon, their products were all over the world, stealing business from us even though we were the originators of this new product. Normally, patent cases are among the most expensive ones out there. Fortunately, we were able to get two patent law firms to work together to take our case on 100-percent contingency. Given how carefully we had prepared for the future of our product, even going as far to secure patent protection insurance, the law firms feel a win is in our future.
How did you identify your niche in the market?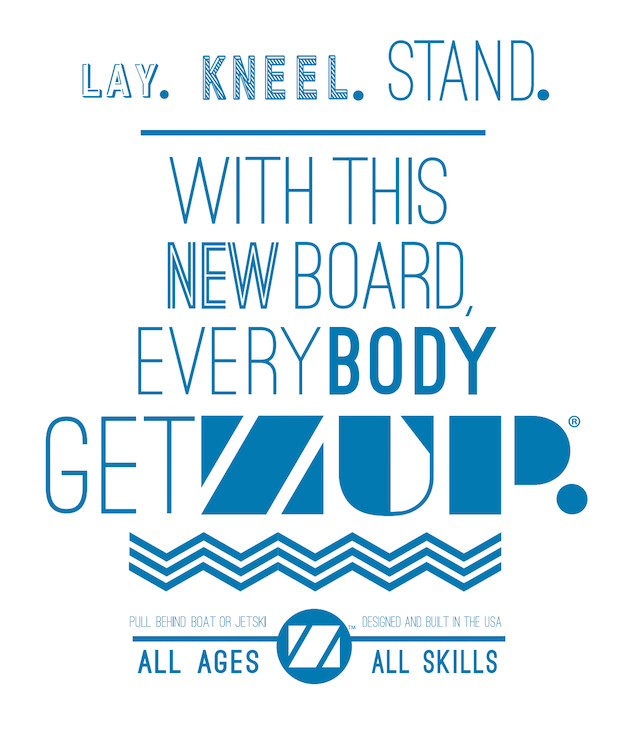 Our friends helped us identify our market because they were our market. Newbies who tried to ride for the first time. We knew we probably wouldn't sell to pros initially since they already had the skills to ride what they wanted.
We wanted to serve those who could not successfully ride quickly, easily and safely.
With more than 11 million registered recreational boating vessels in the U.S., we knew we had a nice niche to play in. Now, several years later, even watersports trainers love our product and the concept of a stress-free process for teaching newbies to get to a full-standing position on the water.
Tell us about your business model.
Early in our development, we needed to decide to either license our IP (Intellectual Property- patents, trademarks and copyrights) to a watersports company capable of taking this concept to the market, or start a new company to manufacture, sell, and distribute these new boards.
After much internal discussion, prayer and listening to the wisdom of veterans in the industry, the consensus was that since we loved doing it, we should do it ourselves.
The smartest thing we did was recognize and encourage what each person on the team was good at.
We had team members who excelled at design, others interested in the startup aspects of the business and strategic planning, those who created our media and graphics, and of course, our entrepreneur mastermind who helped us by becoming our first investor.
Goals and philosophy
What's your guiding business philosophy?
We focused on a double bottom line (DBL) philosophy — profit and philanthropy. We envisioned a fun culture in addition to money. We knew from the get go that we'd support watersports ministries. They needed our products for the exact reasons why we invented them. Plus, we appreciated their value in the world, changing kids lives one event at a time. To name a few organizations:
These amazing groups encourage underprivileged, troubled youth and kids from foster homes, as well as autistic and handi-capable kids and adults. They are what makes us tick. They love ZUP Boards, and we are their biggest fans. We love to participate in their events all summer across the USA, and now they are expanding internationally.
What three words epitomize success in your book?
Friends, Adventure, Ignorance.
Friends you can trust, and that can trust you. Adventure that compels your heart and drives your passion. Ignorance of the industry you want to disrupt, and the knowledge that your ignorance can eventually hold you back. There's no need to grow your business alone or without industry professionals once you've validated your concept.
What strengths do you bring to the table as an entrepreneur?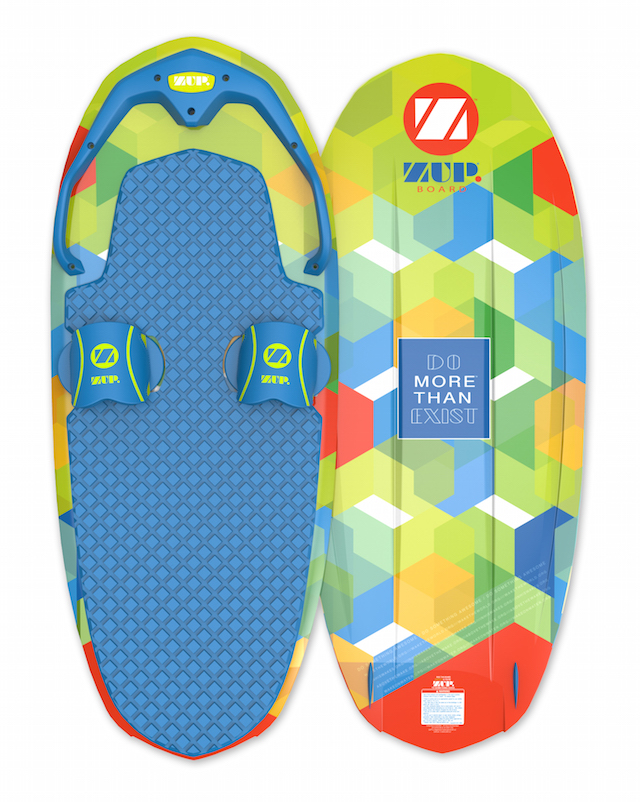 I'm only one part of an amazing team. Personally, I worked in a product-design business called Design Masters with two awesome partners for 30 years. We created hundreds of products and giftware items and historic museums and tourist destinations around the country.
However, as my heart started to pull in a new direction, it became obvious to me and others that it was time to take a new path. That prepared me to take on this new adventure with my friends from church.
Where do you see your business in five years? Ten years?
We hope to see our ZUP products become a household word and brand name synonymous with the new category we created called "zupping."
We want to look back one day and know that we have financially profited beyond our original expectations. Our goal is to sustain our intent to serve those organizations who continue to serve and encourage kids and adults all over the world. That drives us most.
Lastly, we hope to help encourage and guide others to find their entrepreneurial path by sharing our stories of challenges and successes.
We have also started designing several new game-changing products in other sports categories. Successes in the first business will eventually allow us to grow our ZUP brand, and we hope to be known as the innovative product company that incorporates our DBL philosophy every day.
Tools and advice
What online tools do you use for your business, and why are they important?
GoDaddy has been integral to our success. They never fail to help us when we run into a snag. With almost 100-percent uptime and 24/7 support, we know we can lean on them when we need to. It's a pleasure to have that kind of partnership.
We secured our three-letter domain name with GoDaddy. It's critical to have a protected domain name that is relevant to our business. We couldn't be luckier to own ZUP.com, and protecting that is a priority. We also use GoDaddy for email. Plus, having email tied to our domain gives us a professional online presence.
What's the most valuable lesson you've learned since starting your business?
Having a healthy business is like having a healthy family. The book, The Five Dysfunctions of a Team: A Leadership Fable by Patrick Lencioni, also taught us how to hold each other accountable for our business.
What's your best advice for other entrepreneurs?
Think of the others on the team before yourself.
Personal
How do you unwind?
I like to visit our four daughters and seven grandchildren with my wife often. That, and I enjoying going to the beach.
Was there a turning point in your life that led you to where you are today?
Not so much a moment as it is a practice — every morning, I look at my life goals and try to take steps each day to go in that direction.
How do you balance the needs of your business with your personal life?
Now that I can work from anywhere, I naturally get more balance. I can be with my family as often as I want, and I get to work pretty much anytime, day or night. I'm unrestricted on the time zones or location. My wife is a good gauge to know if that is in balance.
Thanks for taking the time to tell us about your startup, Glen, and best of luck as you bring ZUP to the masses!