Chat
Top Result for "Chat"
To chat with a GoDaddy Guide, visit our Contact Us page and click Chat Now.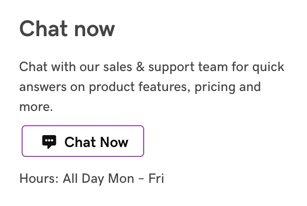 Look under Call us for support phone numbers.
---
Was This Article Helpful?
Thanks for your feedback. To speak with a customer service representative, please use the support phone number or chat option above.
Glad we helped! Anything more we can do for you?
Sorry about that. Tell us what was confusing or why the solution didn't solve your problem.