Your business might have started out as a sole proprietorship — just you, doing everything in your power to make your dream a success. But, as your business grows, chances are you will take on employees. When you do, you'll need to rely on your business email plan for your employees and you'll want to implement a system for managing email to ensure consistency across your company.
Visualize your goals for the next three to five years. Where do you want your business to be?
Plan for business growth when creating a system for handling your email needs.
3 tips to consider are:
Use consistent email addresses
Decide on a format for your company's email addresses and stick to it. Whether you decide to go with first.last@companyname.com, first@companyname.com, or FLast@companyname.com for your individual email addresses. The choice is yours. Just pick a style and stick with it. Variations will confuse and frustrate your customers.
Ensure you have adequate email data storage
When you started out, it was probably just you, and storage wasn't a concern. But, as you add more email addresses to your account, each of those people are taking up storage. Come up with an email data retention policy if you need to. Just make sure you're paying attention to how much space each account is using so you don't find yourself bouncing email messages because you have no more space. Consider creating a schedule for backing up email data and a central location where you can store your backups.
Have a system for follow-ups
Use your email as a productivity tool. Email should help you run your business more efficiently and smoothly, not be a burdensome task. Use your email to your advantage and create a system of flagging or filing emails into a follow-up category so that you can remember to check in on it later. Then, institute this system for handling follow-ups across your company so that everyone is on the same page and your business will run more efficiently. This will also help if someone is on vacation. Their backup will know exactly where to look to find out what deals or clients the other person was waiting to hear back about.
Leverage tasks and calendars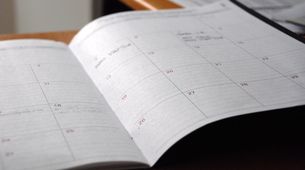 Most email clients or even web-based email tools come with a calendar feature. Leverage this to collaborate with your team. Set up a calendar that you can share with the group to keep track of who is with a client, meeting times and locations, vacations, etc. As your business grows, it will be harder to simply remember what's going on. If it's in a shared calendar, not only will you remain on top of your game, but others will know what's going on, too.
No matter which email plan you start out with, the good news is, you can always upgrade or downgrade.
When you find that your company has grown out of its current email plan, just contact your email provider and get an upgrade. With any email plan that you choose, if you consider the tips mentioned here when developing a system for using email, you'll find that email can really help you run an efficient and productive business.