Why does a content hub matter for your small business clients?
If you're a website designer working with either a digital or brick-and-mortar business, making sure that they have an online presence and can easily be found in the virtual space is key to attracting your customer's target audience. For strictly digital businesses, it's absolutely critical. For brick-and-mortar business, it's becoming increasingly important as well.
In fact, data shows that 89 percent of consumers turn to search engines for information about products, services or businesses before making a purchase.
For many small businesses that website developers work with, it might seem overwhelming to create a digital footprint, but by leveraging content marketing — an important form of marketing in the digital age — they can create a website that will attract and align with their target market.
Here are some tips that website designers and developers can share with their small business clients to help them create a content hub, in a manageable way, that will garner results.
What is content marketing?
The Content Marketing Institute defines content marketing as:
A strategic marketing approach focused on creating and distributing valuable, relevant, and consistent content to attract and retain a clearly-defined audience — and, ultimately, to drive profitable customer action.
Search engines like Google, Bing and Yahoo! favor websites that update their content regularly. In search engine results pages (called SERPs), sites with new content posted regularly will consistently rank higher in SERPs. Google's new algorithms for search continue to favor pages with fresh, relevant content. According to a recent article by BlogPros on content and SEO, "In order to be ranked highly in search, you need pages that qualify. Pages that qualify are pages with a lot of high quality content on them."
Build a content hub the right way
The first step in making a website a content hub to attract and retain customers is to be sure the site is built on a platform that makes it easy to add, update and change content regularly.
WordPress is an ideal solution as it's relatively easy for even your non-technical clients to learn, once you've developed the infrastructure.
From the beginning, WordPress has been and remains committed to creating a CMS that is easy for anyone to use. And, if you're setting up an eCommerce store, WordPress's robust eCommerce WooCommerce plugin will allow for seamless integration between the website and storefront, again making it easy for your client to work with if they want to self-serve.
The best way to add content regularly is to have a blog, posting content that is of interest to the target customer and also helps to support and build the brand. WordPress's blogging tool is highly intuitive and easy to add to any WordPress website.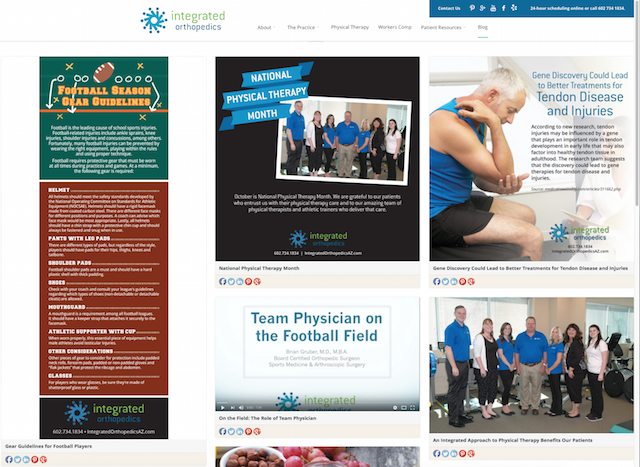 If your client uses a standard blog format, WordPress makes it easy to update text and images on their own. The non-standard pages and posts are an opportunity for you to integrate an upsell into your contract.
Have a content strategy
No matter the business vertical or industry, it's important to have a strategy for content marketing. Don't let a finished website mean the end of your client relationship!
Strategic content programs supplement the website, and help build a brand, attract new customers, and encourage brand loyalty.
Step 1: Know the audience
Be sure to take some time to think about the audience. How do they find products and services online? What words or phrases would they use to find these products and services via search? Once you have generated a list of possible words or phrases, use a free keyword research tool like Ubersuggest, which will provide additional, related terms. If you were responsible for optimizing each page for search, you likely already have this data on hand.

Step 2: Generate ideas
Keeping your keywords in mind, brainstorm a list of possible blog topics that both relate to your client's products or services and that the audience would be interested in. Once you've finalized the list of ideas, use it to create a three-month editorial calendar. This calendar can serve as inspiration for your client's future content.
Once content is written and published, you can step in to monitor posts' traffic and other key metrics. If a post gets a lot of traction and engagement, you know it's a topic of interest and you may encourage your client to expand on it in future blog posts.
If your expertise is web design, think about how you can make your client's content into an infographic or interactive page.
While you don't need to write the content yourself, provide your client with the data and insights. They'll see your value in providing bottom-line results, which will likely lead to more business for you down the line!
Pro tip: Encourage clients to incorporate forms or stand-alone landing pages specifically for lead generation so they can gather identifying information from visitors. It can be as simple as an offer to download a free eBook you created or to sign-up to receive a monthly email newsletter for special offers.
Step 3: User-generated content
In addition to generating unique content, consider providing opportunities to post customers' content on the website. Some simple ways small businesses can include user-generated content include customer testimonials, guest blog posts and reposting customers' social media photos and videos.
Next steps
Follow the 80/20 rule of content marketing when creating and promoting content. The majority of the time, make content educational in nature. By doing this, you can get away with more overt promotion from time to time, such as promoting sales and new arrivals.
Monitoring social media accounts regularly is also key.
Engage with activity by liking and commenting. As the client gets more reviews on sites like Yelp and Facebook, encourage them to comment by thanking the customer for their kind review. Or, if a less than stellar review arises, be sure to comment and aim to neutralize the situation. While one poor review in a sea of positive feedback might not seem to matter much, commenting on it in an upbeat and helpful way can turn a complaining customer into a loyal one.
Having a website that's a content hub — leveraging valuable content to attract new customers and retain and delight existing customers — is not just for big companies. Small businesses can and should step into the content creation game as a tool for building their businesses. With a bit of planning and dedication, help your clients take advantage of the value of content marketing.