If website freelance life were an RPG, The Hub by GoDaddy Pro would be a +3 flaming sword infused with magic. Users wielding The Hub report that it saves them an average of three hours each month for every site they manage for clients.
Talk about a baby orc dilemma. Do you use that saved time to chill, or ride the momentum and slay the rest of your day?
Whatever you choose, it starts with mastering The Hub. We've broken this — um… HubQuest? — into digestible episodes. Each one includes an overview of the most important features, as well as step-by-step directions for key tasks.
Thanks for playing our game.
Prologue: Embarking on the HubQuest
Embark on the HubQuest by signing in to your intuitive dashboard of The Hub. You're ready to start saving time with your web dev and design business. The Hub lets you breeze through managing all your projects, sites, clients, and products.
It can reduce hand-holding when you need clients to give you hosting credentials or sign up for an app or service. You can also shave loads of time off tasks like website maintenance, security, and updates.
With this quick-start guide, you'll learn how to master The Hub basics of:
Working with the Home screen
Working with the Clients screen
Working with the Projects screen
Working with the Sites screen
Centralizing logins with The Hub
Working with the Overview screen
Automating tasks with The Hub
Mastering advanced techniques with The Hub
Users report they save an average of three hours each month per site when they move to GoDaddy Pro. To start taking back that time for yourself, sign up for GoDaddy Pro and log in to The Hub — game on!
Level 1: Working with the Home screen
From the Home screen you can easily check the status of your sites hosted on GoDaddy Managed WordPress, and you can access the GoDaddy Pro Benefits program.
Even if your sites aren't hosted on GoDaddy, you can still benefit from The Hub by adding your sites to the Sites section, where you will be able to use all the website management tools. In the Home section, located at the right side of the screen, you can also access Common Tasks and Quick Links.
You can perform bulk actions by selecting all or multiple sites to update plugins or themes, insert code snippets, and assign tags and clients to sites — all with just a few clicks. Everything is easily accessible and available from one place.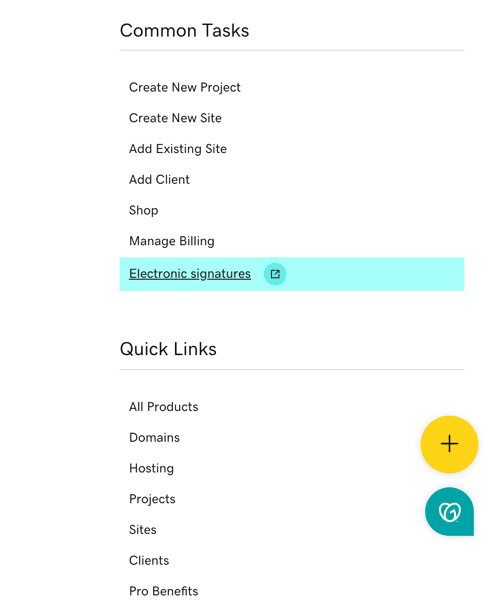 Level 2: Working with the Clients screen
The Clients section gives you the ability to easily request delegate access from clients or shop for them by sending a cart of recommended products. From each of these screens, you can also see projects and sites assigned to that particular client and generate manual Client Reports as well.
To add a client:
From The Hub homepage, click Add Client or select Clients from the left-hand menu, and then click New client.
Enter a first, last, and business name for the client.
Enter your client's email address.
Click Save.

Level 3: Working with the Projects screen
From the Projects screen, you can easily start a new project, assign it to a Client, track its progress through phases, and even create a template of that project so you can repurpose and adjust it down the road. You can also add notes and edit projects at any time.
To add a project:
From The Hub homepage, click Create New Project or select Projects from the left-hand menu.
Define the project name to describe the work you'll be tracking.
Set an estimated due date to help track your progress.
Assign your client to the project. You can enter new client details here or add your existing client by clicking Set existing client from the top right.
Click Save project.
Click Launch project.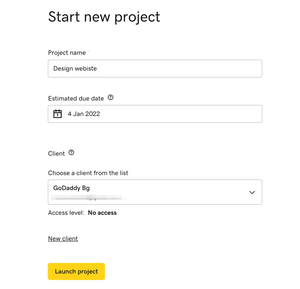 Level 4: Working with the Sites screen
All these features are quite handy, but we've recognized a top priority for WordPress pros is a reliable set of tools that will help them automate their workflow and put their mind at ease, while all the important things, such as updates, scheduled backups and scans, run in the background.
The central part of The Hub belongs to Sites, a space where you can manage an unlimited number of WordPress sites with just a couple of clicks. You can add a non-WordPress site to the dashboard as well, but some of the features, such as Updates and Backups, will only work for WordPress sites.
To connect external sites using a URL:
Go to the left-hand menu, and then click Sites.
Click Add website.
Enter the URL of the website you would like to connect, and then click Add website. You can enter multiple URLs separated by commas.
Enter your WordPress admin username and password. Alternatively, you can use a connection key instead.
Click Add website.
To connect GoDaddy sites:
Go to the left-hand menu, and then click Sites.
Click Connect site.
Click Connect GoDaddy Sites.
Select the sites you want to add, and then click Connect Sites.

Level 5: Centralizing logins with The Hub
When it comes to centralization, it often comes down to two main problems: having an overview of everything that's happening with sites, and gaining quick access to everything in one place.
One-click login is an incredibly handy feature which allows you to enter a site's backend with just one click. You can do this from a site's dashboard by clicking the yellow WP Admin button on the right part of the screen, which is also available from the My Sites screen, where you have all the websites listed – just mouse-over the site and the Open site WP admin option will appear.
No need to memorize login details anymore! The whole process happens through our Worker plugin, without storing your credentials anywhere in the system, so it's completely secure.

You can perform bulk actions from the main screen by selecting all or multiple sites and selecting plugin or theme updates, manage users, perform code snippets, or assign tags or clients to those sites — all with just a few clicks.
Level 6: Working with the Overview screen
The Overview screen gives you Filters where you can easily find the specific set of sites you're trying to find — for example, all sites that have backups activated, or sites that don't have SSL enabled.
You can filter sites by your clients, language, WordPress and PHP version as well. Clicking the add-ons filter will also allow you to see which tools you have active across your sites.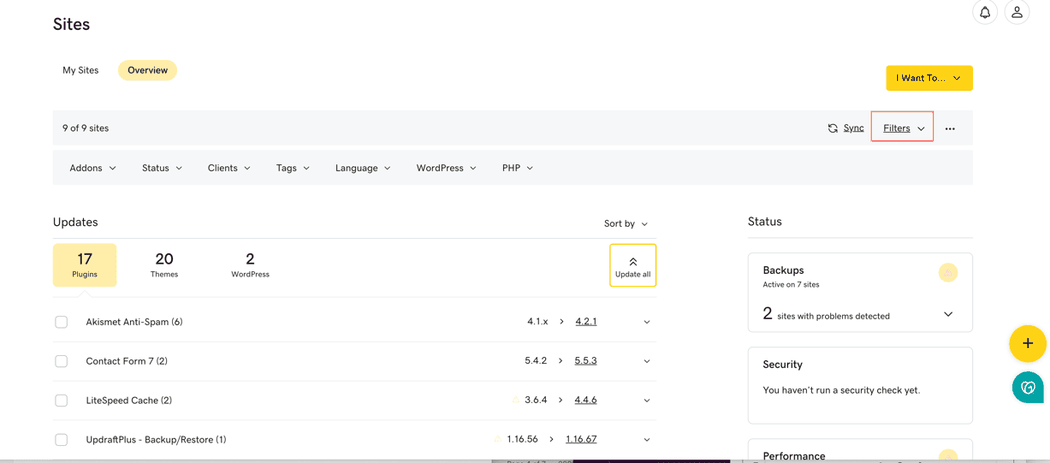 If you want to customize your filters, you can create your own tags, name them and even choose a tag color, effectively creating your own set of filters. You can also star websites that are especially important to you, and they'll be listed first.
The central part of the Overview screen belongs to widgets. This is where you can see and perform updates, optimization, approve or delete comments (or mark them as spam) and view all that's happening on your sites features-wise — without having to log in and out of individual websites.
When thinking about WordPress websites, one of the first things that come to mind is the need to perform plugin and theme updates on a regular basis.
That's why the first thing you'll notice in The Hub's Overview screen is the Updates widget, where you can see which plugins or themes, or WordPress core needs to be updated on which site(s).
If you click on the plugin name, you'll get to see on which sites the update needs to be done, and you can see the expanded view by clicking on the plugin version, which will show you the update's changelog. (Pretty cool, huh?)
There's a very handy Optimization widget as well, where you can clear spam, post revisions, MB overhead on multiple at the same time. You can manage all the comments across your websites in the Comments widget.
There is also a Status widget on the right part of the screen, where you can see the overview of all of the add-ons on your sites. If there's an issue on any of the sites with some service — for example, if there's a failed backup on a site — you will see it here.
Level 7: Automating tasks with The Hub
To keep your client's sites safe and healthy, you need to have everything updated on a regular basis, which can be quite a tedious task if you do it manually. The ability to schedule updates and backups is probably one of the most useful features that The Hub has to offer.
The Sites section allows you to schedule all sorts of things. You can schedule updates, backups and scans with just a few clicks, with notifications in place that immediately let you know if something goes wrong.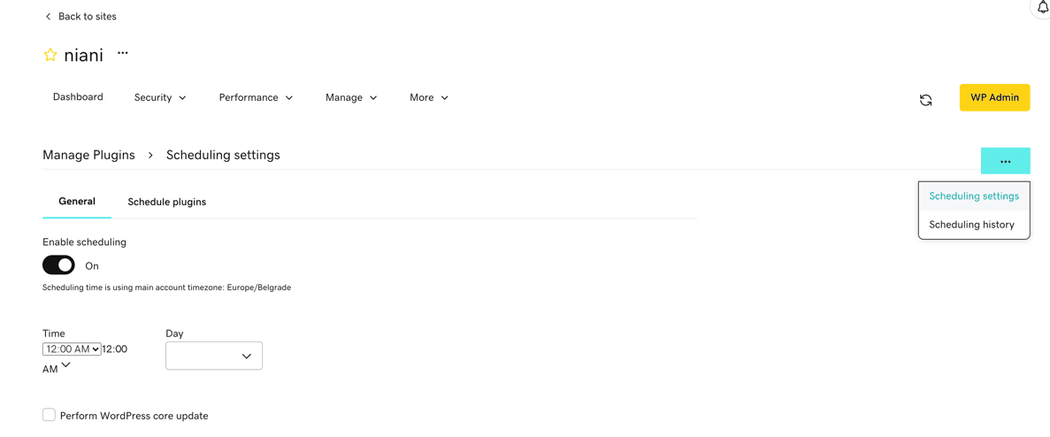 Automating updates
You can click into a single site to schedule plugin, theme and WordPress core updates. We also let you choose the time and day of the week that's most convenient for you and your site (for example, during periods of low traffic).
Automating backups
Remember the nightmare scenario from the beginning of this article – the one where your client's important website crashes, and you realize you don't have a valid backup? Well, worry not, as The Hub really puts your mind at ease on that one... you'll know that you're always going to have a secure, reliable backup if anything goes wrong.
Each backup in The Hub has a lifespan of 90 days, and is stored on our Amazon AWS clusters.
This means that if you have daily backups on one of your websites, you effectively have access to 90 separate backup files (plus any on-demand backups you did in the meantime).
They are incremental, as the tool is build to keep your server load down to a minimum, while it also retains the highest possible level of reliability.
The free version of the tool includes monthly backups and the ability to restore a backup point of your choice. The premium version includes weekly or daily backups, an unlimited number of on-demand backups and the option to download any of your backups to your local environment. You can also choose to run backups every 12 or 6 hours.
Automated monitoring
If your site frequently goes offline, opens slowly, or if it gets infected with malware, you can potentially lose clients and money. So, it's important that you always keep track of your site's uptime, performance, and security, and to get notified immediately if anything goes south so that you can react as soon as possible.
Uptime Monitor is a lifesaver because it immediately notifies you by email if your site ever goes down.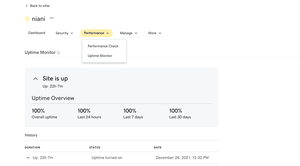 Performance and security checks come in both free and premium version. The difference is that you can automate scans if you're using the premium version of these tools and set notifications, so you're first to know if any performance or security issues arise. To set event notification settings, just click on the three dots while on the Sites screen.

It might be worth mentioning that you can use uptime monitoring, performance scans and security scans for non-WordPress sites as well.
To conclude our discussion about automating tasks with The Hub, keep in mind that all maintenance tasks run in the background, leaving you more time to work on website development. But they also give you the sense of safety – you'll know that you'll never again forget to perform a backup or run an important update.
Plus, you can set notifications to keep you updated, and you can schedule actions to run at whatever time is most convenient for you, for example, when your site's traffic is at its lowest, or when most of your customers are sleeping (just in case things go South).
Level 8: Mastering advanced techniques with The Hub
There are a couple of more features worth mentioning, such as code snippets (great addition for developers and our more advanced users), and maintenance mode, which allows you to display one of our default templates (or create your own) while your site's being maintained.
There's also the Invoicing feature (for now only available for the US market) which allows you to invoice clients, collect online payments, keep track of a payment history and automatically send past due notices.
One more neat little feature is electronic Signatures. It allows you to upload and sign documents electronically, notify signers they've received a document to sign, notarize your documents and download signed documents — all free of charge.

Epilogue: You now wield The Hub
And so, The HubQuest is complete. Congratulations, Maker of the Web.
The Hub's single sign-on and account delegation features significantly reduce client hand-holding — you won't have to pester them for credentials and can even help purchase important website products like hosting, security, email, and backups on their behalf.
Within the intuitive centralized dashboard, you'll find a number of useful tools which will also help reduce time spent on repetitive tasks.
One-click updates will help keep your clients WordPress sites patched with all of the latest security and feature updates available. Customizable task lists and timelines will make sure you stay on track with all your projects.
Allies are always here when you need them
Should things ever become grim in your workday, just pick up the phone or chat, 24/7/365.
Our award-winning support team is only a call, ticket, or chat away. As a GoDaddy Pro member, you'll skip the queue and enjoy prioritized support ticketing to make sure you get timely assistance with all of your questions.