GoDaddy Studio
Beautiful design, made easy.
Easily create content that elevates your brand everywhere, from your website to social posts and advertising.

Download the free GoDaddy Studio App
Get creative inspiration and create from anywhere. Scan the QR code to download the App. Available for iOS and Android.
1000s of customizable templates
Capture your brand's unique style with ready-to-edit templates. Swap colors, fonts and add text to images with just a few clicks.
No design skills needed
There's no learning curve on this one. GoDaddy Studio is designed specifically to help you easily create gorgeous content in minutes.
Brand-boosting power
Beautiful branded content gives your business a consistent look everywhere, from your website to your social posts and everywhere in between.
Fresh Features
Take advantage of GoDaddy Studio's most impressive features — Logo Maker, Link in Bio and Instant Video (coming soon).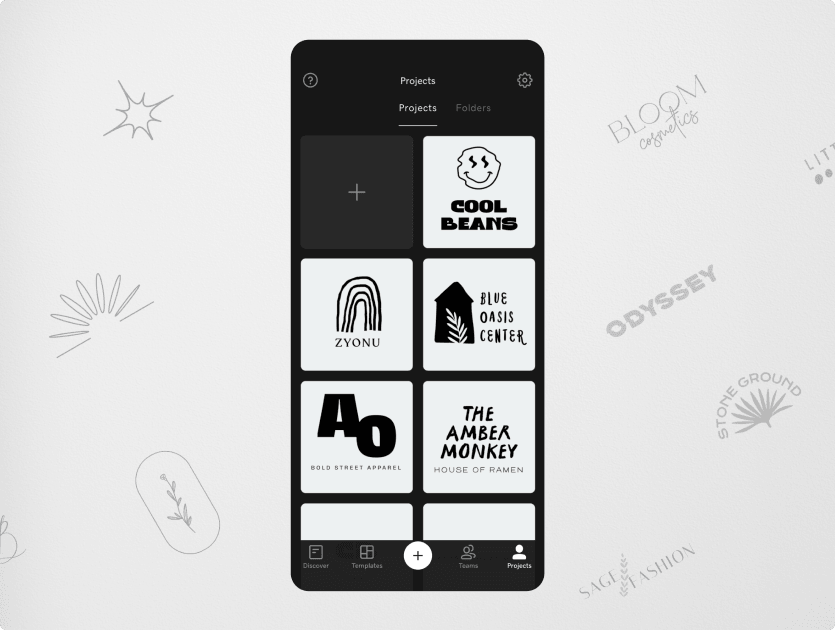 NEW - Logo Maker
Make your mark.
Design a custom logo for your business in minutes. Choose from hundreds of templates tailored to your industry, use unique graphics and fonts to make it your own and then use your logo everywhere.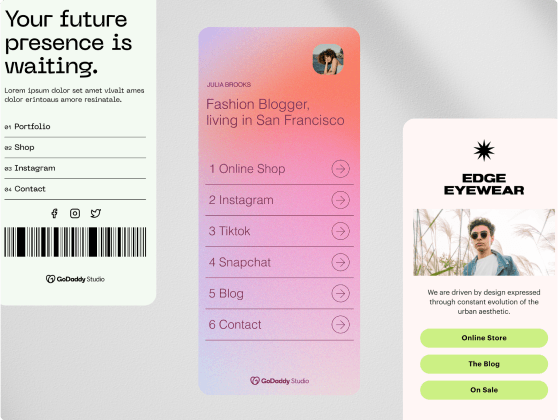 NEW - Link in Bio
Showcase your style.
Launch and grow your personal brand by customizing a Link in Bio template in minutes. Create a beautiful Link in Bio page that features all your sites and social media profiles and lets your audience connect with you more easily.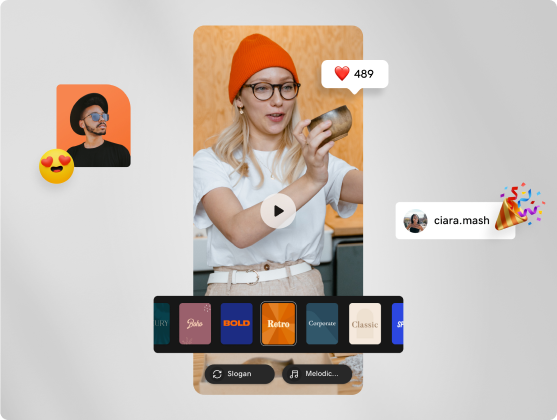 COMING SOON - Instant Video Editor
Get noticed.
Create your own branded videos in an instant — with no learning curve — and boost social engagement on platforms like Instagram and TikTok.
Want even more design power?
The free version of GoDaddy Studio lets you make professional designs in minutes, but if you're looking for premium templates and advanced photo editing tools, try the Websites + Marketing Basic plan. You'll get unrestricted design capabilities for your branded content, plus a website and built-in marketing tools to help you show off your stuff.
GoDaddy Studio Free
Get the free content creator.
Standard templates
Select images and graphics
Basic font collection
Websites + Marketing Basic
Get the premium content creator, plus a website.
Explore plans starting at $9.99/mo when billed annually.**
Premium templates
Complete library of images and graphics
Deluxe font collection
Shapes design tool
Mobile-friendly website
Social and email marketing tools
Connect a custom domain
Guidance and analytics
Trusted by 21+ million customers around the world.
Exceeded my expectations
Exceeded my expectations and made the process of setting up a domain name, web hosting, email and marketing services easy!
LouiseH
Easy to use Website builder and…
Easy to use Website builder and calendar system. Fits most of my needs as a new and growing business. Excellent customer service 24/7. I don't know any other business that does that!
Sherri Kozubal
Great Resource
I am a new business owner and at times overwhelmed by all the new information I'm coming across. Working with Go Daddy has added some reassurance that my business operations is in good hands. My questions are answered clearly allowing me the ability to tailor my businesses needs. Thank you.
Porschè R.
I've used GoDaddy for 9 years
I've used GoDaddy for 9 years. Find the support teams very knowledgeable and helpful. Even when I really twist things up they find a work around to get me back to functionality. I was with another company for 18 months prior to GoDaddy. NO comparison in terms of what I need to keep my business humming along.
Kate Shadock
GoDaddy is a great option
I've used GoDaddy for everything from managing domains to corporate and personal email...they are rock solid and the customer service is topnotch.
MJ
Superior hosting and web design platform
Our website has been hosted in GoDaddy for 5 years and in that time, we've never had a service interruption, the platform is easy to navigate and designed in a way that allows our business to look professionally made. The customer service is absolutely incredible. We totally recommend going with GoDaddy!
Michelle Pack-Lewis
Godaddy is the best Website Hosting…
Godaddy is the best Website Hosting available. I've used 3 different services in the past, and hands down, Godaddy is #1.
Shane Bagnoche
I highly recommend GoDaddy...
After researching my options elsewhere, I am very pleased I decided to go with GoDaddy. GoDaddy allowed me to easily create and publish a perfect website for my needs.
Dan S.
GoDaddy is the Go-To!!!
As a 'Rookie' at this domain stuff, GoDaddy made it a smooth, easy experience. Customer Support was terrific, knowledgeable, clear explanations to all my questions, I learned a great deal speaking with Customer Support.!! Great pricing, thus a great value.!!
Roger Hyman
Great Customer Service!
Customer service reps at Go daddy are among the best you will find. Prices are always beyond fair: I see it as a good deal.
FORTUNE MACRI
Olivia F.
GoDaddy Guide
We love to help. Seriously.
Still not sure what you need? Give us a call. We're happy to help, even if you're not a customer. Call us at 1-480-366-3546 and we'll chat — or get back to you as soon as we can.
GoDaddy Studio Frequently Asked Questions
What is GoDaddy Studio?
GoDaddy Studio is a content creation tool that can be used both as a mobile app or on your desktop. Its advanced image editor allows you to quickly and effortlessly create professional looking content. Create thumb-stopping videos on the mobile app, add text to photos and stylize fonts, colors and backgrounds using click-to-edit pre-made designs. With GoDaddy Studio's powerful design tools, you can easily create professional content like promotions, business announcements, social media posts, stories and other branded content.
What is the Over app?
The Over app (now called GoDaddy Studio) is a photo editing mobile application allowing you to add text to images and alter colors, fonts and backgrounds to create beautiful branded content right from your phone. You can download it through your preferred mobile app store (available on both iOS and Android). You don't need a website to use the GoDaddy Studio app.
Can I use GoDaddy Studio on my desktop computer?
Yes. GoDaddy Studio is available as a mobile app or as a desktop tool, allowing you to design content with its easy image editor from anywhere, on any device.
Is GoDaddy Studio free?
Yes. You can use GoDaddy Studio for free. The free version includes standard templates, photos, graphics and font collections. If you'd like to access premium templates and picture editor tools, we'd suggest bundling GoDaddy Studio with a website by purchasing the Websites + Marketing Basic plan, which gives you website building and marketing tools, plus unlimited photo editing capabilities with GoDaddy Studio. Check out our Websites + Marketing plans (GoDaddy Studio is included in all plans).