Take the guesswork out of marketing your business.
You don't need a six-figure budget or an MBA to market your business online. With Digital Marketing Suite, you get the tools you need to handle everything from SEO to social to email and beyond. Plus, you'll get marketing recommendations tailored to your business, courtesy of GoDaddy Insight™.
Show up everywhere your customers are.
Whether you want to drive people to your website, your Facebook page or your front door, Digital Marketing Suite has the tools to make it happen.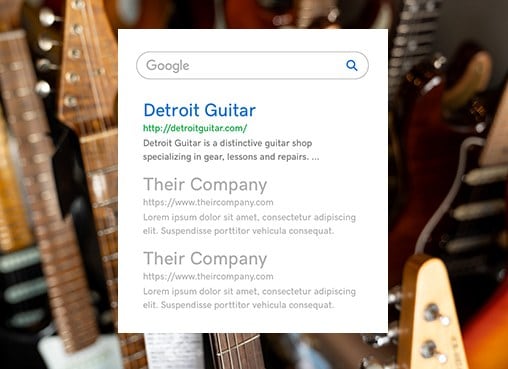 Get found on Google.

Automatically scan and optimize your site for Google without ever having to know (or even think) about alt text, meta tags or other SEO jargon.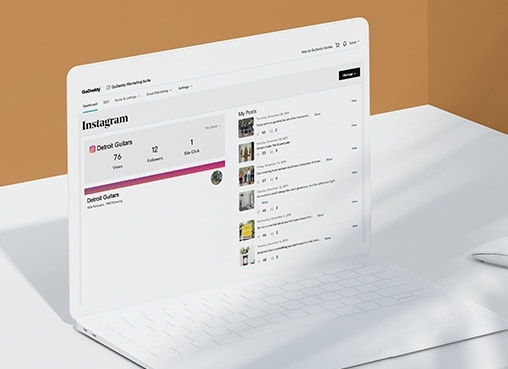 Give your business a social life.

Some folks
the Gram. Others really
Facebook. But as a business, you can't play favorites, so we've made it easy to manage both from a single dashboard.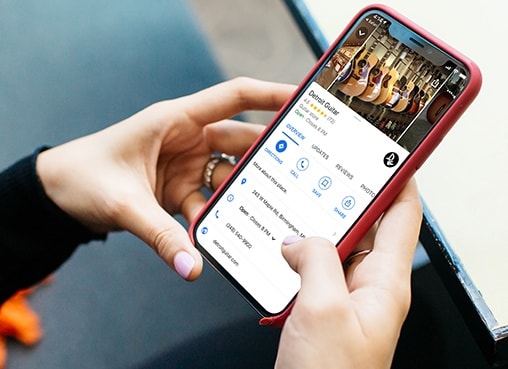 Put your business on the map.

If you're used to seeing your customers in the real world, we can get you a lot more face time. We make it easy to create and manage business listings on Yelp on Google Maps.
Build and keep a 5-star reputation.
Customer ratings and reviews can make or break a new business, but monitoring and responding to every comment is a full-time job. With Digital Marketing Suite, you can create and connect your Facebook, Yelp and Google listings all in one place. And when a new review is submitted, you not only get notified, you're able to read and respond to it right from your dashboard, so you can maintain your stellar reputation without jumping from site to site.
Make your move without moving.
With Digital Marketing Suite, everything you need is in one place. Optimize your site for Google, post your latest offer on Facebook or Instagram, respond to customer reviews on Yelp, even create and send marketing emails — all without ever leaving your account. And if you're just getting started, Digital Marketing Suite can even create a Facebook page or Google business listing for you.
All the marketing tools in the world won't help if you're not sure how to use them. That's where GoDaddy InSight™ comes in. It constantly monitors your site to let you know how it's performing and, more importantly, how you can improve it. Sign in to the dashboard, check your latest stats and see what's next on your marketing to-do list. No scouring the web for tips or ideas, no guessing (and then second guessing) about what to do next — just up-to-date recommendations tailored specifically to your site.
We love to help. Seriously.
Still not sure what you need? Give us a call. We're happy to help, even if you're not a customer. We're here 24/7/365. Call anytime. 480-463-8386