The right domain at the right price.
Get online without breaking the bank.
Low-cost domain names offer an easy way to get online without breaking the bank in the process. Whether you're starting a website for your business or just buying your kid's domain name, the right domain lays the foundation for a great website and an engaging online presence. With GoDaddy, you can register domains for as low as RM4.62. You can even snag a free domain name with one of our website hosting plans. It doesn't get any cheaper – or any better – than that. In other words, the price is right. And if you're smart about SEO, social media, email marketing, and the rest of your online presence, the traffic and name recognition of your website can be, too.
Cheap domains, valuable opportunities.
Buying a cheap domain name does not limit your ability to be successful online. In fact, the hundreds of new domain extensions now available provides you with more opportunities to create a strong online presence. Choosing the right cheap domain can be a way to communicate your website's purpose and your creativity, innovation, and even customer service to online visitors. A book club, for example, could use a .club domain name to bring members together online. Online stores might want to look into .shop, while IT firms should consider .tech domains. In short, there are NUMEROUS possibilities, and the smart selection of a cheap domain name can lead to creative marketing opportunities and strong user engagement.
Register your cheap domain today.
Now you know that a good domain does not have to cost a fortune. Both great website traffic and name recognition are possible when you purchase a cheap domain name and build a quality website. And GoDaddy is here to help you do just that. We offer the largest selection of domain names on the web, so you can pick a domain that is memorable and specific to you. We make domain setup quick and easy and provide you with the option to add services like Full Domain Privacy & Protection. Want to purchase more than one cheap domain? Then consider our bulk registration to quickly register numerous domain variations at once.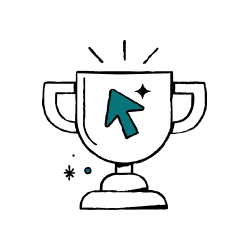 Award-winning service.
When you need help, you can expect the best from us. For five years in a row, GoDaddy has won a Stevie Award for Customer Service. The international awards competition is based on Customer Net Promoter Scores (NPS), which consistently rank our customer care among the best on earth. In addition to phone support, we also offer an exhaustive collection of help articles on every conceivable topic.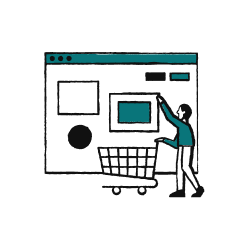 Browse, shop and get help in your language.