Pick a template to start your site or store for free.
Add your content, products and business info to make it yours.
Use built-in marketing to let people know you're open for business.
Manage everything — reviews, orders, social — from 1 dashboard, on any device.
Buy premium features — store add-ons, SEO, appointments — as you need 'em.
Get growing.
Whether you're building a website to show off your portfolio or setting up a store to sell anything from cookies to digital recipes to baking classes, you can do it all with Websites + Marketing. This powerful, all-in-one builder with integrated marketing is designed to help you grow.
A powerful website
builder at your
fingertips.
A powerful website builder at your fingertips.

A powerful website builder at your fingertips.
Click to easily edit or add entire sections — like a photo gallery, menu, or price list — in seconds, from any device.

Design beautifully branded content for social media, email marketing and beyond using Over by GoDaddy.

Set up your online shop for free using professional ecommerce templates, then upgrade to a paid plan to start selling.

Manage everything – reviews, orders, social – from one dashboard, on any device.
Premium Website Builder Features
Unlock more as your business grows.
With marketing and business-building tools baked in, you get to start for free right now, then upgrade when you're ready for more.
Custom Domain
Give your website the address it deserves with a custom domain.
A domain is the address where your website lives online. A custom domain looks more professional and makes it easier for people to remember your business name.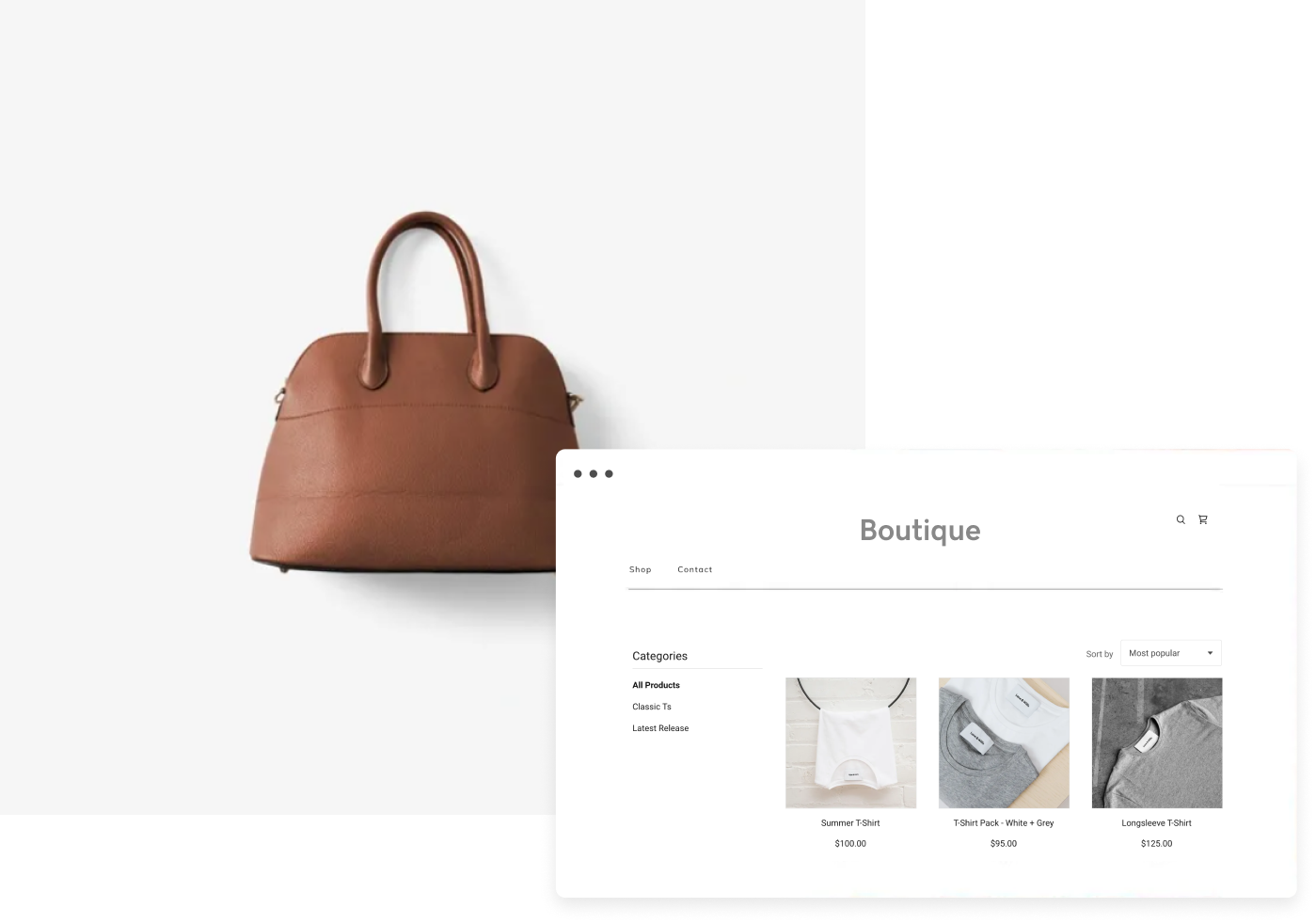 Online Store
Build a full-featured online store your shoppers will love.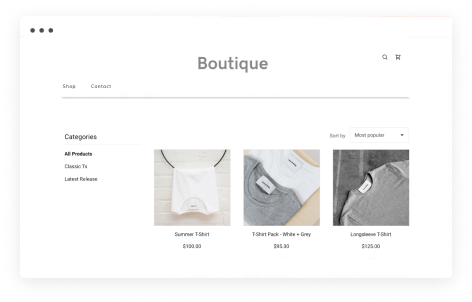 Our easy-to-use Online Store lets you sell anything, everywhere. From products and downloads to virtual and in-person services, sell it all on Etsy, Instagram, Amazon and beyond.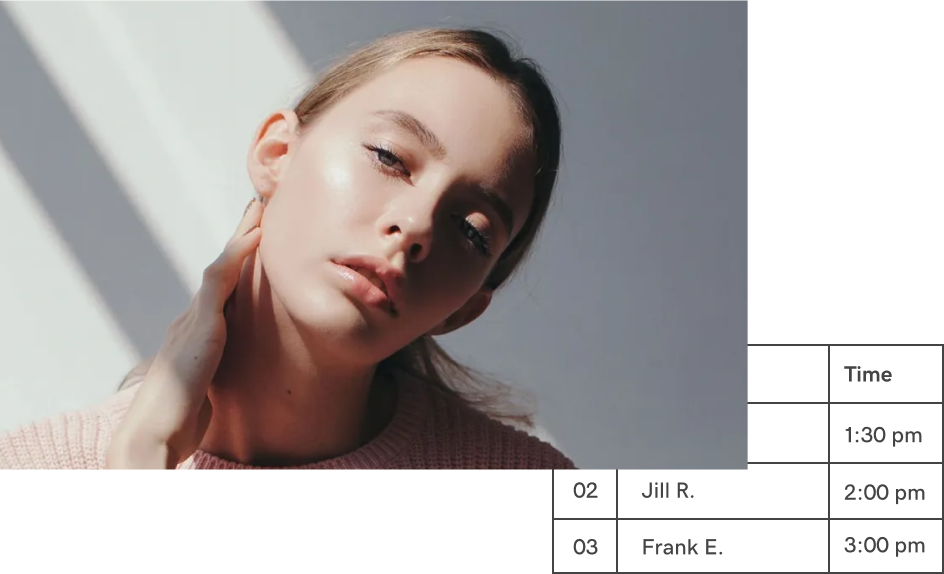 Appointments
Upgrade from one-time to recurring appointments whenever you're ready.
Customers can book and pay for your virtual or in-person services right on your site, at any time. That means you get to fill up your calendar without picking up the phone.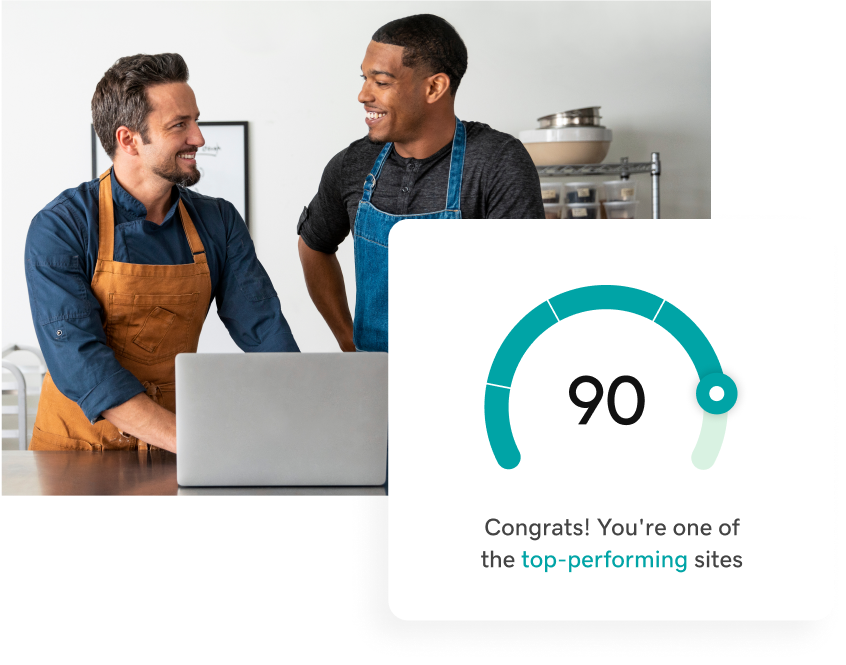 More Marketing
Grow faster with expanded email and social media marketing.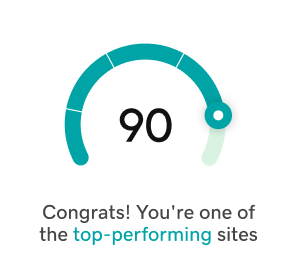 Engage customers and keep them up to date on how to stay connected to your business with advanced email and social media marketing tools.
Search Engine Optimization
Get found on Google and beyond with a perfectly optimized site.
Boost your site on Google and other search engines with keyword suggestions and tracking that'll help you monitor your ranking over time.
FREE
What's included with your free website?
Email and social media marketing
One-time appointments
PayPal payments
SSL certificate to keep your site secure
24/7 customer support
Branded content creation with Over by GoDaddy
Premium
Upgrade when you're ready for more.
Starting at $9.99/mo
Connect a custom domain
Offer flexible shipping options
Get Search Engine Optimization (SEO)
Set up recurring appointments
Add a full-featured online store
Get email and text appointment reminders
Sell on Amazon, eBay and Etsy
Accept online payments for services
List products for free on Google Shopping
Sync orders and inventory across channels
Jordan M.
GoDaddy Guide

We love to help. Seriously.
Still not sure what you need? Give us a call. We're happy to help, even if you're not a customer. We're here 24/7/365. Call anytime. 480-463-8386
Frequently Asked Questions
Why should I have a website?

By creating a website, you're building an online presence. Whether you're making a basic website with contact information for your small business, creating a portfolio for your freelance work or simply want a space to blog about your thoughts on food, having a website will help you share who you are and what you do with the right audience.

What is GoDaddy Website Builder?

GoDaddy's website builder, formally called Websites + Marketing, is an online editing and publishing tool that helps you make a responsive website with no technical knowledge required.

How to create a website with GoDaddy's Website Builder:

Create a GoDaddy account.
Pick a design and use the drag-and-drop editor to add your own images and text or create a contact form. You can make your website as simple or complex as you'd like.
Publish your website.
Expand your website as you grow. You can add a full online store complete with product listings, coupons, shopping cart, shipping and multiple payment options.

What is GoCentral website builder?

GoCentral is the former name of GoDaddy's website builder product, now called Websites + Marketing. It's an all-in-one website builder that comes with integrated marketing tools to grow your business. It offers hundreds of designer-made templates to choose from, or you can type an industry directly into the builder to receive a relevant, pre-populated template to customize.

Is my website really free?

Yep. You'll never be charged for our free website plan. If you choose to upgrade to a paid plan with premium features, you won't lose the work you've already done to your free site. You can upgrade your plan in the My Products section of your account or with the help of a GoDaddy Guide. See Website Builder plans and pricing to find one that suits your needs.

Can I customize my website?

Absolutely. Add or edit sections — like image galleries, price lists, menus, scrollable content blocks and YouTube or Vimeo videos —  to customize your website to your business needs. Every section in your website is customizable, from the name of the page, to your website's navigation bar. You'll also have the ability to change text, colors, styles and font. Our website builder allows you to switch back and forth between mobile and desktop layouts so you can create a website that allows visitors to comfortably view and use your website from any device.

Can I add a shopping cart to my website?

Yes. With a free website plan, you'll be able to set up your online store and accept PayPal payments. For a full-featured online store with advanced payment options, various shipping methods and increased functionality, you'll need to upgrade to the Ecommerce plan. Once you've upgraded, you can accept orders and build the ultimate shopping experience with features like Apple Pay, highlighted product sections and promotional coupons. Learn more about Online Store.

Can I connect a custom domain to my free website?

No. All websites created with the free plan will have a url like "www.yoursitenamehere.godaddysites.com." If you want to connect a custom domain to your site, you will need to upgrade to a paid plan.

Does GoDaddy Website Builder include an SSL certificate?

Yes. In all plans, any data transmitted from your site will be encrypted using a SSL (Secure Sockets Layer) certificate. This means that all data will be kept private; which is important if you want to keep your site visitors safe. If you sell products or services in your store, an SSL will protect credit card and bank numbers from being intercepted by hackers.

Can I connect my social media and website?

Yes. GoDaddy Website Builder can act as your online hub. The option to link to your Facebook, Twitter, Instagram, Pinterest, LinkedIn and YouTube on your website gives you an advantage in communicating with your visitors. By centrally locating all the links in one place – your new website – you're giving your online visitors a seamless experience.

Are SEO (Search Engine Optimization) tools included with Website Builder?

Select Website Builder plans come with built-in SEO tools to help your website show up in search engines like Google. In Website Builder, you'll find the SEO Wizard, a step-by-step guide that provides suggestions on how to optimize each page of your website by adding relevant keywords and descriptions.

What is GoDaddy InSight?

GoDaddy InSight is designed to help you improve your online presence by providing you with performance metrics and advice on how to improve them. GoDaddy InSight powers a central dashboard where you'll find your:

GoDaddy InSight Score, which is an assessment of how you're doing across your website, social media and marketing activities.

GoDaddy InSight Metrics, which offer details about your website activity, and social sites including Google, Facebook and Instagram. Plus, the ability to respond to reviews from one place.

GoDaddy InSight Action Plans, which give recommendations on what to do next to improve your online performance.

How do I start selling online?

You can design your online store and use a PayPal button on it for free, but if you want to accept orders and other payment types, you'll need to purchase the Ecommerce plan.

To get your full-featured online store up and running right now, here's what you do:

Click any of the Start for Free buttons on this page. 
Take a few seconds to create an account so we can save your work.
When prompted, select your industry and name your site.
Click View Plans in the banner at the bottom of the screen. 
Choose and purchase the Ecommerce plan to start using your store. 

How do I create a website?

Creating a website is a relatively small effort that can have a huge impact on your business' bottom line. Here's how to start building your website: 

Get organized
Think about the info and images you want to include on your website and what categories you'll need to organize that content. Maybe you'll need an About page with contact info, or a Menu page to show off tasty treats? You'll make quick progress if you can map out a general structure before you start creating your site.
Choose a website template
Pick a template to get started, or hit Start for Free to have Websites + Marketing generate a business-relevant template for you.
Customize your website
Use our easy editor to add your content, products and business info, and customize colors, fonts and layouts. 
Choose your domain
Register a custom domain or connect one you already own to your website. This helps people easily identify your business from your site's online address.
Optimize your website for search engines
Use the premium SEO optimizer to ensure your website is easily found on search engines like Google.
Launch your website
Publish your website and watch your business grow, while managing everything — like website updates, reviews and social posts — from one dashboard, on any device.
Disclaimers
Third-party logos and marks are registered trademarks of their respective owners. All rights reserved.
* The Free Website service is a free version of the Websites + Marketing service and will renew on a monthly basis without charging you.  Not all features available in the Websites + Marketing service are included in the Free Website service. Should you choose to add additional Websites + Marketing features or services to your Free Website service it will convert to a paid plan which will automatically renew at the then-current renewal price with no further action from you, until cancelled. You may cancel the automatic renewal of the free service or the converted paid plan at any time by visiting your account and turning off the auto-renewal feature ("cancel renewal"), or by contacting customer service. If you choose to cancel Free Website service, any content or data you have entered into the service will only be retained for 60 days from the date of cancellation for customers with billing addresses in non-GDPR countries or 30 days from the date of cancellation for customers with billing addresses in GDPR countries.  In addition, GoDaddy reserves the right to deactivate a site if it is inactive for over a year, which means the site has had no traffic and/or no customer logins, or at GoDaddy's sole discretion. Customer support may be limited for this Free Service and may be modified at GoDaddy's sole discretion at any time.  

GoDaddy reserves the right to cancel, suspend or modify part of this entire offer at any time without notice, for any reason in its sole discretion. This service cannot be resold, transferred or combined with any other offer. Your use of this service is subject to the GoDaddy Universal Terms of Service, GoDaddy Privacy Policy, and any other applicable agreements.