Microsoft 365 Email Essentials
Professional email
As low as

With an annual term (62% savings)

You pay SG$35.88 today
Renews Mar. 2024 for SG$7.99/mo (SG$95.88 total)
Professional email that uses your domain

10 GB email storage
Professional email, 5x more storage
As low as

With an annual term (40% savings)

You pay SG$71.88 today
Renews Mar. 2024 for SG$9.99/mo (SG$119.88 total)
Professional email that uses your domain

50 GB email storage
Microsoft 365 Online Business Essentials
Online Office apps, email and collaborative tools
As low as

With an annual term (20% savings)

You pay SG$143.88 today
Renews Mar. 2024 for SG$14.99/mo (SG$179.88 total)
Microsoft 365 Online: Web versions of Office apps like Word, Excel and PowerPoint, plus mobile apps

1 TB secure OneDrive storage

Meet, chat and collaborate with your team, customers or suppliers with Microsoft Teams

Professional Email with 50 GB email storage

World-class data security and spam filtering

99% uptime guarantee
Microsoft 365 Business Professional
Office apps on 5 devices, web apps, email and collaborative tools
As low as

With an annual term (45% savings)

You pay SG$143.40 today
Renews Mar. 2024 for SG$21.99/mo (SG$263.88 total)
Microsoft 365 Desktop Apps: Download Office apps like Word, Excel and PowerPoint to 5 devices, plus get web and mobile apps

1 TB secure OneDrive storage

Meet, chat and collaborate with your team, customers or suppliers with Microsoft Teams

Professional Email with 50 GB email storage

World-class data security and spam filtering

99% uptime guarantee
Choose your best plan:

Email Essentials

Email Plus

Online Business Essentials

Business Professional

Microsoft 365 Desktop Apps: Word, Excel, PowerPoint, Teams, OneDrive, Outlook and more



Microsoft 365 Online: Web versions of Word, Excel, Teams and more



Microsoft 365 Mobile: Apps for iPhone, Android and Windows phones



1 TB secure online storage via OneDrive



Microsoft Teams: meet, chat and collaborate with your team, customers or suppliers



Domain-based email



Storage for email, contacts and calendars

10 GB

50 GB

50 GB

50 GB

World-class data security and spam filtering



Sync across all devices


Guaranteed reliability: 99.9% uptime
24/7 phone support from the best care team on the planet
World-class data security and spam filtering
Get all the latest, regularly-updated Office apps
And, every time Microsoft releases a new version, it gets delivered to you automatically, at no extra charge. No big upfront cost now. No big upgrade cost later. Just a low monthly price so you'll always have the latest version.
Your anytime, anywhere office.
Put your mobile device to work.
Mobile versions of Office apps are specifically designed to give you a consistent experience across all your devices. If you've got an iPhone, iPad, Android or Windows device, the mobile Office apps let you access, edit, share and store files just as easily as with the desktop versions.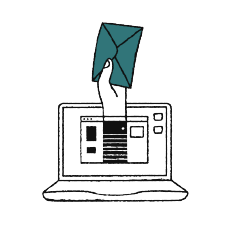 Take your office anywhere. Really.
With Microsoft 365, everything's within reach because it seamlessly integrates with OneDrive, a secure cloud storage service. Store all your files and access online versions of Word, Excel and PowerPoint. Best of all, it works the same on a PC, Mac, tablet or smartphone.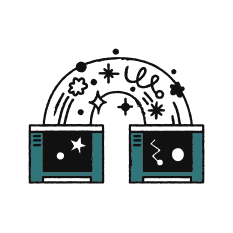 Keep files safe. In the cloud.
Hard drive crash. Email virus. Coffee spill. Stuff happens. But with 1 TB of secure online storage with OneDrive, your files are always safe and always accessible.
Email that works. For you.
Make a great first impression.
Show customers you mean business with official email addresses that speak volumes before you say a word. Create professional addresses — like yourname@, sales@, or support@ — that all route to your primary inbox.
Stay in the loop.
Microsoft 365 and GoDaddy keep all your devices in sync, from your laptop to your tablet to your smartphone, so you're always on the ball. Plus, shared online calendars put every team member on the very same page.
New apps to grow your business.
Microsoft Bookings
Allow customers to easily schedule appointments from a customizable web page.
Microsoft Teams
A collaboration tool that combines workplace chat, meetings, notes and attachments.
Frequently asked questions
What is included with Microsoft 365?
Microsoft 365 includes best-in-class Office apps, like Word, Excel, and Teams and more, plus intelligent cloud services, and Outlook, the industry-leading secure email. 
What happened to Office 365 plans?
Office 365 plans are now Microsoft 365 business plans. Microsoft 365 includes everything you know in Office 365, including best-in-class Office apps, intelligent cloud services, and advanced security. There are no price or feature changes, only an updated name.
My business has an existing Office 365 business subscription. What does the change to Microsoft 365 mean for me?
No action is needed from you. Your Office 365 subscription will automatically be renamed to Microsoft 365. You will see the name of your subscription update to the new name across your Admin Portal and monthly billing statements.
Why should I buy Microsoft 365 from GoDaddy if I already have Office apps on my desktop?
If you purchase our Business Professional plan, you'll get the latest Office apps, featuring the latest versions of the desktop applications you know and love — Excel, Word, Outlook, PowerPoint, Access (PC only), OneNote and Publisher. And whenever Office apps are updated, you will automatically receive the latest upgrade at no additional charge so that you always have the current version of Office apps. 

  

Our Microsoft 365 plans give you the ability to easily and securely share and collaborate on documents using OneDrive for Business and Online Office apps. With Online Business Essentials and Business Professional you can also create a domain-based email address and share calendars and contacts with people inside and outside of your company. Finally, unlike the Microsoft 365 you currently have, Microsoft 365 from GoDaddy gives you the ability to have real-time online meeting and screen sharing using Skype for Business (PC) and Lync (Mac).
With the Business Professional plan, can I download the 5 installs of Office on my employees' computers?
The desktop Office app licenses that come with the Business Professional plan is associated with an individual user's account, including that individual's sign in and password information. Downloading a copy onto an employee's computer would give them access to your documents.  

We highly recommend that anyone in your organization needing the latest desktop version of Office apps have their own Business Professional account. 
Will the Excel, PowerPoint and Word programs I already have installed on my computer work with my cloud storage and Office Online?
OneDrive for Business Professional cloud storage and Office Online work best with the latest version of Microsoft 365. With these versions of Office apps, you can select files stored in the cloud and edit them using your desktop applications instead of Office Online. Simply open the file you wish to edit, click 'Edit in Word/Excel/PowerPoint' and when you click 'Save' within those applications, your document will sync back to your storage.  
Will the latest version of Office apps work on my computer?
To use the 5 desktop downloads you get with the Business Professional plan, you must be on one of the following operating systems: 
PC: Windows 11, Windows 10, Windows 8.1, Windows Server 2019 or Windows Server 2016. 
Mac: the most current version of macOS and the previous two versions 
If you are running a different operating system, remember that you can still use Office Online, browser-based versions of your favorite Microsoft tools like Excel, Word or PowerPoint, which are included with the Online Business Essentials or Business Professional plans.
I am part of a larger organization - can I use Microsoft 365 from GoDaddy?
Our plans are designed for businesses that require fewer than 300 accounts. You may purchase up to 300 accounts of each plan (up to 900 accounts total.) If you have questions, just give us a call at +65 6349-4240. Our award-winning team is here to help 24/7.
What is the cloud?
Working or storing files in 'the cloud' means that your files are stored securely on the Internet — not on your hard drive — so you can access them anytime, anywhere, from almost any device connected to the Web.  

You don't need to buy additional software and you're not dependent on your computer to get work done. Plus, since your documents are stored on secure servers, you have peace of mind knowing that, even if your hard drive crashes or you spill coffee on your computer, your documents and programs are safe and accessible from any web browser.
I have a Mac. Can I still use Office 365 from GoDaddy? What about the Business Professional plan?
Yes. Office Online is compatible with Mac. And if you choose the Business Professional plan, you'll be able to download the latest version of Office apps for Mac, which is fully compatible with MacOS.
What is Office for iPad?
Office for iPad includes the full-featured, touch-friendly versions of the most popular Office apps: Word, Excel and PowerPoint.  

Office for iPad is available with the Business Professional plan, which include a license that's valid for up to 5 iPads or Windows tablets, as well as up to 5 PCs or Macs, for a single user.
What is Office Online?
Office Online features versions of Word, Excel, PowerPoint and OneNote that are designed to use within a web browser. You can access Office Online from your cloud storage to create new files, edit existing files, share and collaborate online with clients or colleagues.
What is online document collaboration?
With our Online Business Essentials and Business Professional plans, documents created or stored in your OneDrive for Business cloud storage can be simultaneously edited with others inside or outside your company – anyone with a link to a document can make edits at the same time as you. You can even see each other's edits as you go, so you'll always be on the same page with the latest version, all without having to send documents back and forth via email.