Get the free GoDaddy Studio App to get movin'.
Your Link in Bio site is right around the corner. Just scan the code to download the App, available for iOS or Android, and you're all set.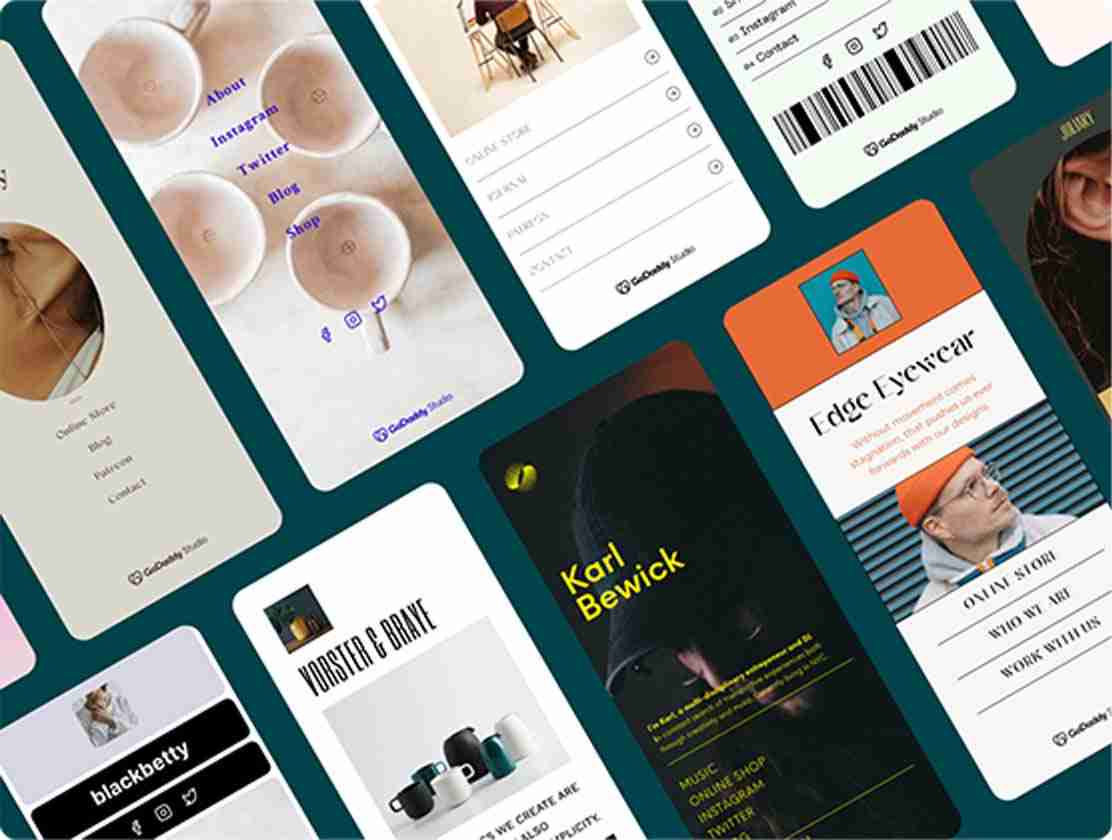 Build your brand.
Choose your favorite Link in Bio page template and use our handy design tools to build brand consistency.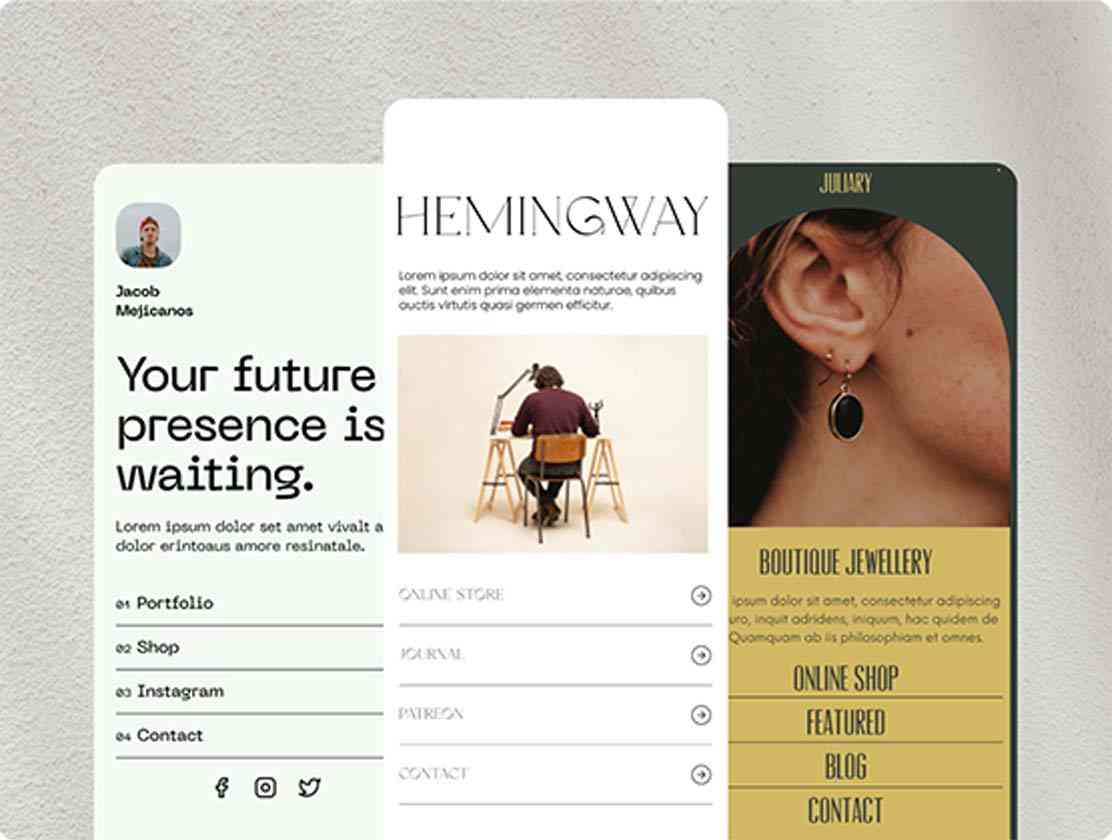 Share everywhere.
Add a beautiful Link in Bio to your Instagram and your social channels to boost conversion and let followers easily connect.
Promote your business.
Use GoDaddy Studio as more than a Link in Bio tool — create images and videos for social posts, digital ads and more.
Create a gorgeous Link in Bio page in 5 easy steps
At the bottom of the screen, tap Link in Bio. Tap Create a free site.

Select a template and start customizing. You can upload and add your own images or choose images from our libraries, as well as edit text and change background and font colors. Tap the check mark in the top-right corner to save your changes.

Include links to up to 14 social media profiles and unlimited additional links to your Link in Bio.

When you're happy with your Link in Bio, tap the publish icon. You can always go back and make changes as many times as you like.

Choose a unique link and tap Continue. If the link you selected is already being used, we'll let you know so you can choose a different link.
Frequently Asked Questions
What is Link in Bio?
Entrepreneurs often have to simultaneously run an Instagram profile, Facebook page, TikTok profile and a YouTube page. Maybe you also have a blog, a newsletter or a website.
When you're only sharing one link at a time with your audience they're missing out on all your messaging, and will have difficulty following you across all the platforms.
That's the beauty of a Link in Bio page - it's a place where your audience and customers can find you, wherever you are. Plus, with GoDaddy Studio, it's very easy to create a beautiful Link in Bio that matches your brand, so you can drive brand awareness and trust.
How do I use my Link in Bio site?
You can add your Link in Bio site anywhere you're active online, for example in your social media profiles, on your website, email signature or message it to someone. The person who visits the link can find out more about you and see your latest content.
What information do I add to my Link in Bio?
When you set up your Link in Bio, we'll guide you through adding key information about yourself or your business, and then linking to all your content. You can add links to up to 14 social media profiles including email and phone number, and as many other links as you want. This could be your latest video, a blog post, or your online store – anything with a link! You can update these links at any time.
Will I be able to save my logos?
Yes, you can save your logo as well as any other brand assets in GoDaddy Studio.
How many Link in Bio sites can I create?
You can only create one Link in Bio at a time per account.
Can I add the link on all social networks?
Yes, once you create your Link in Bio, you can include it on Instagram, Facebook, TikTok, or anywhere else for that matter.
Is my data safe?
We follow generally accepted standards to store and protect the personal information we collect, both during transmission and once received and stored, including utilization of encryption where appropriate. See our privacy policy for more information.
Is the Link in Bio creator really free?
Yes, our Link in Bio creator is indeed free. The GoDaddy Studio free trial does not expire however its content and features are limited. You can convert the service to a paid Websites + Marketing plan at any time to get access to premium features.