Regulatory compliance.
As a global company with customers in more than 100 countries, we understand there are requirements you need to meet. That's why we provide certain features to help you get there. Check out our offerings below.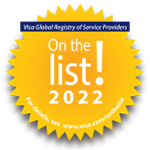 Get the standard in secure payments.
Payment Card Industry Data Security Standard (PCI DSS) ensures all companies that accept and transmit credit card information is done securely. So, we make it easy for you by providing compliant payment services and tools – GoDaddy Payments/Poynt, Sucuri Web Application Firewall (WAF), Quick Shopping Card, Online Store and Online Appointments.
ISO27001:2013 – Protecting your home online.
Not every domain registrar or registry can demonstrate that they take protecting your home online seriously. We do and we can. We're proud that our approach to information security management for our domain registrar and registry service is ISO27001:2013 certified.

The certificates can be viewed here for Registrar and Registry.
WebTrust keeps data safe.
We understand that customers want a safe and secure website. That's why our SSL and Code Signing Certificates meet the same WebTrust Principles and Criteria for Certification Authorities that we follow.
HIPAA is good for your health.
We help doctors and other healthcare providers protect your personal medical records with HIPAA-compliant email powered by Office 365.