My brother, Steve, plays the didgeridoo. He and fellow "didgers" meet once a month to play their instruments, give each other advice and chat about where to purchase didgeridoos. He lives pretty far away, so the last time he visited he showed me some videos of them playing. I asked if they had a website where they posted these videos and hosted a message board. He said they didn't — and hadn't even thought about it (and I wondered how we're related).
Since he indulges in a non-revenue producing hobby, his first concern about creating a website was the cost. But he was all ears when I told him that it's possible to acquire a domain name without paying for it. So, I showed him how to get a free domain.
Editor's note: Be on the lookout for free domain offers when you purchase a website and/or web hosting. For example, GoDaddy's Managed WordPress hosting includes a free domain when you purchase an annual plan.
Get a free domain: Where to start
First, we went to the internet to look for free domains. Our first google search, "free domain," brought up a number of domain sellers on the first page. (GoDaddy, the world's largest domain name registrar, topped the list.) Honestly, it was a little overwhelming for Steve — he couldn't believe how many companies sold domain names.
Related: Check out our overview on the best domain registrars.
We tried a new search, "domain coupon codes," to see if we could narrow down the choices a little. It worked, and we found a number of reliable coupon sites.
Retailmenot.com, Goodsearch.com and Groupon were offering domain coupons. There were even several domain-specific coupon sites — domaincouponcode.com, domainpromo.com and domainpromocodes.com. They all seemed to have a variety of legitimate, current domain coupons.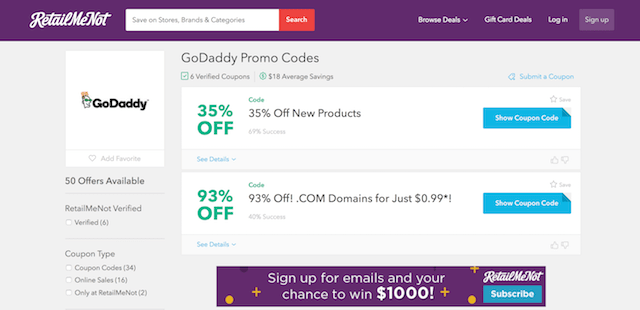 How to get a free domain coupon
As you do your own search for freebies, keep in mind that not all coupons you find online are real. I had to show Steve that you might not be able to use the first one you find. To help him figure out how to get a free domain coupon that would actually work, I gave him a few rules of thumb to remember when searching the internet:
Ensure you're on a legitimate coupon site and not a site created for data mining. If the site requires you to create an account, stick to the tried-and-true reputable sources, like RetailMeNot, Goodsearch and Groupon. You don't want your information to become part of an unwanted mailing list, so don't share it with a site you have never heard of.
Look at the expiration dates. If the most current coupon is from 2015, you're most likely on a dormant website.
Most coupon sites will give you a success rate for the coupons. Stick with the coupons that appear to have been used recently and with success.
Getting your free domain
Once we found a reliable coupon, Steve and I went to GoDaddy to get a domain. This turned out to be quite fun — I had no idea there were two spellings for didgeridoo/didjeridoo, so it opened up a whole new world of possibilities!
Steve rejected my fabulous puns — didgeyawannadidge.com was immediately thrown away — but we were able to find many other didgeridoo possibilities before settling on didgeclub.co.uk.

After we researched how to get a free domain and selected an awesome name, Steve stared at me and asked, "now what?"
Next steps
Steve reminded me that he was a musician, not a "computer geek" (apparently a term of endearment, as he uses it about his sister on a regular basis) and wasn't sure what should happen next. We started out by setting up a professional email address that we forwarded to all the club members. An email address that includes your domain name gives you instant credibility!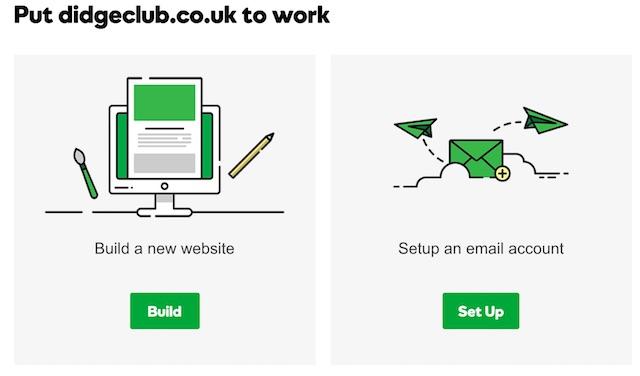 Next, we wanted to connect the new domain name to a website for the didge club. Steve was tickled that he could use a DIY site builder — GoDaddy's GoCentral — to create a modern website, no technical experience required.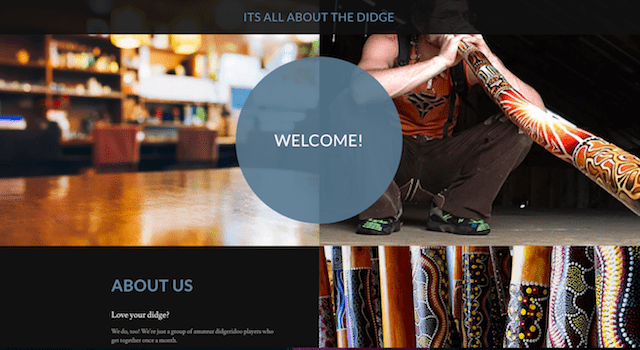 Two hours ago, Steve didn't even know how to get a free domain. Now, he has plans for a great website for his didgeridoo club (or is that didjeridoo club?) that's connected to his domain. That's what I call music to his ears.