Get your new number up and running in 5 minutes.
Choose a local phone number

with a U.S. area code.
Download the app (iOS or Android)
and link to your existing mobile number.*
Start calling and texting
That's it, seriously.
Manage your small business — anytime, anywhere.
Know when a call is for business so you can answer like a pro.
Your personal number stays private. Period.
Call, text and answer from your business number and keep your two lives separate.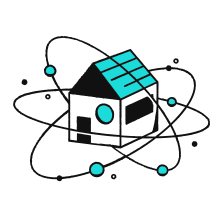 All customer communications in one place.
Organize all your calls, voicemails and texts by customer and easily archive.
With SmartLine, you don't need to carry around two phones to keep personal and business separate, and with a low monthly fee it's an affordable solution.
Improve work-life balance.
Avoid interruptions with options like customizable business hours, do not disturb and number blocking.
Separate your business and personal number.
Know who's calling.
Instantly know when a call is personal or for your business, so you can answer like the pro you are.
Display your business number.
When you call a client using SmartLine, your second phone number shows on their Caller ID, so your personal number stays private.
Send and receive texts.
Not everyone wants to talk on the phone. Now, you can text from your SmartLine number so your personal number stays private.
No equipment. No contracts. No hassle.
Works everywhere your phone does.
SmartLine uses your current cellular signal to make and receive calls, so the quality and reliability is every bit as good as your personal calls.
No new equipment to buy.
SmartLine is an app for iOS and Android smartphones, so it works perfectly with the phone you already have.
No expensive phone contracts.
Get a dedicated business phone number with the features of a professional phone system – all with an app on your smartphone.
Build your professional image.
More than just a number.
Your second phone number also includes its own customizable voicemail box, so even missed calls go to the right place.
Set business hours.
Choose when you want to accept business calls. After hours, calls roll to your professional business voicemail.

"SmartLine is the best!"

"It's so easy to setup and easier to use. And the price is great!"

"SmartLine is smart."

"SmartLine allows me to communicate with my sales reps without giving out personal numbers."

"Fast and easy."

"It's been easy to use and essential for our small business."

"I Love SmartLine"

"And the best part is I always know who's calling, so I can answer appropriately."
M. Colemen, The Lunch Guru
Frequently asked questions about SmartLine
Can I use the app with either an iOS or Android phone?
Yes, there are both iOS and Android apps available.
How good is the call quality with SmartLine?
We use your phone carrier's network, so the quality and reliability is the same as your personal mobile number.
Can I send text messages from my SmartLine number?
Yes, you can send and receive texts and pictures from the app, so you don't have to disclose your personal number to customers.
What happens if I go over my monthly allotment?
Any minutes over your monthly allotment will be billed in 6-second increments at $0.03 per minute. Any texts over your monthly allotment will be charged at $0.01 per text (applies only to outgoing texts on the SmartLine Basic plan).
Can I make and receive calls from outside the U.S.?
You can receive calls from any phone number, including phone numbers outside the U.S. At this time, you can make calls to U.S. phone numbers only.
As a resident of California, how do I get answers for SmartLine billing questions?
If you believe there is an error on your SmartLine bill or have a question about your service, please call us at 480-463-8386.
If you are not satisfied with GoDaddy's response, submit a complaint to the California Public Utilities Commission (CPUC) by visiting https://www.cpuc.ca.gov/complaints/. Billing and service complaints are handled by the CPUC's Consumer Affairs Branch (CAB), which can be reached by the following means if you prefer not to submit your complaint online:
Telephone: (8:30 AM to 4:30 PM, Monday through Friday)
Mail: California Public Utilities Commission, Consumer Affairs Branch,
505 Van Ness Avenue, Room 2003, San Francisco, CA 94102
If you have limitations hearing or speaking, dial 711 to reach the California Relay Service, which is for those needing direct assistance relaying telephone conversations, as well their friends, family, and business contacts. If you prefer having your calls immediately answered in your mode of communication, dial one of the toll-free language-specific numbers below to be routed to the California Relay Service provider.
TTY/VCO/HCO to Voice
English: 1-800-735-2929
Spanish: 1-800-855-3000
Voice to TTY/VCO/HCO English: 1-800-735-2922
Spanish: 1-800-855-3000
From or to Speech-to-Speech
English & Spanish:1-800-854-7784
To avoid having service turned off while you wait for the outcome of a complaint to the CPUC specifically regarding the accuracy of your bill, please contact CAB for assistance. If your case meets the eligibility criteria, CAB will provide you with instructions on how to mail a check or money order to be impounded pending resolution of your case. You must continue to pay your current charges while your complaint is under review to keep your service turned on.
Can I use my current number with the SmartLine app?
Yes. In most cases, we can port (transfer) your current number. Call a SmartLine expert at (480) 463-8715 for more information.
Can I get a second phone number for personal use?
Of course! SmartLine isn't just for business. A second phone number is great for little league coaches, listing items for sale online and more.
Does SmartLine use my phone plan's minutes?
Yes. When you make and receive calls, SmartLine uses the minutes included in your cellular phone plan. Since most people have unlimited minutes, this is rarely an issue.
Does SmartLine use WiFi for calling?
No. SmartLine uses your cellular phone network to make and receive calls, which helps ensure the best possible call quality.
Is SmartLine a VoIP (Voice Over Internet Protocol) phone service?
No. SmartLine calls use your cellular phone network for incoming and outgoing calls.