.com.au tells Australians to take note
Available now! Starting at
‪$14.99‬/yr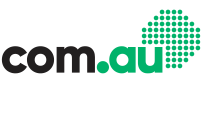 What is the .com.au domain name?
Got a product Australians will love? Market it with the .com.au domain name and tell Australian shoppers you cater to them. Even if you're just starting up a business or website, you can still register the perfect domain name if it's available.
Register .com.au to promote a business and attract customers, or start a blog, or even make an announcement or build awareness around a cause that Australians hold dear.
Why register .com.au domain names?
You've worked hard to establish your brand and want to maintain an authoritative Australian presence. Leverage the trust and authority that a .com.au domain name provides to see benefits including:
An Australian presence
If your business promotes a local service or cause, having a .com.au domain name shows customers that you're accessible and a local business.
Recognition and trust
Australian consumers are more likely to recognize a .com.au domain name as Australian and more likely to trust the brand it represents. It is familiar, as it is seen in advertisements and branding campaigns by many well-known businesses.
What else can I do with a .com.au domain name?
While you're at it, fend off wannabes by registering other Australian domain names, too. Just keep in mind that, depending on the type of domain, you may be required to meet an applicable set of criteria as defined by .au Domain Administration at auda.org.au.
When you buy .com.au, here are some other domain names to consider:
.net.au
If you're registering a .com.au domain name for your business, you might choose to register .net.au as well — especially if your business is in networking or technology. Remember, you need an active ABN/ACN to register .net.au. 
.org.au
Charities and not-for-profit (NFP) organizations may register a .org.au. This extension is restricted to political parties, trade unions, sporting and special interest clubs and charities with the right credentials.
Your perfect .com.au domain name is waiting.
With hundreds of new domain extensions signaling different things, finding an address that fits your business is more important than ever. Reach Australians with your own .com.au domain name.