3 reasons to get a restaurants domain
Upcoming event: See how our commerce options can help your business adapt to the shifting landscape at GoDaddy Open 2021 on September 28.
A few years ago, the Internet Corporation for Assigned Names and Numbers (ICANN) opened up a whole new world online for companies that wanted to market their own unique product or service. How? They created a series of generic top-level domains (TLDs). Now, in addition to traditional domain extensions such as .com and .org, anyone can register a slew of industry-specific domains — including the restaurants domain — .restaurant.
There are a number of reasons a restaurant owner would want to buy their business name or style of food on the restaurants domain. It can be for straight up marketing purposes, or it can be because you want to claim a fairly common name. Let's look at three reasons why getting a .restaurant domain name makes sense (and a couple reasons why it doesn't).
3 reasons to register the restaurants domain
The web address you always wanted could be yours.

You might get a KILLER domain!

You need to protect your brand.
Let's look more closely at each reason.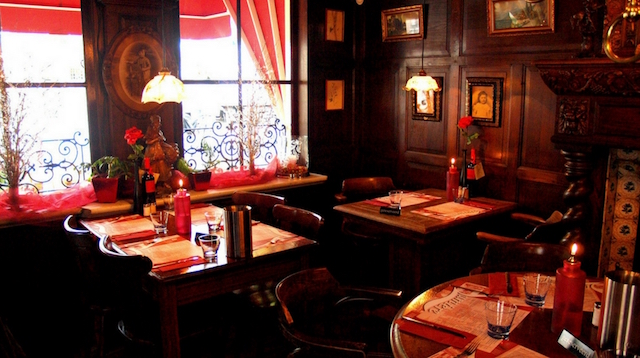 1. The web address you always wanted could be yours
If you missed the chance to get your restaurant name as a .com, like MartysPizza.com, you could still get MartysPizza.restaurant. It's a great way to make your website more memorable. You can even use marketing slogans, like "Jonesing for one of Sal's calzones? Go to Sals.restaurant" or "Order Sal's food online at Sals.restaurant."
Search for your dream .restaurant domain
Pro tip: Keep these 10 guidelines in mind when searching for a domain name.
2. You might get a KILLER domain!
Can you imagine how great it would be if you got Chinese.restaurant or Italian.restaurant?! Those specific restaurants domains have already been registered, but it's worth a look. If you specialize in a particular kind of cuisine, try to snag that as a domain name. If it's gone, get creative!
Restaurant domains haven't been around that long, so there are still lots to choose from.
Can't find what you want? Try .cafe or .kitchen.
3. You need to protect your brand
You might already have a great website and online presence, but you need to protect the brand you have. If I own ExcellentDutchCuisine.com (That's a thing!), I don't want some shady character trying to steal my fame and fortune. (Lots of people like Dutch food!)
So I'll buy ExcellentDutchCuisine.restaurant to ensure no one tries to counterfeit my efforts, pulling customers away from my restaurant with a fake website. Or worse yet try to get me to buy it back at a much higher price. So even if you already have a solid domain name, buy your restaurants domain and forward it to your primary website address.
A few potential drawbacks to the restaurants domain
There are a few reasons why registering a .restaurant domain might not make sense of your business at this time.
It's not yet top-of-mind for consumers.
Dot-com. We use the term so much, it's shorthand to describe the internet industry. "I work in the dot-com world." We even used it to describe the economic bubble and burst — dot-com and dot-bomb — in the 90s.
.com is still the first domain extension to spring to mind for most people.
For that reason, it might be hard for potential customers to remember a website address ending in an industry-specific domain extension like .restaurant — making marketing with your domain a bit of a challenge. But "it's kind of hard" is not a good reason to not buy a restaurants domain. It just means you're going to have to work a little harder to market your restaurant. I don't consider this so much of a "con" as I do a consideration.
It won't get SEO juice right away.
A favorite trick of SEO spammers is to buy a domain for a single year, build a crappy website, run their nasty little tricks, and then let the domain expire. This has caused Google to mistrust a lot of new domain names.
One way to avoid getting on the wrong side of search engines is to register your restaurants domain for more than one year and actively use it.
You can mitigate this by buying your .restaurant for more than one year, and using it actively. The longer you have it, and the more content you have on it, the more Google will trust it, and the higher it's likely to appear in search rankings.
Better safe than sorry
Bottom line, your best strategy is to buy your .restaurant domain name, and at the very least, forward it to your regular domain name. That way you get all the web traffic from both domain names. And as long as it's registered to you, no one else on earth can use your restaurants domain.
But if you've got the time, or have someone who can handle it for you, set up a second — and completely different — website, and measure the traffic from both sites. See if there's any way to make your .restaurant domain as popular as your .com domain. Create delicious content, learn how to bring in more diners with SEO for restaurant websites, promote your restaurant and website on your social media networks and in email — and start filling more seats.
Image by: VisualHunt.com