5 venture capital firms changing the investment game for women-led startups
It's a depressing but true statistic — in 2016, only three percent of total dollars raised by startups came from companies with female founders. The sheer amount of women graduating from business school to become entrepreneurs keeps growing, but venture capital firms remain reluctant to fund their startups. Ten percent, according to investment firm BBG Ventures, is how much women receive in venture capital funding. It's usually much less than that amount, too.
Fortunately, there are five firms looking to change that.
5 venture capital firms for female entrepreneurs
WE Capital

Sofia Fund

BBG Ventures

Female Founders Fund

Forerunner Ventures
While changing the conversation on venture capital might be a continual work in progress, educating women on the options available to them isn't. Get to know these five venture capital firms that specialize in funding women-led businesses.
1. WE Capital
Their mission: Launched by Sheila Johnson, president of Salamander Hotels and Resorts, and led by Johnson and Sachiko Kuno, WE Capital ("WE" stands for "Women Enterprise") is an investing consortium headquartered in Washington, D.C. They offer the next generation of female entrepreneurs the capital they need to run valuable businesses that generate a healthy financial ROI and impact society.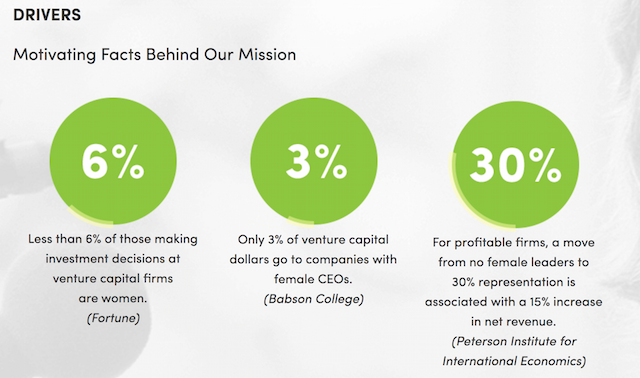 How they're changing the game: As stated on their website, less than six percent of decision makers at venture capital firms are women. The firm's vision for the future is to raise that number, and the number of women venture capital investors and recipients, significantly. Doing so ultimately means redefining the culture of investing.
Each of the consortium's members invests in Rethink Impact, a female-founded venture capital firm, and their strategic approach toward empowering female leaders gives funding a brighter future where receiving capital means being capable of great ideas and talent.
2. Sofia Fund
Their mission: With an eye for investing in exceptional woman-led businesses — including IT, business products and services, and health and wellness — the Sofia Fund is particularly inclined toward investing in technology-based business ventures.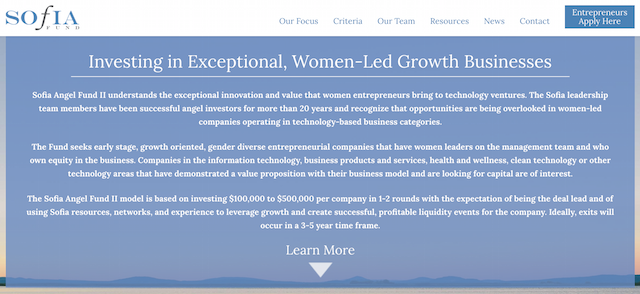 How they're changing the game: Why so much focus on these specific industries? On the surface, they might seem like some of the easiest industries to attain funding in, but women-led companies in these fields are often overlooked for opportunities. Enter the Sofia Angel Fund II model that invests $100,000 to $500,000 per company in early stage, growth-oriented companies. In return, the expectation is that startups will leverage resources at the Sofia Fund to further grow and succeed.
3. BBG Ventures
Their mission: Did you know that companies with a female founder outperform companies with all-male founding teams by 63 percent? The team at BBG Ventures does, and that's why they're only investing venture capital in female-founded companies that use technology to transform and address issues within life's day-to-day routine.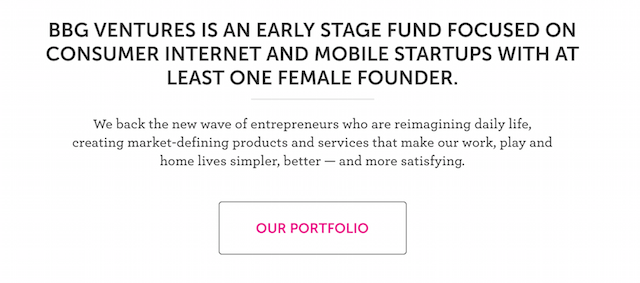 How they're changing the game: It's common sense, really. Backed by AOL from the #BUILTBYGIRLS initiative, BBG Ventures wants to redefine the tech market with women who are already dominating it. Currently, women make or influence 85 percent of consumer purchases and are the dominant users of social platforms. Led by Susan Lyne (President and Founding Partner) and Nisha Dua (Partner), the firm has started paving the way forward with funding for companies like Kiwi Crate, Inc. and Glamsquad, all run by entrepreneurial women who truly understand the market best.
4. Female Founders Fund
Their mission: "It's not just about women. It's about talent." Talent is the name of the game at the Female Founders Fund, an NYC firm led by Founding Partner Anu Duggal that invests in women-led startups like Eloquii and Loverly. The companies they invest in are the ones impacting marketplaces, eCommerce, platforms and communities right now.

How they're changing the game: Remember how passionate WE Capital is about changing the funding narrative to impact startups with talent and ideas? Female Founders Fund is right there with them, stating that traditional venture capital does not take into consideration that women entrepreneurs experience more successes than their male counterparts. By investing in exceptionally talented women, that narrative is changing quickly for the next generation and beyond.
5. Forerunner Ventures
Their mission: Founded by Kirsten Green, San Francisco-based Forerunner Ventures wants to give companies disrupting the commerce landscape a leg up from their competition — by partnering alongside them and being actively involved in every step of the investment journey.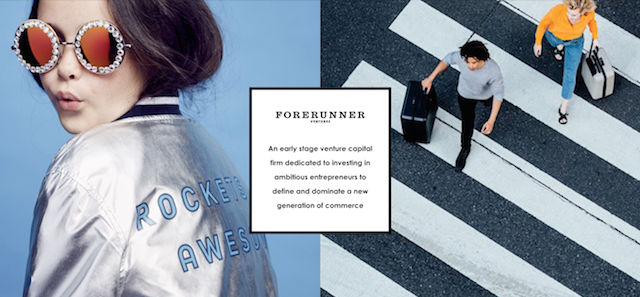 How they're changing the game: Remember when companies and investors worked alongside one another as teammates? This firm does, and that's the distinct edge it offers to founders with big ideas. Part of the partnership promise made by Forerunner Ventures is joining the team and actively helping out where they may be needed — from building up teams with the right people to scaling the business in a smart and savvy manner.
With a track record of working with companies like Birchbox and Dollar Shave Club, Forerunner Ventures proves that showing up might just be all it takes to watch a company succeed and thrive.
Use venture capital firms to fund your businesses
Even though disparity is out there, venture capital firms like these are trying to shift the tides. If you're looking for other ways to fund your business, see if you can work with any of these firms, and get your women-led startup off the ground.