Big Moe's BBQ is serving up success in short order
"Barbecue may not be the road to world peace, but it's a start." ~ Anthony Bourdain
Kalamazoo, Mich., is consistently ranked as a top place to live or visit. It was recently named a top beer city, a top city for creatives and a great place for twentysomethings. We aren't sure if Big Moe's BBQ in Kalamazoo has anything to do with all the good press, but we suspect it doesn't hurt.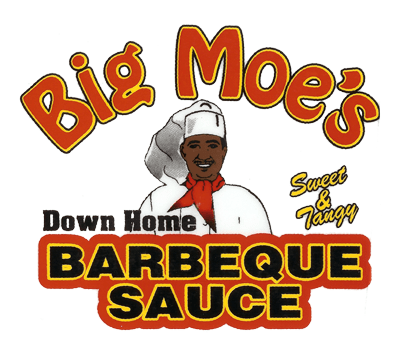 Big Moe's BBQ Express, owned by Paul "Big Moe" Pritchett, is a restaurant and catering business that specializes in meats grilled on premises with Moe's signature, award-winning BBQ sauce. Yelp reports a near-perfect rating, with special shoutouts for their generous portions of pulled pork, BBQ baked beans, rib tips, BBQ chicken and housemade potato salad — all at reasonable prices. But to really appreciate where Big Moe's is now, you have to know how Big Moe's started.
"I have always loved to grill," says Paul "Big Moe" Pritchett. "In the '60s and '70s, everyone in my hometown of Allegan, Mich., grilled out every weekend. I started to be well-known for my BBQ sauce."
What's cooking?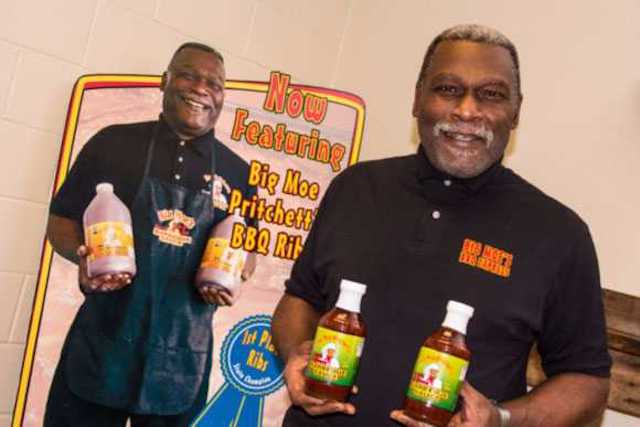 Paul Pritchett comes from a long line of serious BBQ enthusiasts. His great grandmother was perfecting her secret barbeque sauce recipe in the deep woods of Alabama decades before Paul went into business. But his love of BBQing really took off in high school.
His friends would go on and on about how great his sauce was — so much so that Paul began to wonder if he didn't have something special going on. So like most successful businesses, he started with a high-quality product.
A very special sauce
Paul had been working as a manager for a few local grocery stores, and he often manned the grill at company parties. By 1994, enough enthusiastic friends and co-workers had encouraged him to set up a pop-up grill cart in one of the store parking lots. This enabled him to earn enough money to rent a spot inside one of the stores that sold soul food in the deli.
From there, he purchased more grill carts to use for catering gigs around town and at local fairs and festivals.
Eventually, Paul was able to open Big Moe's BBQ Express. Even with his new business, he kept the pop-ups going. After all, if you ask around Kalamazoo, the pop-ups are what he's known for.
Cooking with gas
Paul admits that once the restaurant opened, he got a bit cocky. He says:
"I thought I could just open a restaurant and everyone would come. I soon realized if you don't put yourself out there, they won't know where you're at."
He realized he needed to do less cooking and more strategizing so he could grow the business. Ever the self-motivated type, he read a few business management books and began working with a business coach and marketing company to learn how to make that happen. One of the first moves he made? He got online with GoDaddy GoCentral Online Store.
Big Moe's + GoCentral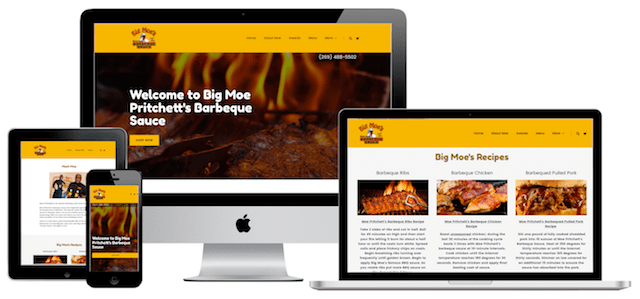 It turned out the virtual assistant Paul hired was already a big fan of GoDaddy.
"I'm a WordPress gal and always move my new clients over to GoDaddy because of the user-friendly interface and reliability of their products," says Kellie Simmons, Paul's virtual assistant from Advisory Technical Services in Kalamazoo. "Paul needed a storefront and an SSL along with his hosting. I did a cost [analysis], dollars to dollars, and GoCentral was the most cost-effective way to go and meet all of his needs."
Kellie worked with Paul to create a website that works for all aspects of his business. The site includes a restaurant menu, information about his catering business and a mobile-friendly online store to sell his sauce. As Kellie says:
"It was my first time using GoCentral, but I caught on pretty quickly. I love the way it has everything organized into sections. You know right where to go instead of hunting around to locate items."
And Paul couldn't be happier. "My website promotes both my restaurant and catering business and offers my BBQ sauce for sale online. Check it out!"
Paul is just starting with social media, but he's really excited about the possibilities. His website links to his Facebook page, but he also has a YouTube channel featuring a beginning BBQ 101 course and a backyard instructional clip. His how-to videos tell stories that connect and resonate with customers, and encourage them to find out more. But he need not fear — when it comes to eating delicious BBQ, we think he'll have lots of takers.
Chief cook and bottle washer
Paul is known for personally delivering his catering orders. And his customers really appreciate the human touch. While marketing is tough work, he understands that it's a necessary task if he wants to meet his aggressive growth goals. No matter how difficult the job might be, his strong vision and dedication to quality motivates him.
"I wake up every morning excited about the day as if it were my first day in business!" he says. That mentality helps him succeed as an entrepreneur and overcome whatever struggles might crop up.
When the fire dies down…
Paul loves what he does so much, it's doesn't seem like work to him. But of course, he enjoys other activities like hunting and fishing. Southern Michigan is famous for its deer hunting, and while Paul also hunts turkeys, duck and pheasant, he claims there's nothing like bagging a big buck.
Looking to the future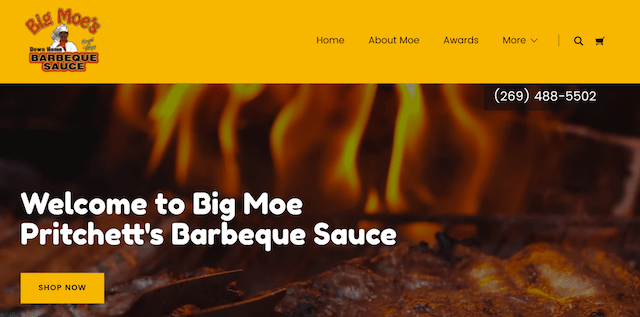 Paul has big dreams of establishing more pop-up grill carts and possibly another restaurant. His goal? To have his BBQ sauce known nationwide. He knows if he wants to make his dream come true, he must continue to give it his all. And he's up to the challenge.
Small business owners come in all shapes, sizes and backgrounds. But they all share one thing in common — a belief in themselves. Paul's story goes to show how it's possible to turn something you love into a profitable business if you stay the course. And with big plans and a strong online presence, there's no telling where you'll find "Big Moe" next.
If you're ever in Kalamazoo, be sure to stop in and say hello to Paul himself! And of course, stay for a BBQ chicken dinner and a slice of sweet potato pie.
Try GoDaddy GoCentral for free
Inspired by Big Moe and his BBQ story? Try GoDaddy GoCentral for free. Build a simple site in under an hour and add additional features like email marketing and an online store when you're ready. GoCentral even has ChowNow <https://www.chownow.com/godaddy/>and OpenTable widgets, so you can easily offer online ordering and reservations right on your website.
Bonus: GoCentral is entirely mobile-friendly. Build and preview your website anytime, anywhere, on your phone or tablet, and add or change photos as often as you like.
[advertisement id="25749″]