Blogger burnout? Try these tips to reignite your passion.
Want to hear a dirty little secret that most bloggers don't talk about? Here it is: at some point we all either want to give up or at least take a serious break from our blogs. Try as we may to avoid it, we simply get burnt out and just plain frustrated. A variety of situations can cause what I like to call blogger burnout — from self-imposed isolation with your laptop and a caffeine IV drip to simple boredom with your chosen subject matter — but you can get through it.
Read on to learn more. And if you've already passed what might feel like the point of no return, hopefully these ideas to will help you fall back in love with your blog.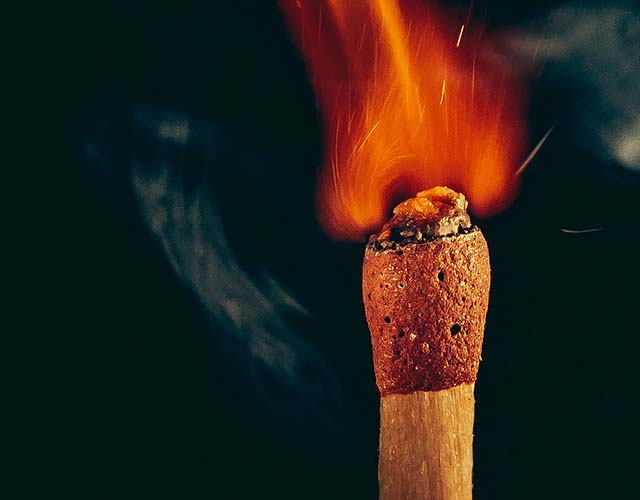 You're over-posting or spending too much time on each post.
I get it, it takes a lot of work to create a single post. And if you're on your own in running your blog, the pressure mounts with every moment you devote to the next write-up. If this sounds like you, perhaps you should cut back on how long your posts are, post less frequently, or stop trying so hard to make each post perfect.
Give yourself a break.
For example, do you really need a 2,000-word post three times a week? Or could you get away with doing shorter posts on most days? Maybe you could post once or twice a week instead of daily.
You also don't need to edit the post five and six times only to scrap it completely and re-write it. Yes, you want quality content, but being too much of a perfectionist is incredibly exhausting.
You're alone in everything.
Yep, it's all you. You take the photos and do the writing. You edit your own work. You prep it for publication. Then, after it goes live, you promote the heck out of it on your social media channels.
And you're tired. So tired.
Is it time to start outsourcing some elements of your blog production? Have you considered bringing on an editor or at least using some stock photos in lieu of taking every shot yourself?
Delegating tasks could be the simple fix that will give you more time to focus on what you love about blogging.
Can't afford a full-time or even a part-time helper? No problem! You can hire folks for a project or two at a time and then, once you're making more money, you can bring on more help.
I've been doing this in my own blogging business and it's certainly helping big time. I no longer stress over taking all my own images; I buy stock images. I don't handle all my own social media anymore, and if I do it's scheduled ahead of time when I have downtime to work on it. I have even brought helpers on board when the workload is high and I just need someone to find me some links related to my topic for research purposes.
Sometimes that little bit of help is all you need to feel better about things.
All you do is blog.
Keep in mind, if you were in a traditional 9-to-5 you would go home each day and recharge your batteries. When you run a blog, however, it seems like there is always work to be done.
Too many bloggers keep working long after they should have stopped for the day.
Too much of anything can get monotonous, and that can affect your writing as well as your mindset. Take the break, go for a walk, smell the fresh air, go to bed earlier — do whatever it takes to replenish your creative juices.
I personally went through a rough period in 2015 when I literally could not write anything for nearly a month. Luckily, I had batched a lot of stuff and didn't have any terrible pressing deadlines at that time — but I would have been in big trouble if I had to write while my creative well was dry.
I couldn't string two sentences together, let alone write 900 to 2,000 words on any subject. Do you want to know what happened after I essentially took that month off? My productivity skyrocketed! In less than a week I got more done than I had in the previous eight weeks' time.
When you feel like you're overdoing it, you probably are.
Taking a break isn't selfish — it's allowing your mind, body and spirit time to recharge. And that makes it much easier to fall back in love with blogging.
You're over your subject matter.
This is normal. You've been blogging about the same topic over and over and over again and you are literally triple over it. Now it is time to make some hard decisions.
Can guest posters handle the heavy lifting while you figure out if your heart is still in it? You'll still get fresh content for your blog without having to do all the hard work. You can use that downtime to analyze your true feelings. Who knows? Those guest bloggers might tackle your topic in fresh ways that re-ignite your passion for it.
Can you pivot to a new angle, and therefore a revived sense of excitement? Many writers attribute their blogger burnout to the fact they've just written way too much about the same subject. If you can't find a new angle, can you at least expand and go for a broader niche?
For example, if your blog focuses on exercise, maybe you can pivot into wellness in general. You might write some posts about nutrition or meditating. You don't need to go completely off-topic to breathe new life into your blog (and your passion for it).
Should you simply stop posting so much or take a break to see if the fire is still there after some time away? After a week or two you might find that you have a completely new insight for your topic.
Or is it time to break up with your blog and start a new one that you're passionate about? You might even be able to sell your blog if it has a decent amount of income and page views.
Blogger burnout is real
Just remember, feeling angst towards your blog once every now and then is completely normal.
However, if the feeling persists, you might be suffering from blogger burnout. There's no shame in throwing in the towel, of course, but I hope you'll try the tips in this post before you do — if you've poured your heart and soul into your blog, isn't it worth trying to rekindle that passion? Methinks so.
What do you think? How do you overcome blogger burnout? Please share in the comments!
Image by: jazbeck via Visual Hunt / CC BY