How to secure expired domains via auctions, backorders and more
Join GoDaddy and Adam Griggs, CEO & Founder of CLARAfi.io, for our January 26th virtual meetup, as Adam shares his top recommend apps and how they can help you to be more successful in your business.
What's the big deal about expired domains?
Say you have your eye on a domain name, but someone else owns it. Maybe you've been watching it for years … maybe it's your last name, an upgrade for your business, or something that would be really fun to use as an email address.
Then one day, you see the good news! It's finally expired, the owner didn't renew it, and you can't wait to buy it.
Oh, if only it were that easy.
Expired domains go through several stages before they're available to the public again. The exact process for expired domains varies by top-level domain (TLD) — what's to the right of the dot, such as .com or .net. However, for the sake of this article, we'll specifically focus on the path for .com.
Fortunately, many other TLDs follow nearly the same process, and you'll get the background info you need to have the best chance at acquiring your new domain name.
Related: What is a domain name?
We'll cover the following in this guide:
How does the domain expiration process work?
How backorders improve your chances to secure an expired domain.
How to use an auction house to register an expired domain.
Conclusion and next steps.
Let's get started.
How does the domain expiration process work?
When a domain name initially expires, the owner receives notification for renewal. They're also given some leeway to renew post-expiration since expirations aren't always intentional.
For example, let's say you set a domain name to automatically renew, but your credit card expires. When the automated system goes to renew, it can't because your payment information isn't accurate. You'll be contacted and given some time to rectify the situation.
Registry redemption is at least a 30-day period for expired domains mandated by the company that runs the TLD (like Verisign for .com). During this time, the original owner can redeem (renew) the domain after expiration at an additional cost.
Once the domain redemption period has passed, the original owner can no longer claim the domain via renewal.
The easiest way to see if a domain name is in redemption is to check the WHOIS database. On the WHOIS, look for a line that says "status" or "domain status," depending on the domain registrar:
If the domain name is in redemption, the status will reflect that.
The "expiration date" line in the WHOIS can be misleading — it often automatically shows an additional year of registration on expired domains until the last phases of expiration occur. Pay attention to the domain status instead.
How backorders improve your chances to secure an expired domain
Post redemption, can I finally register the domain? Not quite.
There's a five-day status called "pend delete," which is a temporary hold before the domain name is released back to the public. The original owner can no longer renew, but no one else can register it, either. Once this period is over, potential buyers who have purchased a backorder will have the opportunity to secure the domain.
A backorder will attempt to register the domain the moment it becomes available.
If more than one company holds a backorder, the expired domain will go to whichever company's backorder service was lucky enough to catch the domain when it was released.
Think along the lines of a popular concert with tickets going on sale at 10 a.m. You try to buy tickets and are awarded a place in line based on how quickly you clicked your mouse. You were competing against other buyers for that spot. The backorder service does this automatically for you and tries to grab the expired domain.
If another company's backorder service secured the domain, you won't receive the domain.
Coincidentally, if more than one person owns a backorder for the same domain at the same company, then an auction amongst the potential buyers will likely take place.
If no one backordered the domain anywhere, you could register the domain through standard procedure on a website such as GoDaddy. At this point, it's no different than registering an already-available domain.
Related: How to buy a domain name in 3 steps
How to use an auction house to register an expired domain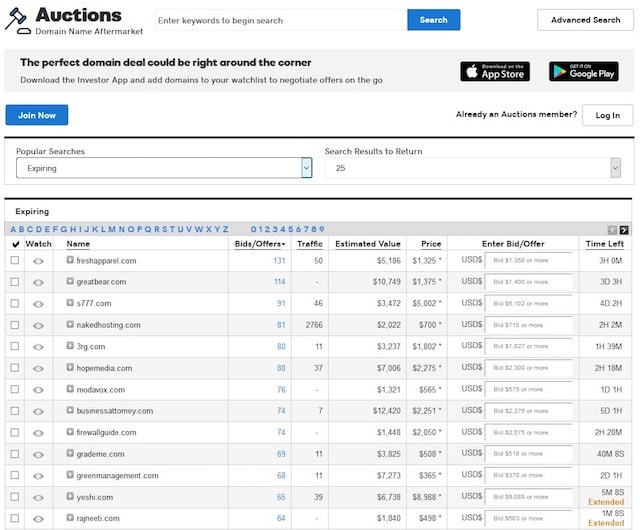 Almost all companies who register domains also auction expired domains to the general public.
They usually appear sometime between the original owner's expiration date and the registry release date post the "pend delete" status.
Your absolute best chance to secure expired domains is to go to the company where they'll be auctioned.
In most cases, an expired domain will only get to the "pend delete" stage — and thus able to be picked up via backorder — if there were no auction winners.
The two biggest auction houses for expired domain names are GoDaddy Auctions and NameJet.
Conclusion and next steps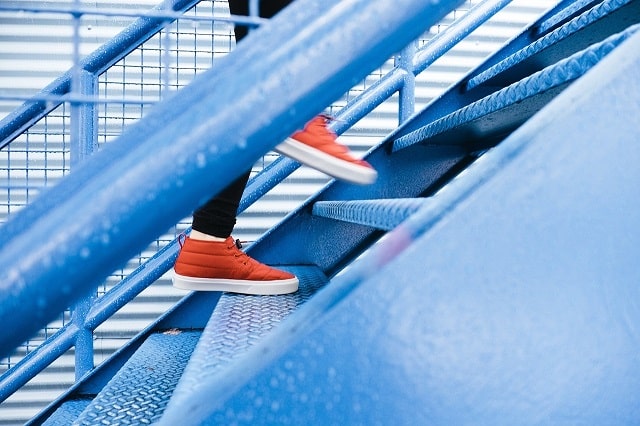 Let's recap. When looking to acquire expired domains, keep these things in mind:
Watch the auction houses. This is your best chance to win the domain name.
Order a backorder. If the domain doesn't go to auction, then you want a company on your side to secure the name in record time. Consider purchasing backorders from multiple places to boost your chances.
Register as normal. If the domain doesn't go to auction or doesn't have a backorder in place, then you can register it like you would any other domain.
It's important to note that the total cost for the domain typically decreases as it progresses along this path. It would be the most expensive in the auction and least expensive during normal registration. But the more popular the domain is, the less likely it is to progress past the auction or backorder stages.
If it's important to you, don't take the risk of waiting for regular registration.