SV3 Designs: Expert WordPress help
Upcoming event: See how our commerce options can help your business adapt to the shifting landscape at GoDaddy Open 2021 on September 28.
Saras Venkatram runs SV3 Designs, an agency specializing in WordPress websites for small businesses, startups, individuals and non-profit organizations. You can find Saras on Facebook.
Tell us about yourself. Who are you? Where are you based?
My name is Saraswati Venkatram (Saras for short). I am a freelance web designer based in the San Francisco Bay Area. My company, SV3 Designs, specializes in WordPress websites for small businesses, startups, individuals, and non-profit organizations.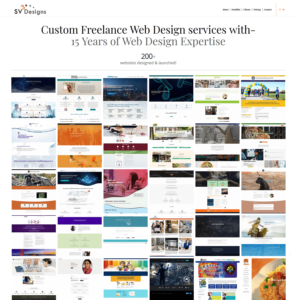 What's the elevator pitch for your business? Describe what you do.
Over the past 15 years, I have had the pleasure and privilege of designing and launching over 200 websites for clients all over the world. I have worked with small businesses, startup-tech companies, schools, organizations, and an array of fabulous non-profits, just to name a few. I have a master's degree in Computer Science and a certificate in web design. I find that my clear communication skills help me connect with customers. Most importantly, I really enjoy creating a longstanding professional relationship with my clients. Many of my clients have been working with me for 15 years! Whether it is a WordPress-based site or HTML, I love helping my clients strengthen their business with a great website customized to their taste.
What inspired you to start your business? How did you get started?
I began my work-life as a software engineer in the Silicon Valley. After five years, I realized that while I enjoyed coding, I was feeling really stifled due to the lack of creativity and design in my work-life. In addition, I had just become a mother, and being a freelance designer allowed me to have flexible timing and be my own boss. Back in 2003, web design was still in its infancy and it was an exciting time to be at the forefront of something new. Over the past decade, the field has been evolving very quickly and there is lots to learn every single day. With the arrival of mobile technology and social media, web presence needs a lot more thought and expertise than it ever has before. I have loved the technical challenges, interacting with my clients, and creating beautiful websites. It has been an amazing ride!
Who's your ideal client?
I love to support people as they start their new businesses. I enjoy working with them to identify their branding and messaging, and helping them set up their website, social media, and general online presence. I also really love working with non-profit organizations. It never ceases to amaze me to see the incredible work that my clients are doing, whether it is a school PTA, an organization serving the homeless, or a humane society. I offer discounts for nonprofits as my contribution in supporting their wonderful efforts. I love developing a deep, long-lasting, and trusting relationship with my clients. Once I design their site, I continue working with them long-term by maintaining, improving, and keeping their site secure as their business grows.
What kind of projects do you like working on?
As a freelance web designer, I not only enjoy creating new sites from scratch, but I also love redesign projects, because seeing a "before & after" is always very satisfying. Here are the types of projects I love working on:
WordPress Design — For clients looking for a custom design or a re-design of their existing site.
Maintenance Plan — For anyone who has an existing site that needs regular maintenance and updating to keep it secure and working properly.
Website Tune-ups— For someone who has a site that is not working as desired.
Social Media Consulting and Management— For those looking for help with setting up their social media, including Facebook, Instagram, LinkedIn, and Twitter, or needing help with sending out HTML newsletters to customers.
Hourly Consulting — For those who maintain or work on their own site but have a tricky problem that they need help with.
What kind of projects do you not like working on?
I avoid working on ecommerce websites. It requires a lot of back-and-forth with clients on product images, pricing, shipping, and working with payment portals. I find that I am usually too overbooked to make time to take on these types of projects.
What are the most common problems you help your clients with?
The biggest problem my clients often face is having an old WordPress site that has not been maintained regularly, and due to that it has either been hacked or stopped working correctly. Another huge issue I have been seeing recently are clients who have previously worked with a designer who has stopped responding to their emails/phone calls. They are often stuck in a situation where they cannot log in to their own website, their hosting account, or cannot access their domain because they never noted down the login info. This is a tough position, and one that can easily be avoided. I recommend that anyone who hires a web designer ensure that they ask their designer to not only register the domain/web hosting under their own name and email ID, but also note down all the user IDs and passwords to any accounts created for their website.
Walk us through your project process from start to finish.
Initial Contact: Once you make the initial contact via email, I will send out a questionnaire which will allow me to understand the scope of your project, design aesthetic and target audience. This questionnaire that I have designed has helped many clients, especially those starting a new business or those struggling with reaching their clients, identify marketing goals and refine their online brand.
Brainstorming & Planning: I will then review your answers and we will schedule a phone call to go over your website requirements, the general look/feel, and features.
Contract & Pricing: Once we have a plan in mind, I will send you a written quote with my estimate and my contract. You will also receive an estimated timeline for completion. You will sign and put in a 25% deposit.
Content & Materials: Content, logo, and images for the new site will be exchanged. We will either set up a new hosting environment or you will give me login information to your existing server.
Site delivered: I will give you an initial version of the site and we will iterate until you are completely happy with the website. I will include basic SEO, Google Analytics, Sitemaps, Security, and a basic "how to edit the site" document.
Maintenance: Once the site is live & working, you decide whether to sign on for my maintenance plan to keep the site updated, secure, and backed up on a regular basis.
What advice do you have for folks who are trying to take their business online?
Your website is doing marketing for you online 24 hours a day, 7 days a week. It represents the voice of your business when you are not personally there to sell your product, make your elevator pitch, or share facts about what you do. People visit pages seeking information or products. They have limited patience and want to find what they are looking for quickly & easily. Many websites fail to meet these needs due to lack of clean and clear organization. It is therefore important to take the time to plan out the content of your site before you get into the design aspect. Great design cannot help poor content. Anyone taking their business online should spend time figuring out their target audience, how to simplify their messaging, and what makes them unique.
What advice do you have for folks who are thinking about starting their own business?
Go for it! There is nothing like working on your dream and knowing that everything you do brings you closer to your goal and your vision. Modern technology has made the online marketing aspect a breeze and with a reliable website, you can reach your target audience easily.
Write for us!
Do you want to be featured on GoDaddy.com, show off your expertise to potential clients, connect with other web professionals, or get exclusive access to special GoDaddy projects and programs?
We'd love to have you as a GoDaddy Pro Community contributor! Get started here.