The biggest beauty trends of 2017 (and what you can learn from them)
2017 was another great year for beauty! So many great beauty trends came and went this year that it can be tricky to keep track of them all. And that's where beauty blogs and bloggers come in. They are on top of the hottest trends and know just how to break them down for their audiences.
Here are seven of the top beauty trends of 2017 and how bloggers used them.
7 beauty trends that dominated in 2017
Beauty never rests. If you're a beauty blogger, you might recognize some of 2017's hottest trends.
K-Beauty.

Face masks.

Acids.

Highlighters.

Two-toned lips.

Men's grooming.

DIY beauty.
Ready for details? Read on for the beauty year in review.
1. K-Beauty
Korean Beauty, or K-Beauty, was probably the single hottest trend this year. From high-end to low-end, K-Beauty dominated the American skincare market.
You can get your hands on Korean products at Ulta, CVS, Target, Sephora and more.
But this trend is very complicated, and often the really authentic products won't have direct English instructions or equivalents. Luckily, there are bloggers who specialize just in K-Beauty who can walk you through it!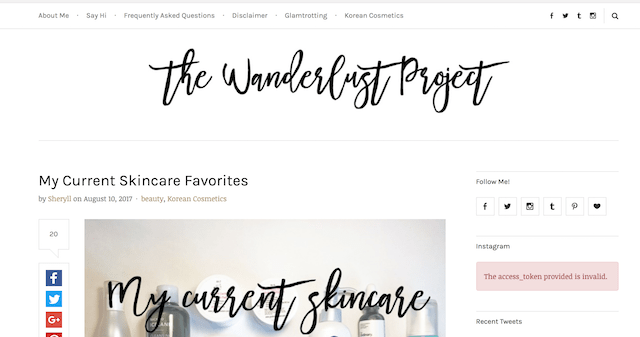 Sheryll of The Wanderlust Project actually lived in South Korea, so she has a great grasp on K-Beauty first hand. In this blog post, she writes about her current beauty favorites, which of course includes tons of K-Beauty products.
One very cool beauty innovation that comes out of Korea is cushion cosmetics. The Klog (Korean Blog! Get it?) breaks down why cushion BB creams are great for acne-prone skin.
Editor's note: Why not start your own beauty blog in 2018? Try GoDaddy Managed WordPress for maintenance-free blogging! Learn how here.
2. Face masks
The popularity of masks blew up in 2017, making it an obvious top beauty trend and a close contender for the most popular beauty trend of the year. From sheet masks to mud masks and even DIY masks, there is definitely a face mask you'll love. And with so many options, come so many blog posts.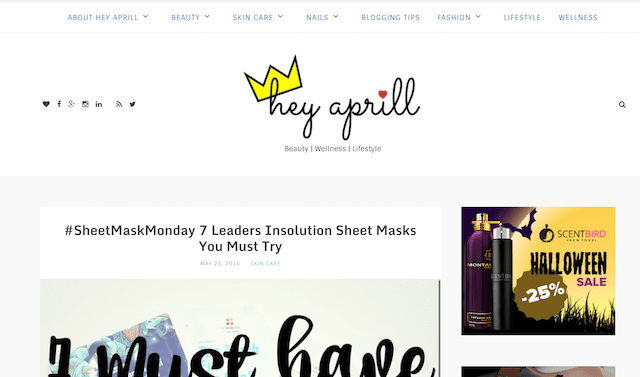 April of HeyAprill.com is the creator of #SheetMaskMonday on Twitter. So, of course, she has great content around sheet masks. And if sheet masks aren't your thing, fashion and beauty blog Fashionista breaks down seven of the best peel off masks.
3. Acids
Another huge beauty trend in 2017 was acids and peels. Before you freak out, these can be very good things. Many of these acids are naturally derived and help combat issues such as dryness and hyperpigmentation. Many of them can be used without a doctor facilitating — however, you should still be careful with them (especially if you're pregnant).
If you need a breakdown of skincare acids, DermStore's blog explains the difference between Alpha Hydroxy and Beta Hydroxy Acids. And once you understand some of the science of acids, Camilia of Gracefulface.com shows you how to incorporate these acids into your overall skin routine.
4. Highlighters
Speaking of highlighter, this glowing cosmetic was once again a huge beauty trend. But this year it came with a twist. Yes, regular gold, bronze and copper highlighters were on trend in 2017. But for the bold beauty lover, highlighters in pinks, purples, greens and blues were all the rage.
While this certainly isn't a trend for everyone, those who can rock it, do it well. Check out these two blog posts about colored highlights!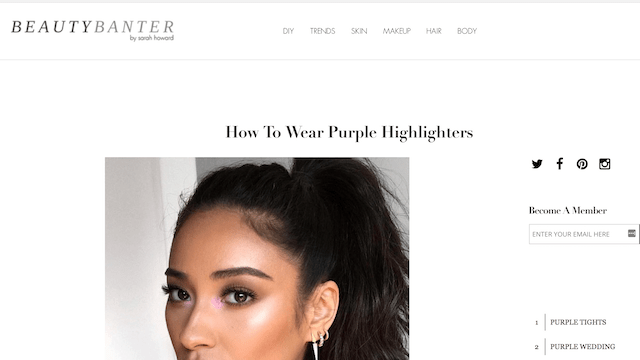 What's better than a purple highlighter? Rihanna rocked this trend flawlessly of course. And Sarah Howard of BeautyBanter.com shows you how you can rock it as well! Not sure where to start with colored highlighters? This blog post on The Fashion Spot gives you 12 choices so you too can shine bright!
5. Two-toned lips
Another top beauty trend that isn't quite for everyone, but certainly is a lot of fun, is two-toned lips. Two-toned lips normally feature one light and one dark lip color of the same tone. Or for the really daring among us, two completely different colors.
You can also kick it up a notch and play with textures. For example, rock one matte and one glossy lip, or one satin and one glitter lip.
If you're looking for a "real girl's" perspective, Tejumade of The Discerning Stylist gives her thoughts on how to practically wear this trend. Or, you can check out Kimberly Bosso, a Beverly Hills makeup artist. She writes on her blog about how you can wear this beauty trend for day or night.
6. Men's grooming
Yes, men care about their appearance, too! And the men's grooming industry has been booming. Gains have been made in skincare, hair care, and there is a new focus on beard care as well. Here are two men's grooming blogs you'll love!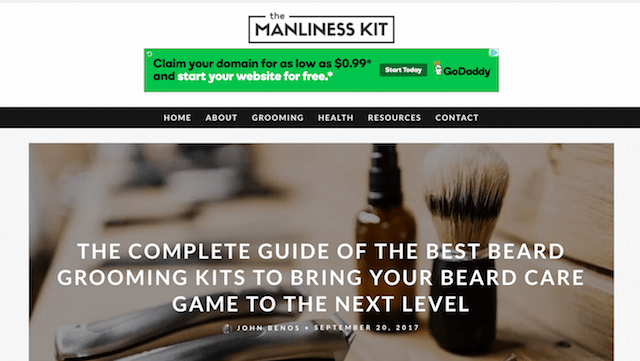 Of course, if you need to learn about any male topic, The Manliness Kit has you covered. This blog post talks about the best beard grooming kits. And to understand the men's grooming space, you need to know the lingo. Top blog Fashion Beans breaks down the jargon.
7. DIY beauty
If you like getting your hands dirty and knowing exactly what's in your products, the Do-It-Yourself trend is for you! You can customize your products to exactly what you like and even save some money.
Just make sure you do your research on what you're making.
Individually, certain ingredients can be great. But mixed with the wrong thing, your homemade concoction can do more harm than good. Here are two blog posts that will guide you on how to make safe DIY products.
You can't talk about DIY beauty without talking about Francheska of HeyFranHey.com. In this blog post, Fran shows you how to make your own Mango Vanilla Macadamia Hair and Body Butter. Sounds yummy!
Do you love Lush bath bombs and ever wondered if you could make your own? Well, Daria of Hello Glow rounded up 7 easy DIY bath bomb recipes for all you Lush lovers!
Takeaways from 2017's beauty trends
Beauty is always changing, which means beauty bloggers need to stay on their toes to be ahead of the trends. The good news? There are lots of trend reports already out for next year. Start here and here for a glimpse of what's coming. Then, start writing those new year's blog posts!
Image by: Felipe P. Lima Rizo on Unsplash