Your business processes are working like a well-oiled machine. Your entire team, whether comprised of contractors or employees, is firing on all cylinders and delivering consistent quality. You've established yourself as a high-quality player in a particular vertical, and you've learned how to expect as much from your customers as they demand from you. You're seeing more organic traffic from local search and qualified leads are flowing in from your targeted online ads. Everything is awesome -- and now you want more.
You can level up by marketing your web pro expertise through education.
Do your homework
Take a step back from your marketing strategy for a minute and think deeply about your customers. What are their interests? What do they love and hate about managing their business and website? How do they help create or maintain their online presence? What aspects of it could they care less about?
It's likely that every customer you engage with has a primary business that's not focused on making websites. Some might understand how to make a website and might even be extraordinarily tech savvy, but their main focus is still their own business. For instance, a lot of my friends run restaurants. They don't care about how a website is made, what technology is used, or where it's hosted. Instead, they care about the utility of their website. It solves business needs like showcasing their menu and hours of operation, representing their brand, and serving as the landing zone for their social media marketing and paid advertising efforts.
They just want it to work well and look great. You're an awesome web creator; now it's time to leverage your knowledge and reputation to land more business.
Prepare to share
You've taken the time to truly understand who your customers are, what they care about, and what they need. You've demonstrated an ability to solve specific business problems within your particular vertical. It's time to share some of that expertise through education.
Teaching your customers' friends how to create websites will bring you more business.
You know what trade, professional and community organizations your customers are involved in and what meetups they attend. Because you know where your customers network, you know where to find a captive audience for the services you offer -- potential customers who've probably already heard about how great you are. And the best part is that you have a great liaison (your customer) to introduce you to the group. But, nobody wants to introduce a salesperson to their friends and colleagues.
Look for opportunities to provide value. Here are just a few ideas:
Develop a workshop to help community members within your vertical create a solution to a specific problem. It might be something like a class on launching a starter restaurant website that you hold for four hours one Saturday a month or for an hour once a week. You can even have your students use a reseller link to make the session worth your time.
Offer pro tips for customer and industry newsletters. Just a few simple lines of technical advice with a link to your website to learn more can work wonders at earning you new fans.
Sign up to lead sessions or participate in panels at industry events that come to your town. If there's a WordPress WordCamp scheduled for your area, for example, reach out about running a workshop.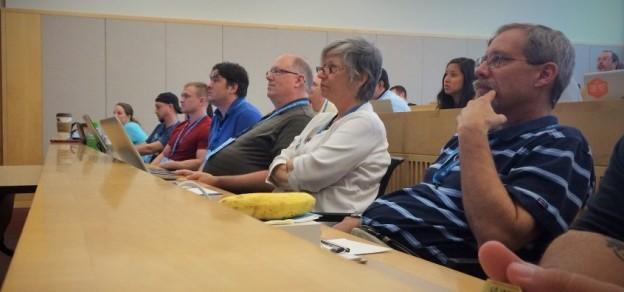 Volunteer to speak or help out with local youth, charity or religious groups. Not only can you help inspire a new generation of web creators, but you might also find a new friend, client, or partner in a parent or community leader.
But I just gave away my services!
Yes and no. At the end of the day, very few small business owners want to handle every technical aspect of their online presence. By empowering them to execute on those aspects that interest them, you'll earn their trust while positioning yourself as the expert who can handle everything else. You're now in position to move the educational experience into a client relationship.
Do you market your services through education? Please share your tips and experiences in the Comments!