A significant percentage of customers begin their product search journey via search – depending on the demographics, up to 49% of customers use Google to begin their product purchase journey. Getting found online effortlessly is one of the most important tactics in a small business owner's toolbox.
In addition to optimizing their website for organic search, small business owners also need to advertise their products via paid search campaigns to get maximum visibility with potential customers.
However, creating and analyzing these campaigns can be overwhelming and time-consuming for small business owners – especially when your passion lies within your small business, and not becoming an expert digital marketer. That is why we are excited to announce that Websites + Marketing now offers the ability to directly create Google Smart Campaigns from its all-in-one dashboard to attract customers.
Google Smart Campaigns will allow businesses to get found by customers online for products or services across search, Maps, YouTube and more. The process to create the campaign is quick and intuitive, and allows business owners to track the results of each campaign. First-time users get an additional $500 in ad credits when they spend $500 on their first search campaign within 60 days.
Link your Google Account to the Websites + Marketing dashboard
Before we get started, you'll need a Websites + Marketing account. Then, log in to your GoDaddy account and select your Websites + Marketing site. From your dashboard, select Marketing > Digital Ads. Once there, you can create a Google Smart Campaign by clicking on Create a Google Ad.
Note: If not already linked, you will need to link your Google Account to the Websites + Marketing Hub. GoDaddy will automatically detect if this account has ads capability and will add this capability automatically if not. GoDaddy will also let you sync your Google Business Profile to this account.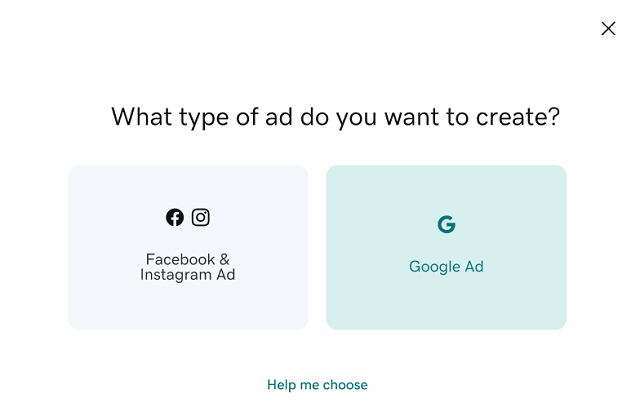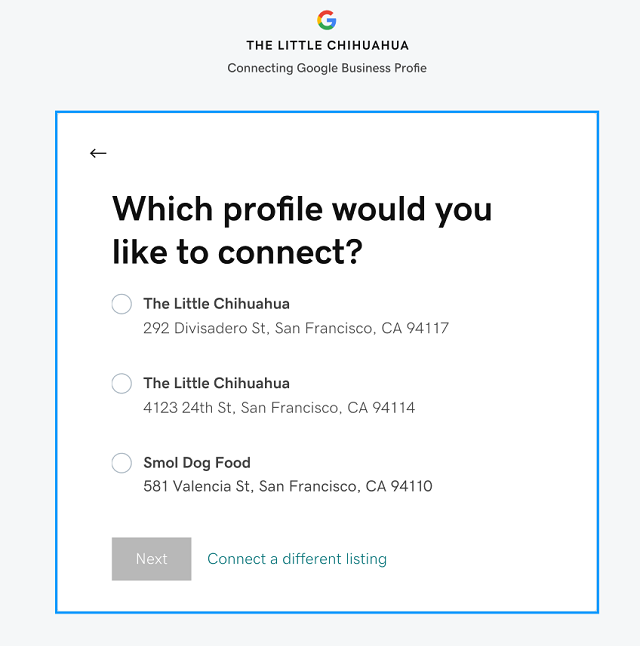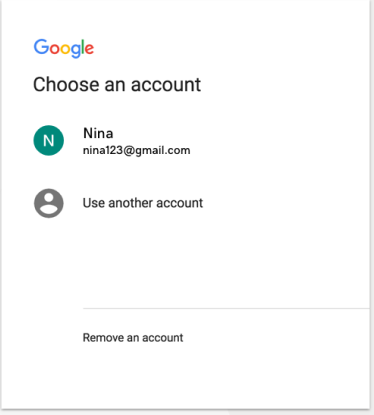 Choose the type of campaign
Once you have linked your account and selected Google Ad, you can then choose the objective of your Google Smart Campaign. If your objective is to get more calls or to get more visits, you will be asked to confirm your phone number or physical address respectively.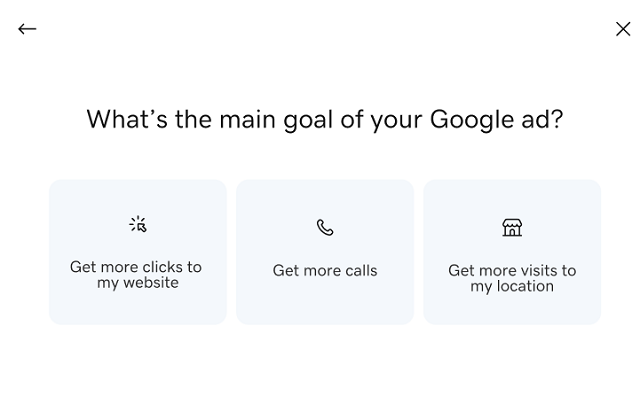 Customize your ad campaign
From there, you can include up to three ad titles to launch your campaign with. You can select from a pre-determined selection based on Google's algorithm or input your own. Next, you can choose two ad descriptions to accompany your ad title. Again, you can select from a pre-determined selection based on Google's algorithm or input your own.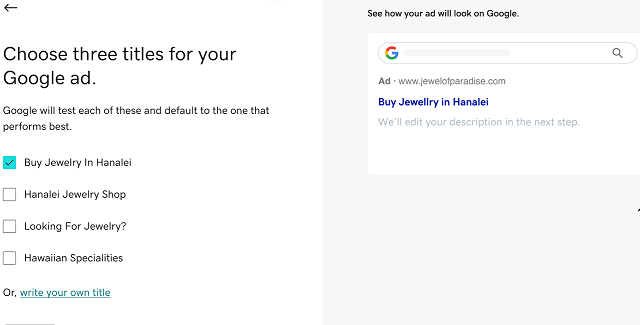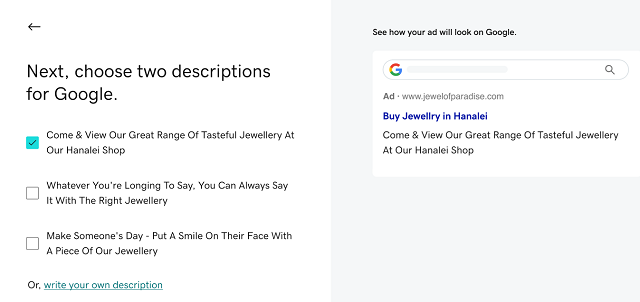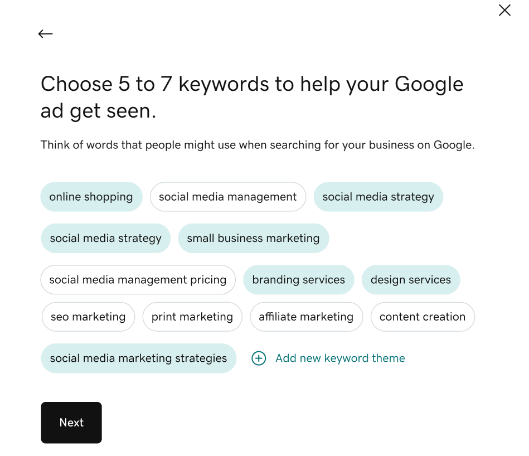 Google will automatically conduct an experiment combining different ad descriptions with ad titles across search, Maps, and other Google partner sites, and will default to a combination that performs the best.
Once you have selected your ad title and description, you must select five to seven keyword themes for your ad. These are broad search terms for which your ad will show up for a customer in an online search. Keyword themes are also suggested based on recommendations based on Google algorithms, so it saves you the effort of coming up with your own.
Select the execution parameters
Once you have selected the ad descriptors, titles and keyword themes, you can tweak the execution parameters to best suit your business needs such as geography and budget. The interface will provide a recommended budget based on your campaign objectives, your industry type, and the performance of other similar campaigns within the Google database.
For this execution, you will not get charged unless your ad is clicked on, so you only pay per click.
Note: If your objective is to get more visits or if you have a physical location, then the interface will default to your specific address location. The distance you enter will determine which customers see the ad in a geographic area.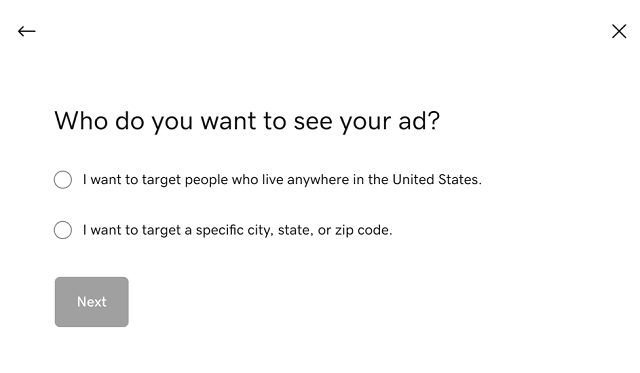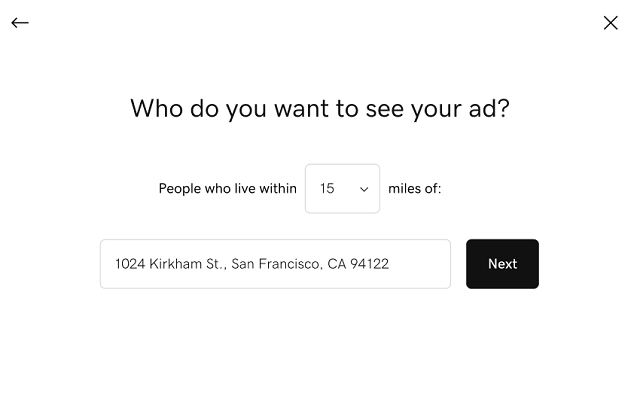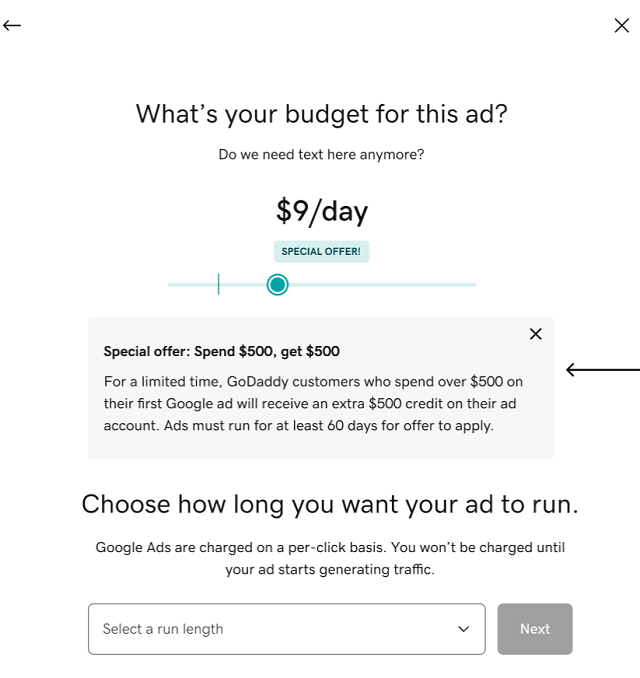 Track your results
To track the results, you will need to publish your website with GoDaddy and allow GoDaddy to launch Google Ads using your account (if you haven't done it already).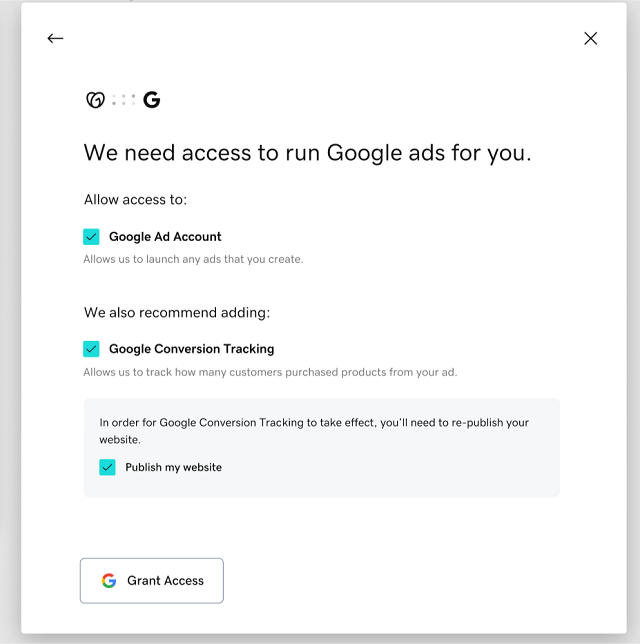 From the Digital Ads dashboard, you will be able to track the results of your Google Smart Campaign. After the completion of the ad (or while the ad is running), you will be able to track the number of times your ad showed up (impressions), the number of clicks, and the cost per click (CPC). You will also be able to check which customer search terms lead them to click your ad the most and what the spend against those search terms was so that you can optimize your future campaigns.
If you published your website using GoDaddy, then Google Smart Campaign will seamlessly sync with your website and show website traffic results from the campaign.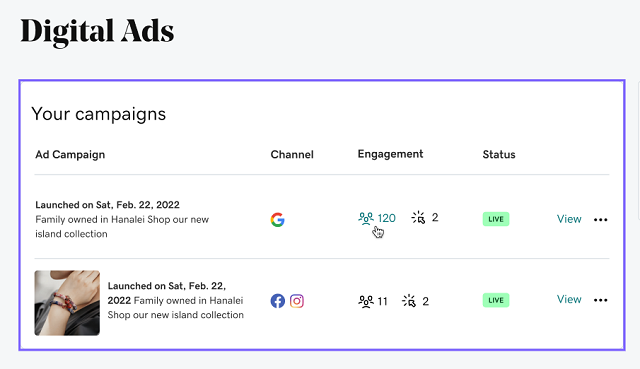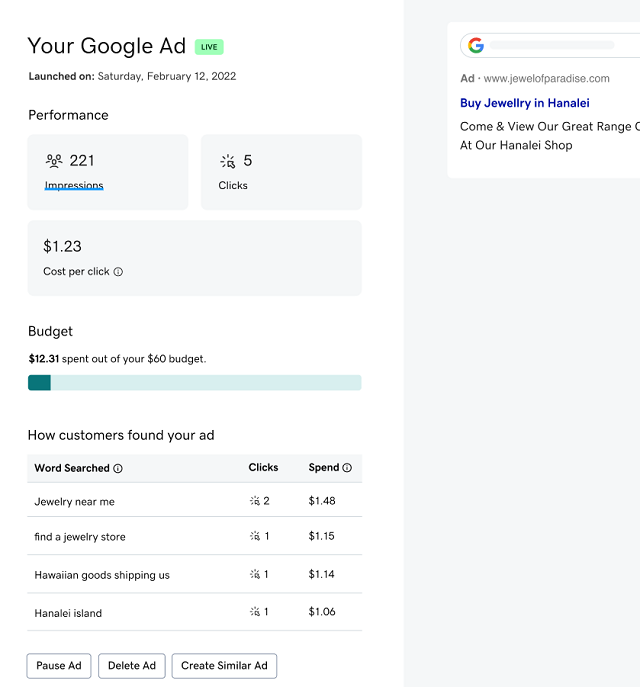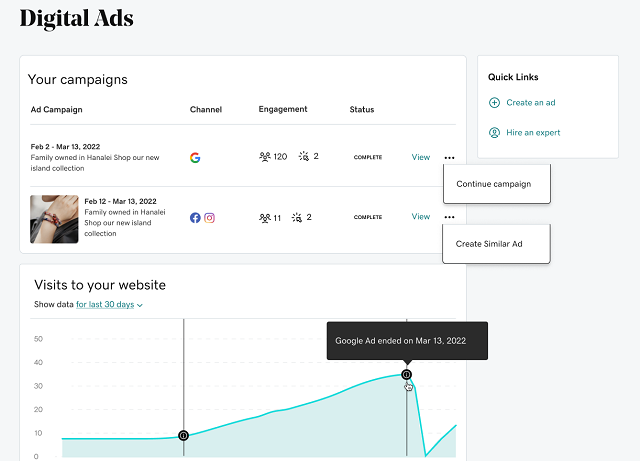 Our all-new Google Smart Campaign tool is now available to Premium and higher tier Websites + Marketing customers in North America only.