Want to know how to stand out on Google? Many small business owners think it's as simple as having a well-written ad.
It's not.
To beat competitors on Google Search, you need to leverage SEO best practices across three pillars of a strong digital marketing strategy — your website, YouTube channel and Google Business Profile. Making the most of these marketing channels and the wide range of tools that Google offers small business owners can help you show up on Google and win more search traffic.
How does Google work?
Before we even look under the hood to figure out how Google works, please understand that there is no quick fix to "get your business to the top of Google." In fact, if anyone ever tells you that they can get you to the top of the search results page, hang up the phone or press the spam button because there's not a single individual with that superpower.
Google owns 92% of the search market share because of its algorithm, which helps it decide whether to show your business or a competitor to potential customers searching online. The complex algorithm works constantly to sift and sort through billions of websites and online resources, ranking them based on topic, relevance, prominence and performance. Google's algorithm considers hundreds of ranking factors (also known as signals) to determine your business's worthiness of showing up. Ranking factors can include:
Age of your domain (e.g., com)
Presence of relevant keywords throughout your web pages
Creation of useful, original content
Use of structured data
Mobile-responsive design and more
At last count, SEO experts estimated that Google's algorithm considers over 200 ranking factors, but this number can fluctuate each time Google updates the algorithm. Because Google is so tight-lipped about its proprietary algorithm, no one truly knows which ranking factors make the greatest impact, but there are some best practices you can follow to increase your chances of standing out on Google.
5 best practices to make your website stand out on Google
We can all agree that getting your website to show up higher on Google's SERP (search engine results page) is important to win new business. According to Google, over half of online shoppers plan to use Google to research a purchase before they buy, so the higher your website ranks in relevant searches, the better your chance of attracting customers over a lower-ranking competitor.
As a Dedicated Trainer for Grow with Google, I teach a class dedicated to making your website work for you. In the class, I highlight several characteristics of a search-friendly website:
Fast load time.
Useful, original content.
Keyword strategy.
Mobile-responsive design.
Secure experience.
Let's take a closer look at how to show up on Google by putting these SEO tactics to work on your small business website.
1. Fast load time
How do you feel when you click on a link, and it seems like the website takes forever to load? If you're like most consumers, you close the tab and continue your search after just a few seconds. Google strongly considers a website's load time, especially for smartphones and tablets. In fact, a study commissioned by Google found that faster load times led to reduced bounce rates and higher conversion rates because fast-loading websites create a more enjoyable user experience.
2. Useful, original content
The content on your business's website — including text, images and videos — plays a vital role in helping your business show up on Google Search results for queries related to the products or services you offer. That's because, as mentioned above, useful, original content is among the ranking factors Google considers for its SERPs.
To beat competitors on Google Search, make sure your website's content is as helpful and unique as your business. (While you can find inspiration from your competitors' website content, copying such content onto your site can actually hurt your chances of showing up on Google.)
Keep your website up-to-date with a mix of content that might include:
Educational blog posts related to your area of expertise (e.g., "How to make the perfect hard-boiled egg" if you're a personal chef)
Behind-the-scenes videos that show your business in action (e.g., prepping ingredients for a catering gig)
Lots of photos of your products and services
Beefy product/services descriptions that make clear your edge over the competition
Testimonials from satisfied customers
You might schedule an hour or two per week to freshen up the content on your website — an investment that likely could pay off on Google Search.
Related: How to create search-friendly content for each stage of the consumer journey
3. Keyword strategy
In a recent post, I covered an easy-to-follow process for researching keywords because they are still instrumental in your ability to show up on Google Search.
After you go through the keyword research process, decide on the main keyword for each page of your website. Use that keyword in your page title, page description, page content, and the page's URL slug.
Pro tip: Increase your chances of showing up on Google Search by using unique page titles and descriptions for each page of your website.
4. Mobile-responsive design
Google stresses the importance of designing your site in a way that works with all devices and browsers because more than 54% of all internet activity occurs on smartphones and tablets. If your mobile users have trouble using your website, they'll probably exit before making a purchase or scheduling an appointment, and they most likely won't return.
Fortunately, most website builders (including GoDaddy, which actually allows you to create a website for free) understand the importance of mobile-friendly websites, so if you've built your website recently or are just getting started, your site should work well with mobile consumers.
Pro tip: If you want to create a mobile-friendly website experience, be sure to test as you build. Open the website on your smartphone or tablet and click around, making note of improvements you can make.
5. Secure experience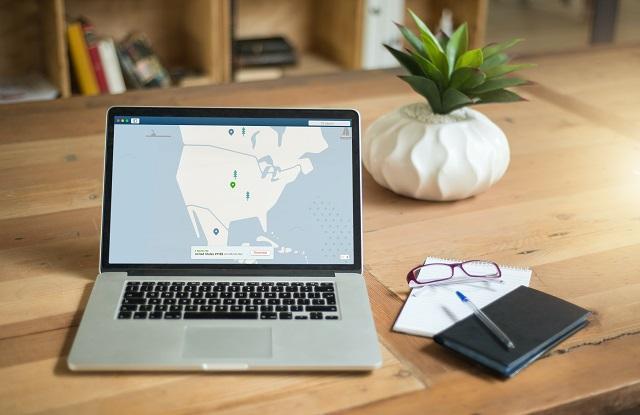 When you are "online" and visiting a web page, the web browser you use is constantly communicating with a web server. As information travels back and forth between the server and your browser, hackers can potentially intercept it. No one wants to be hacked, which is why Google places emphasis on securing your website.
The next time you venture onto a website, see if you notice a padlock symbol to the left of the address bar. Or you may see that the website address starts with "https." Both of these indicate that the website is secure, and Google appreciates that.
To secure your website, you need an SSL certificate. Secure socket layer (or SSL for short) is a technology that encrypts data by making the connection between your browser and the web server secure. Whether someone is filling out a simple contact form, scheduling an appointment, or buying a product on your website, SSL protects their information.
Editor's note: GoDaddy's Websites + Marketing solution (including for ecommerce) includes SSL.
How to stand out with a Google Business Profile
If you are a local business with a physical storefront or a service area, you need a Google Business Profile to help you show up on Google Search. A recent study found that a typical business receives 59 actions from its Google Business Profile. Those actions can include visiting your website, getting directions, or perusing your album of photos and videos to get a better idea of your business.
The name of the game is to optimize your Google Business Profile to increase your chances of standing out from your competition.
Because consumers are now trained to look at reviews before considering buying from you, you also want to focus on getting more Google customer reviews every month. By collecting new (hopefully positive) reviews, you let consumers know that you provide a quality experience, and you signal to Google that your business deserves to be shown higher in the search results.
How to show up on Google Search with YouTube
In addition to a search-friendly small business website and a robust Google Business Profile, maintaining an active YouTube channel for your business can help you show up on Google Search ahead of your competitors. Why?
Google owns YouTube.
YouTube is the second most trafficked website in the world.
YouTube is the No. 2 search engine behind Google.
Because YouTube is such an integral part of the Google ecosystem, it makes sense that video content uploaded to YouTube would also show up in Google Search if you optimize your videos properly. In fact, I've been able to optimize some of my videos so well that my content shows up at the top of the search results.
For instance, after performing some keyword research, I created this video about "finding the Google My Business login." It's not only become one of our top videos on the Bigger Better Biz YouTube Channel (driving new views and subscribers each month) but it's helped us stand out from competitors on Google Search as an expert in managing and optimizing Google Business Profiles.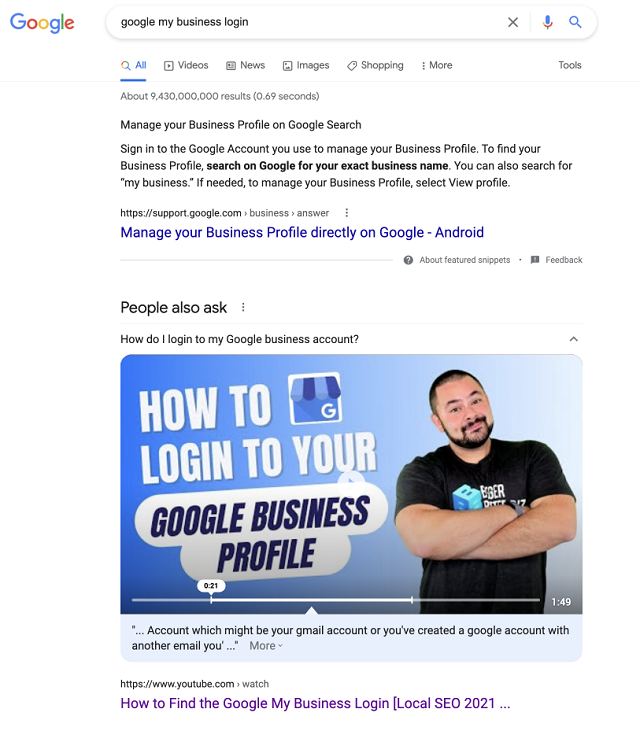 Related: How to make money on YouTube — The expert guide
Putting it all together
You started out wanting to know how to stand out on Google Search, and I'm hoping this article has given you some ideas and inspiration to accomplish your goal. Although there are hundreds of ranking factors that play into your ability to show up on Google, these tips for optimizing your website, Google Business Profile and YouTube channel can give you an edge over your competition.
Remember that SEO doesn't just happen, and your placement at the top of the SERP is not guaranteed. Be patient, build your solid digital foundation, and stay tuned for more tips and tricks to build your bigger, better small business.