Bing Webmaster Tools is one of the best kept secrets in internet marketing. It offers lots of great features to help webmasters, marketers and consultants improve the SEO of their website or blog. But sadly, few webmasters know about Bing, and even fewer marketers utilize this feature-rich webmaster account.
My clients are frequently surprised when I mention Bing Webmaster Tools. The majority of people don't even know it exists, and instead, focus their attention solely on Google Search Console. While I am a huge proponent of using Google Search Console, I believe it's also important to utilize Bing Webmaster Tools when working on SEO.
Why Bing Webmaster Tools is important
We all know Google dominates the web. I frequently hear myself and others saying, "Go Google that" or "Ask Google." Google search has become a core part of our everyday lives.
People rarely mention Bing search and they definitely don't talk about Bing Webmaster Tools.
While that might be OK for the average person, it is an oversight for marketers and website owners. Real people do use Bing search and the amount is probably much higher than one would guess.
Statcounter's market share report for May 2018 shows the following breakout for search usage:
Google = 90.14 percent
Bing = 3.24 percent
Baidu = 2.18 percent
Yahoo! = 2.08 percent (powered by Bing)
YANDEX RU =0.62 percent
Shenma = 0.58 percent
Since Bing powers both Bing and Yahoo search, it controls more than five percent of the search traffic. That might seem minor when compared to Google's 90 percent market share, but don't discount Bing just yet.
A five-percent increase in search traffic can have a substantial impact on website visitors and conversions.
And, as an added bonus, you'll receive some great SEO insights from Bing's reporting and diagnostics tools.
Related: 12 website optimization tools you should use in 2018
Key areas in Bing Webmaster Tools
A Bing Webmaster Tools account will provide some great features and insights that are broken into the following key areas:
My Sites
The My Sites list allows you to manage multiple websites and provides some quick summary data on website performance in search. It's very useful for SEO consultants or marketers who manage multiple client websites.
Dashboard
The dashboard allows you to view key data summary about one particular website or blog. It will lead into important areas of Bing Webmaster Tools such as site activity, XML sitemaps, search keywords, inbound links, and diagnostic tools.

Site Configuration
The configuration area of Bing Webmaster Tools allows you to view data on XML sitemaps, submitted URLs, crawling, and blocked URLs. You can verify ownership, disavow links, and add users. You can even list your social media profiles, so Bing can obtain a better understanding of your complete web presence.
Reports & Data
The reports and data section provides information on search traffic and keywords, top pages, mobile friendliness, crawling data, and also offers some suggestions for improving the health of your website's on-page SEO. That last part is very useful to those unfamiliar with SEO and the nuances of on-page optimization.
Related: Beginner's SEO guide

Diagnostics & Tools
The diagnostics section will provide information and assistance with items such as testing mobile responsiveness of a website, researching keywords, pulling search volumes, checking structured data markup, and reviewing your website's ability to adhere to SEO best practices.
Related: Structured data — The who, what and why of using schema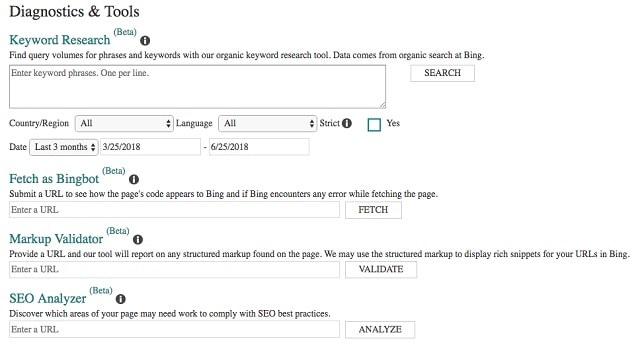 Message Center Notifications
The Message Center in Bing Webmaster Tools provides a variety of notifications for key data points related to your website or blog. These include crawl errors, sitemap concerns, index issues, and malware notifications. And unlike Google Search Console, Bing actually lets you set preferences for email communication. This is a nice add for consultants and agencies who manage multiple accounts for clients.
Editor's note: If you manage multiple client websites, check out GoDaddy's Pro Sites solution. With Pro Sites you can access all your WordPress websites from a single dashboard. Apply core, theme or plugin updates to all your websites simultaneously. Even ignore or deactivate updates in bulk.
Setting up a Bing Webmaster Tools account
If you've verified your website or blog with Google Search Console, you'll have no issues getting yourself set up with a Bing Webmaster Tools account. The process is very similar, and the verification process works virtually the same way.
Here are the four quick steps needed to create and manage a webmaster account with Bing:
1. Open a Microsoft account
Before you can create your webmaster account on Bing, you need to have an active Microsoft
account. If you use Hotmail or Outlook.com, you probably already have a Microsoft account available and ready to use. If you do not have an active Microsoft account, you can get an account for free at the Live sign up page.
2. Create a Bing Webmaster Tools account
You can quickly open an account by going to the Bing Webmaster Tools sign-in or sign-up page.
3. Add and verify your website
Once you have a Bing Webmaster Tools account established, you can add individual websites to your account. You do so by entering the URL of your site into the Add a Site box.
Once this is done, you'll need to verify each website using an XML file authentication, a meta tag authentication, or adding a CNAME record to your DNS. If you are using WordPress, you can utilize the Yoast SEO plugin to assist in this verification process.
4. Upload a sitemap
Finally, you'll need to add your sitemap to your account so Bing has a full list of URLs to crawl and digest.
This is an important step and should not be skipped.
Bing Webmaster Tools supports four different file formats for sitemaps. These include traditional XML Sitemaps files, Atom 0.3 and 0.1, RSS 2.0, and Text files (containing one URL per line). As an SEO consultant, I highly recommend you use an XML sitemap, so your CMS software can continue to automatically update this for you as your website or blog changes.
Bing Webmaster Tools help and tutorials
One element I truly love about using Bing Webmaster Tools is the easily accessible help files. There are so many great tutorials and help guides available for webmasters and bloggers, that it is impossible to summarize these resources in a blog post. Due to this, I thought I would provide a quick reference list to truly help readers see the vast amount of resources Bing offers.
Here is a full list of available Bing Webmaster Tools resources located within the Help Center:
How to Configure My Site

Image Feed Specification
Sitemaps
Media RSS (mRSS) Video Feed Specification
Submit URLs to Bing
Ignore URL Parameters
Crawl Control
How to Manage Deep Links
Block URLs from Bing
How to Disavow Links
Connected Pages
Geo-Targeting Your Website
Verify Ownership
How to Add Users

Using Reports & Data

Page Traffic Report
Page Mobile Friendliness
Index Explorer
Search Keywords Report
Using SEO Reports
Using the Inbound Links Tool
Crawl Information Report

Using Diagnostics & Tools

Mobile Friendliness Test Tool
Keyword Research Tool
Fetch as Bingbot
Verify Bingbot Tool
Markup Validator
SEO Analyzer
Site Move

Messages & Alerts

Using the Message Center
Set Email Alert Preferences
Crawl Error Alerts
Alert: Same Canonical URL

Content Removal

Remove Broken Links/Outdated Cache

Content Guidelines

Webmaster Guidelines
404-Pages Best Practices
Marking Up Your Site with Structured Data
Link Building

Malware & Spam

Malware Re-Evaluation
Phishing Re-Evaluation

Advanced Topics

How to Verify Bingbot
How to Create a Robots.txt File
How to Optimize Silverlight and Other RIA-based Content
Robots Meta tags
First Click Free

FAQ

Why do I get notifications from Bing Webmaster Tools?
Why is My Site Not in the Index?
How Can I Remove a URL or Page from the Bing Index?
Which Crawlers Does Bing Use?
Where can I submit feedback?
HTTPS: Which cipher suites can I use for Bingbot?

Getting Help & Support

Webmaster Support
Report a Bingbot issue
Bing User Help Topics

Widgets & Downloads

Knowledge Widget
Bing XML Sitemap Plugin

Bing Places for Business Help
This large list of instructions and how-to information makes it incredibly easy to set up and utilize a Bing Webmaster Tools account. It makes SEO more digestible and it might even provide some good SEO education along the way.
More SEO goodness from Bing
Just like Google, Bing does try and provide some transparency for search. The above Help Center is only one area of assistance.
Here are some additional areas for getting intimate with Bing search:
The guidelines provide some basic information on content, links, social media usage, indexing, and technical SEO elements like load times, robots.txt files, sitemaps, and canonical tags. But what's much more important is the specific information Bing provides on-site optimization. Bing provides a complete list of on-page SEO elements it requires for top ranking.
Bing's support option allows users to request assistance directly from Bing and obtain help on issues related to crawling, indexing and account verification.
Bing produces a number of blogs, but the one most helpful for SEO is the blog focused on webmasters. The posts are released sporadically, but the information is helpful for understanding what Bing needs and wants from webmasters and their websites.
If your time is limited, I would encourage you to go directly to the guidelines. These guidelines will give you great insights into what is needed to excel in Bing search.
Embrace Bing and expand your SEO reach
A key part of SEO success is understanding what you need to do and why you need to do it. Bing Webmaster Tools will help support that quest for knowledge via its rich amount of basic instructions, reports, tools and feedback.
If your website or blog isn't bringing in website traffic from Bing search, it's time for you to embrace Bing Webmaster Tools and dig through Bing's suggestions for search best practices. I promise you'll be glad you did!