4 must-haves for your holiday marketing strategy
The holiday shopping season is upon us, and shoppers are starting earlier than ever. Last year, over 40% of holiday shoppers expected to finish their holiday gift shopping by mid-December, according to the NRF. Get ahead with our must-haves for your holiday marketing strategy!
We have everything you need to use social media and email marketing to bring in new and loyal customers from Black Friday to Super Saturday. It's time to make your holiday marketing strategy merry and bright.
But, first, let's start with some insights about this year's holiday shopping season.
Holiday shopping 2019 
Holiday shoppers will be starting early this year.
40% of holiday shoppers will start shopping by November 1st. 
Many shoppers will be interested in physical gifts as much as experiences i.e. tickets to an event, a spa package or trip.
39% percent of consumers were hoping to receive an experience gift, and 23% of holiday shoppers were planning to give one. 
This holiday season will bring loyal customers back to your business and could bring an influx of new customers as well.
In 2018, 77% of holiday shoppers said they would purchase from the same retailers as they did last year, and 75% of shoppers were willing to buy from new retailers (so long as specials and promotions were involved.)
As your new and loyal customers plan where to buy the perfect gifts for their friends and family, spread some holiday cheer with our must-haves for your holiday marketing strategy. Use social media and email marketing to see success this year!
Must-haves for your holiday marketing strategy 
Make your marketing strategy the gift that keeps on giving by making a plan, offering deals and discounts, making connections on social media and sending strategic email marketing campaigns.
Plan ahead
Offer incentives 
Connect with your customers on social media
Engage the right shoppers with email marketing 
1. Plan ahead
Here's the first of our must-haves for your holiday marketing strategy: Plan ahead with your holiday marketing.
Take the time to develop a content calendar and posting schedule for your Facebook, Instagram and Twitter pages. Think about the kinds of content you want to share to bring in customers over the holidays. Then, you can use scheduling apps like Hootsuite to get posts together ahead of time.
Start posting ASAP to make sure you're at the top of your customers' minds as they start to think about all the shopping they have to do.
You can simply let your followers know that they should stay tuned for your holiday announcements in the upcoming weeks. You can also remind your followers to start booking or buying with you now to ensure that they're ready for the holidays.
Then, make sure to follow up with other great content on Facebook, Instagram and Twitter. Here are some content ideas that will help you get ahead of the game:
Use Facebook to post and boost content about your team and what the holidays mean to them. That kind of content is shareable, sweet and your followers will love it.
Tweet 2-3x a day a mix of seasonal and sales-y content. Countdown to the holidays, share holiday-related tips and tricks and tweet your deals or special holiday offerings.
Use Instagram to post high-quality, holiday-themed content. (Bonus points for integrating photos of babies, families and pets!)
Utilize Instagram Stories to show off behind-the-scenes content of your team getting ready for the holiday rush, decorating your shop or giving back to your community.
Planning ahead ensures that your festive content will have time to get in front of your customers during the holiday rush. And, ultimately, it will save you time to run your business and spend time with friends and family during this special time of year.
We have some more engaging holiday content ideas for you here on our blog.
2. Offer incentives
Another one of our must-haves for your holiday marketing strategy is to offer incentives. Deals and promotions are important to today's holiday shoppers. They want to see promotions on their social media feed and in their inboxes while they're doing their gift research online.
65% of holiday shoppers are influenced by sales and promotions when making their holiday purchases. 
Dive into multiple platforms to promote your sales and specials using both social media and email marketing campaigns. Instagram Stories is a great place to use to promote all the holiday incentives you are running this season. Since the content disappears after 24 hours, you can create urgency around a certain promotion or deal.
In 2018, 73% more holiday shoppers used Instagram to find deals and discounts than in the previous year.
When you're posting about your holiday specials, make sure you post about them more than once to increase brand awareness and the likeliness that a customer will make a purchase. (Just don't overwhelm your followers with overly sales-focused content!)
Holiday shoppers want content that's varied, interesting and that tells a story — with some incentives mixed in. Sprinkle in the holiday incentives and give the people the holiday spirit they're looking for this season!
3. Connect with your customers on social media
Speaking of varied, interesting content…we have the third of our must-haves for your holiday marketing strategy! Connect with your customers on social media during the holiday season to make them like, trust and buy from your business.
23 percent of shoppers plan to use social media to inspire and complete their holiday shopping.
The holidays are a time of year that people associate with friends, family and happy, warm feelings. Aligning your brand on social media with the positivity associated with the season can help you connect with customers of all ages. Get personal and create and share social media content that will pull at your customers' heartstrings.
If you use social media to connect with your customers on an emotional level, you'll make them like and trust your brand. This trust will help encourage them to make a purchase with you instead of one of your competitors.
You'll also need to be responsive to your customers on social media to make connections with them this season. Every mention, comment and wall post that comes in for your business on social media has the power to influence customer opinions of your business and their likelihood to visit or buy from you.
Related: Wow with customer service on social media
Plus, more and more, consumers are using social media for any manner of customer service requests. Skillfully handling customer questions and issues on your business's social media pages can be the difference between impressing a customer or losing their business during the holidays and year 'round.
4. Engage the right shoppers with email marketing
The last in our list of must-haves for your holiday marketing strategy is to engage the right shoppers with your email marketing during the holidays.
Kick off your holiday email marketing strategy by starting a re-engagement campaign with your subscribers who have not been opening your most recent emails. You can start a re-engagement campaign early and get them interested in your business again just in time for the holidays.
From our blog, "How to get your email subscriber list ready for holiday sales:"
"First, you'll need to create a segment or group of subscribers who haven't opened your last 10 to 12 emails. Your email service provider, like GoDaddy Email Marketing, will have tools that allow you to identify and create this segment. If you're already a high-volume sender (sending several emails a week), you might want to use a time-frame rather than a number of emails. Sixty days is typically a good benchmark. Next, you'll send that group of subscribers a special series of emails to ask if they still want to hear from you. These messages should be short and to the point.

"You can use humor to encourage open rates if it works with your brand. Remember, your subject line is very important for these messages. They can't click to stay on the list if the subject line doesn't get them to even open the email. The content of these messages should be straight-forward with a single call-to-action: Click here to keep getting our messages."
Next up, let them know what's coming. Why should they want to keep receiving communication from your business? Tell them the benefits of sticking with you during the holiday season. Let them know you'll be sending exclusive sales, access to events and notifications about new products. Monitor whether or not they opt in, then, stay in touch throughout the holidays.
Then, send cheerful content and seasons' savings. Now that you've hooked your subscribers and re-engaged some O.G fans, it's time to provide your email list with engaging, incentivized holiday email content.
Get ahead of Black Friday or Cyber Monday and send a sale email a few days early. More brands are sending out their deals ahead of the actual day to capture the attention of more holiday shoppers.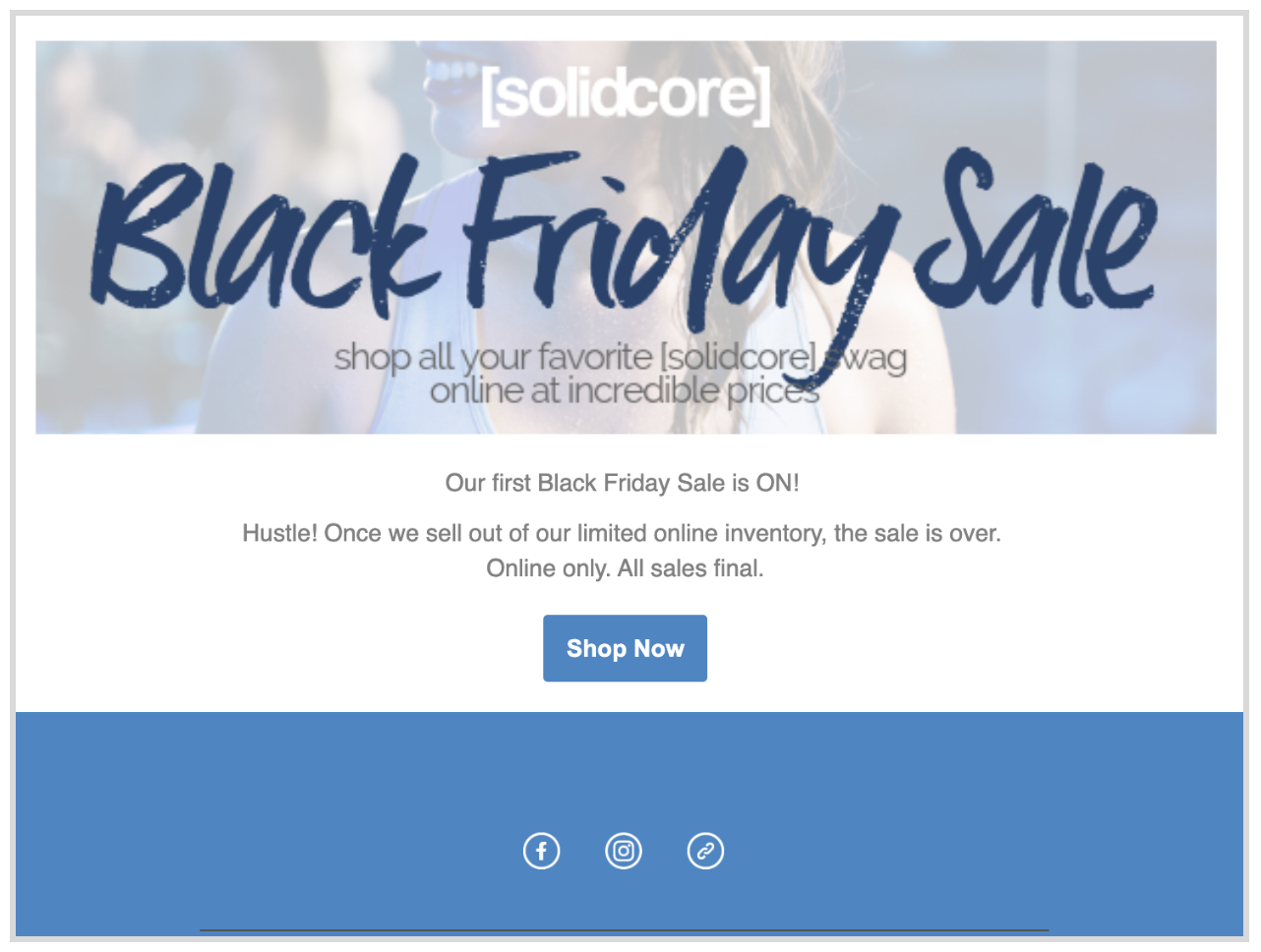 Keep providing your subscribers with promo codes, coupons and specials that they'll want to engage with during the season. Then, assign expiration dates for those deals to create urgency.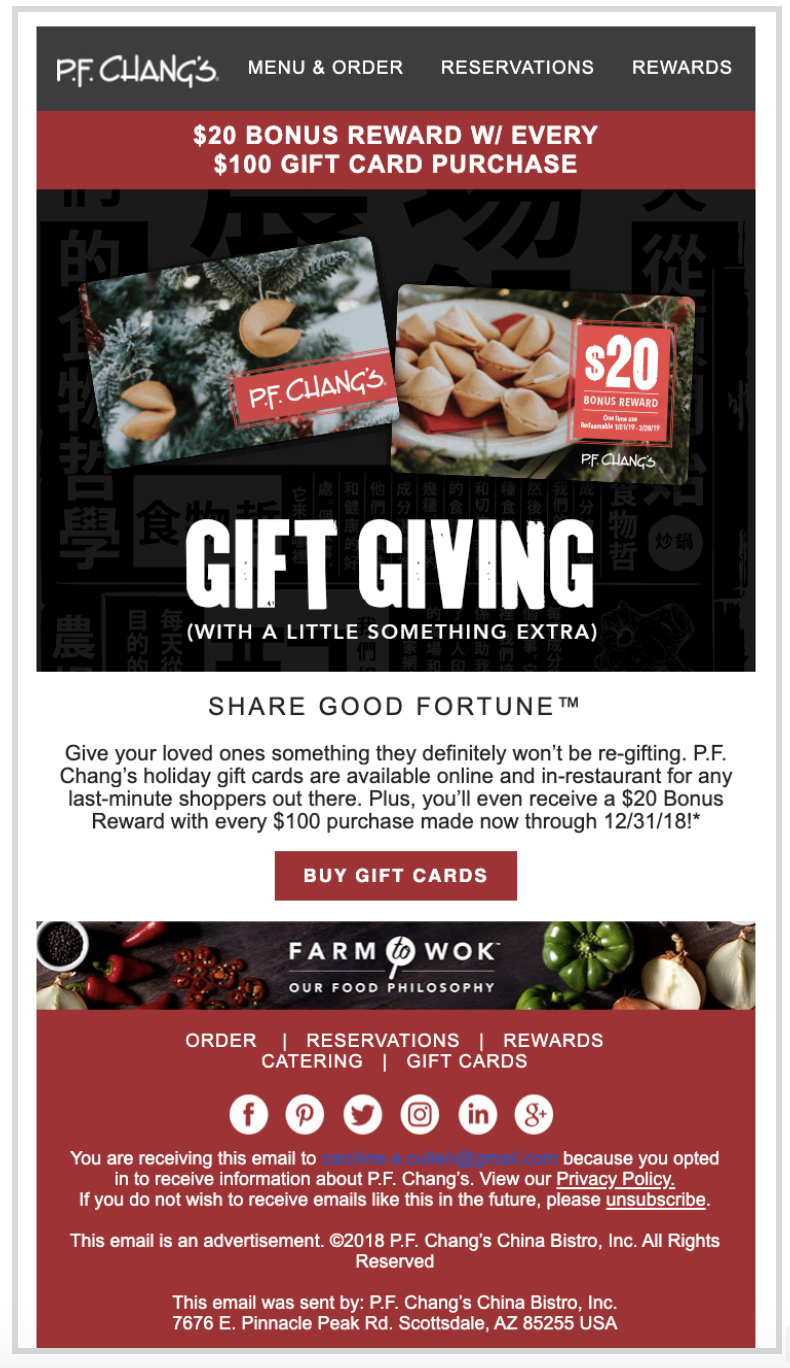 Promotional content is great, but you can get more creative than that! Pepper in fun, engaging content to keep your subscribers' interest throughout the season.
Show off your new products and services.
Give them early bird access to your holiday events or sales. 
Add value by providing educational resources like the best way to put lights on a tree or holiday drink recipes.
Be funny or sentimental. Thank them for all of their support throughout the year.
Send helpful to-do lists, educational resources or lists of holiday gift ideas.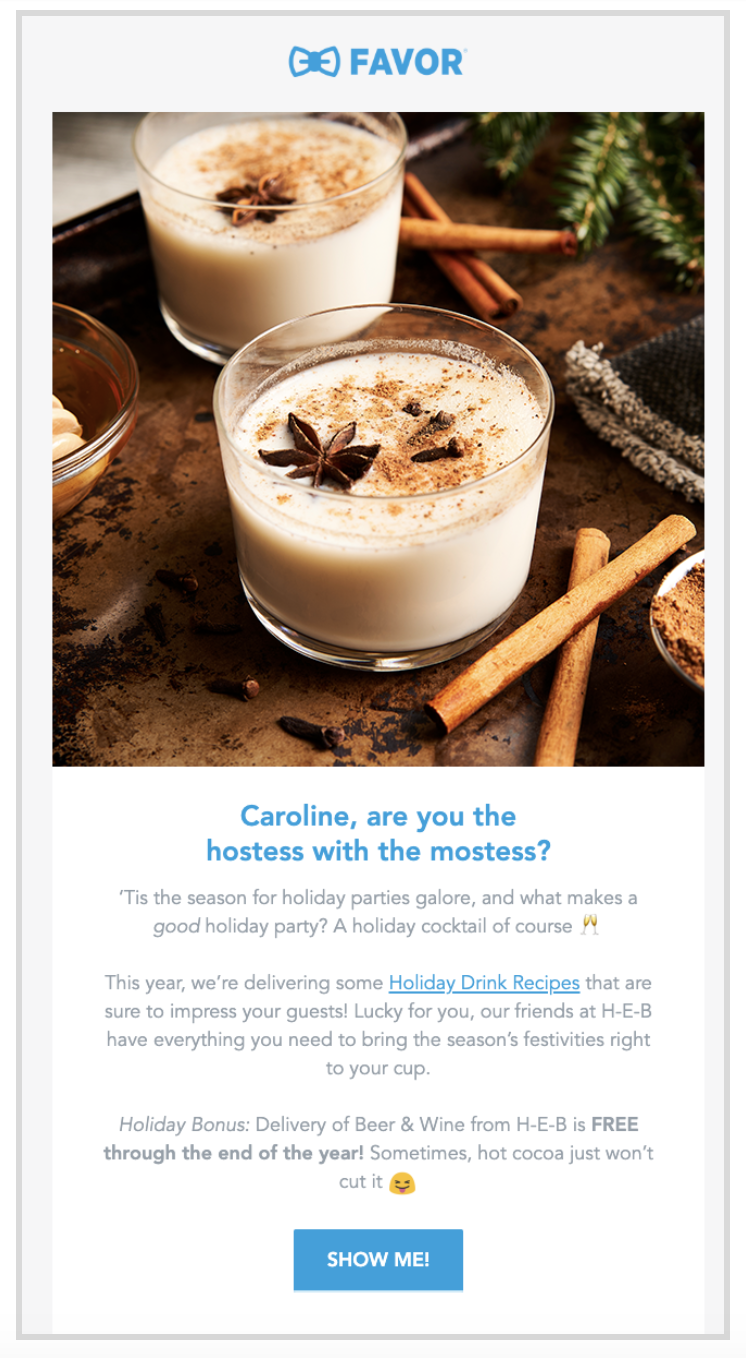 Think about what you would want to receive from businesses over the holidays, then use that to inform your email marketing content.
That'll do it for our must-haves for your holiday marketing strategy! We hope that your marketing is merry and bright this season.
Looking for a helping hand over the holidays? GoDaddy Social can help.
Engage your customers like never before with GoDaddy Social. We help businesses elevate their online presence on the platforms that matter most. Get started with us here.
Image by: Sabri Tuzcu on Unsplash