5 tasty takeaways from the best food blogs
It doesn't matter if you work in the food industry or are just a self-declared foodie — you've likely come across and followed several of the best food blogs on the web. And maybe you have your own two cents to share.
Starting your own food blog has probably crossed your mind on more than one occasion. The authors often seem like they have the dream job of testing out new local restaurants and trying their hand at some of the most mouth-watering recipes you've ever seen.
While it seems like it would be a fun hobby, is it possible to make it a part-time or even a full-time career? Are there any real benefits to starting a food blog? Of course there are. We reviewed some of the best food blogs out there to unearth their secret sauce.
5 luscious learnings from the best food blogs
The right blog software is key.

Good photos are worth their weight in butter.

A great headline encourages clicks.

When it comes to recipes, it's all in the display.

Make your articles easily shareable.
Before we dig into the details of starting a food blog, let's take a quick look at what's in it for you.
Camaraderie, fun and profit
Blogging, in general, is almost always going to have some kind of benefit for the author. Consistently writing articles that are read and shared around the internet helps create more exposure for the author's business or personal brand. The blog can also be monetized with advertising, product promotion and sponsored posts.
Whether you'd like to establish a reputation or bring customers to your cafe, blogging works.
If you're a cook or restaurateur, exposure for your restaurant is going the be the benefit that has the biggest impact for you. It can also help create a secondary income for you while still doing something you love.
If you're a foodie, starting a food blog has several benefits:
Provides you with a creative outlet.
Helps you learn new business, culinary and photography skills.
You'll eat healthier home-cooked meals more often.
Create an income that can build from a hobby to a full-time career.
Gain personal exposure that can open new doors and career opportunities.
While people often see blogging as something to do late at night or on weekends for fun, it can be a full-time career if you're willing to work hard.
Once your blog becomes popular, it will be possible to sustain a full income from sources such as:
Starting a food blog doesn't have to be daunting. In fact, you could have it up and running in 7 steps. Now, let's touch on those five tips from the best food blogs!
1. The right blog software is key
If you're going to create one of the best food blogs on the web, you'll need to start off using the right blog platform.
If you're not tech-savvy, you might be tempted to choose whatever's easiest to use or the blog builder that comes to mind most quickly. However, this decision can have a big impact on the success of your blog.
WordPress is one of the most popular blogging platforms in the world — and for good reason. It's a self-hosted solution that allows you to build and manage a website on your own. You'll find that most of the best food blogs use WordPress as their blogging platform.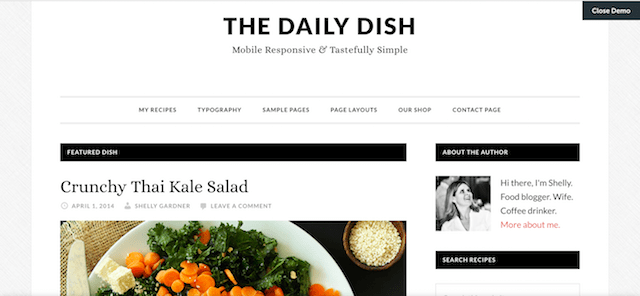 The benefits of using WordPress to create your food blog:
You have complete control over how your blog looks and works.
You can grow your blog into a complete digital empire — including website, forum, eCommerce store and more.
There are thousands of free and paid themes to help you get started fast.
The sky's the limit when it comes to customizing your blog, thanks to thousands of available plugins like EasyRecipe.
It's search engine friendly, which is good since your blog has to be found by search engines in order to get found by readers.
It's fairly easy to use and doesn't require any programming knowledge.
Want a WordPress builder that doesn't require you to know what HTML even stands for? Try GoDaddy Managed WordPress. It's food blogging at its simplest.
2. Good photos are worth their weight in butter
What do all of the best food blogs have in common? Great photography. But you don't need to be a professional photographer or have an expensive camera to take good photos of food.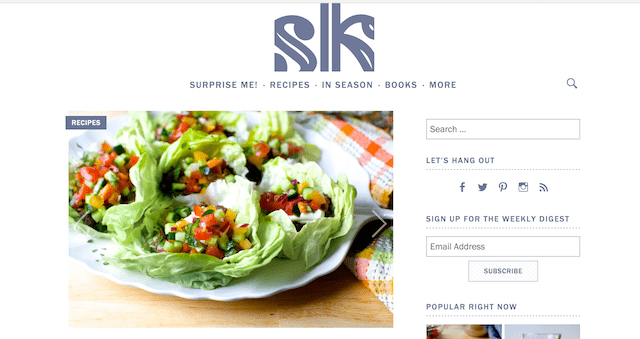 Entry-level cameras are priced quite reasonably, or you can buy a used one at a better price that will work just fine. Even your iPhone can take great food photos if you're on a budget.
Some key takeaways from the best food blogs on how take good photos of food:
Use natural light whenever possible; avoid using camera flash.
Invest in a tripod to guarantee crisp photos.
Take a lot of photos to find the best angle.
Be quick — don't let the food sit around once it's ready.
Adding props — napkins, a glass of wine — can add a subtle flair to your photos.
Be sure to describe your images, too! Use tasty language to entice your readers to learn more about your dishes.
3. A great headline encourages clicks
Eight out of 10 people will read the headline of an article, but only two will read the rest. Writing a great headline can make or break your article, no matter how good it is.
Your headline needs to grab the reader's attention so they're curious enough to read the rest of your article or recipe.
However, it needs to be an honest statement — one that readers can refer back to as they're reading your article. Ask yourself why your audience would want to read your post. When you find that key reason, creating a headline around it will increase your click-through rate.
Your headline is the setup and your article is the payoff. Don't over-promise and under-deliver. When your headline and article come together, your readers will finish the post feeling sated.
4. When it comes to recipes, it's all in the display
Recipes are the backbone of the best food blogs. But mastering the techniques of creating a good, easy-to-follow recipe takes some practice.
Use these tips to write better recipes:
Use seasonal ingredients and don't overcomplicate your dish. Keep it simple.
List your ingredients in the order that they will be used in your recipe.
While you should keep the ingredients list simple, be detailed in your instructions with correct amounts (tablespoons, ounces etc.) and the technique used (eggs beaten, butter softened, etc).
Be precise in your measurements, temperatures, timing and utensils used. People may interpret things differently — as in sliced vs. chopped — so be as detailed as possible.
Master the recipe beforehand. How many times has something been perfect on the first try? Don't rush to put out a recipe for the sake of new content. Perfect it before publishing. Your readers will thank you for it.
Your readers will appreciate the opportunity to replicate your dish and eat delicious food. Be clear and concise with your directions, and they'll be eating in no time.
5. Make your articles easily shareable
Finally, to become one of the best food blogs, your blog articles need to be easily shareable. Word of mouth is one of the best and cheapest ways to grow your blog. By adding share buttons to your blog, readers who love what they see can share your recipes and tips with friends on their own social networks. Adding them is as easy as adding a plugin to your WordPress blog.
If you're on Facebook, then you've seen how often people love to share new recipes. Tasty on BuzzFeed likely comes across your screen daily. See what they're doing well and try to replicate that on your own blog.
Serve it all up
Ready to serve up one of the best food blogs around? All you need is a killer headline, captivating images, a little bit of humor and a short video or GIF. It will all come together to make your blog shareable and bring in the page views!
[advertisement id="17440″]