5 ways to blog for business during the holidays
Whether you're an esthetician or an electrician, a real estate agent or a restaurateur — no matter what kind of business you own — you can use your blog to connect with new customers and to promote your products or services. And the holiday season is a great time to blog for business.
Try some of these tips to help you effectively use your blog to engage with customers during the holidays.
Offer holiday-specific tips and advice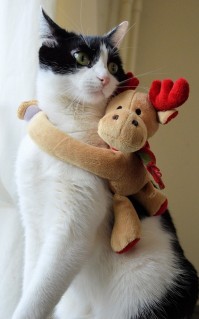 With holiday parties, family visiting, travel, and gifts to buy, the end of the year can be incredibly busy and downright stressful for people. Make their life easier — offer them useful information related to your business, keeping in mind the things that can make this time of year challenging.
For example, if you are a life coach, give tips on how to focus your time and energy to make the holidays less stressful. If you make soap, put together a cheat-sheet on how to pick out the perfect bar of soap for each person on your readers' list. Since I have a book on creativity for moms, I wrote a blog post on how to make time for your creative outlets during the busy holiday season and included a link to the book at the end of the post.
Get creative and find ways to give a unique, holiday twist on what you sell.
Don't forget to direct readers to your products or services.
Create a tutorial or printable
To take the previous tip one step further, consider putting together helpful content that your readers can download and/or print. If you are offering tips, create a free PDF they can download. (Even better, ask them to sign up for your newsletter to get this exclusive content!) If you have a product-based business, consider sharing a tutorial for how to make one of your products (or something similar) as a gift idea. At the end, include a link to the actual product so that your readers know where to buy it if they don't want to make it themselves.
Put together a killer gift guide
Create a holiday gift guide (unless that's not your style) with a title sure to catch your target customer's eye. Fill it with products and services that will make them drool. Of course, include your own products or services, but mix it up with those offered by other businesses that complement what you sell.
Reach out to some of those companies to see if they can offer your customers a special discount, and offer one to them in return. (If you also do affiliate programs, be sure to include your affiliate links!) Let any other companies you include know about the gift guide once it's published, as they will likely want to share it with their readers — thus expanding your potential market even further.
Share a story
Use customer testimonials to share with your readers how your business helped others during the holidays. Perhaps your product or service made the perfect gift for that hard-to-please person or it made their life easier or more enjoyable. If you don't have any testimonials yet, reach out to former customers to see if they have something to share (which has the added benefit of putting you back on their radar).
If are a brand spanking new business with no customers, tell your own story. Share the inspiration for your business and find a way to tie in the holidays, or how you envision your products or services helping your customers during the holiday season.
Keep SEO in mind
A well-written blog post that's optimized for search engines and a fantastic Pinterest-friendly image with rich keywords should continue to drive traffic to your website for years.
You can even use past content. Tweak holiday posts written in years pasts, refreshing the content as need be to include new products or services you offer, and adding in a Pinnable image if you didn't previously.
What strategies have you used to draw in customers with your company blog during the holidays? Please share in the comments!