Amplifying the beat — meet Danielle Smith, CEO of SOUNbag
The GoDaddy product information in this article is outdated and currently under review for accuracy. For the latest up-to-date product information please visit godaddy.com
Being in the midst of some major life changes, Danielle was looking for a new way to express herself and find purpose. "I love making things and I love music," she says, recalling that day. "And the rest is history."
So you've gone to fashion school, soaked up inspiration and acquired the tools of your trade — now what? NYC native Danielle Smith found herself asking just that question in 2013, after graduating from the Fashion Institute of Technology with a design degree. Then opportunity knocked while spending time with her friends, an eclectic group of musicians, artists, and performers that includes music producer Ski Beats.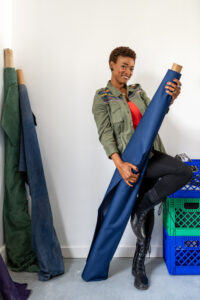 He asked if she would make him a bag for his MPC sampler and other recording equipment. Being in the midst of some major life changes, Danielle was looking for a new way to express herself and find purpose. "I love making things and I love music," she says, recalling that day. "And the rest is history."
As is the case with those starting out, Danielle had the training and skills to get rolling, but taking the first step required a leap of faith.  "Using the items Beats wanted to carry," she recalls, "I looked at the market to see what has and hasn't been done, sketched out my ideas and made the prototype, choosing a fabric that I felt encompassed the culture." And thus, in February 2014, the first SOUNbag was born.
Now Danielle had a prototype and the thrill of accomplishment, plus the unexpected desire to make a business out of it. It was a classic learn-by-doing moment.
"Like many creatives," she recalls. "I'd rather be somewhere making something. That said, I looked to brands that I liked, as well as peers and mentors for any useful tips."
Getting a website up was at the top of her must-dos, so she purchased a domain with GoDaddy and used Websites + Marketing to get SOUNbag in front of the world. "I was able to quickly build a website and a look that represented the brand and is attractive to customers and easy for them to navigate." She also enlisted GoDaddy for Office 365 with professional email to present a professional image.
Immediately, SOUNbag met the needs of her audience. Danielle explains: "I want people to buy the bag because it is functional and adds value to their life and causes a good feeling. In that moment, seeing or feeling that persons joy and excitement is everything."
Coming in a variety of camouflage shades, SOUNbags make a stylish, modern update on the backpack — if you're carrying vinyl instead of books. Danielle uses Websites + Marketing's marketing tools to spread the word and connect with other designers and musicians. "I really like the various options available to create my store and tell the SOUNbag story. It's intuitive for non-techies like myself, with all the tools you need to start and maintain your business' online presence."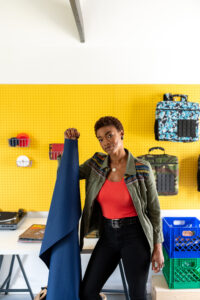 As her endeavor expands, so does Danielle's horizons. For the rollout of her first full line of SOUNbags in 2016 she relocated to Los Angeles, where she met producer and photographer S7even and made SOUNbag into a dynamic, creative collective. "Both of us being entrepreneurs and creatives makes for a great team," Danielle says. "I love the way we work and to see how far the brand has come."
Over the next few years Danielle wants to connect the brand with musical events, spreading the company's vision and placing it in a larger artistic community,  while also aiming for sustainable manufacturing practices.
As far as advice for would-be entrepreneurs, she offers the same wisdom to others she offers to herself:
"Don't stop. I heard Pharrell says, 'There are no failures, just research and development.' You may have to pivot but keep going."