Digital networking for photographers: 6 tips for improving your exposure
The increase in disposable income and advertising budgets has led to steady growth in demand for professional photographers. In fact, the U.S. photography industry generates $10 billion a year in revenue. While demand has made the industry more lucrative and technological advancements have made it easier for entrepreneurs to start their own photography business, networking for photographers remains an essential part of success.
The ease and affordability of starting a photography business raises the competition and can make it difficult for photographers to earn a steady income — unless they know how to network.
6 tips for networking for photographers
For professional and freelance photographers, more exposure means more business. Increase your exposure and grow your business with these six ideas for digital networking for photographers.
Create a memorable brand.

Know with whom you want to connect.

Find the perfect channel for your target audience.

Understand how to use the channels you choose.

Test and modify your outreach strategy.

Don't neglect your website.
Ready to take your photography business to the next level? Then keep reading.
1. Create a memorable brand
Whether you're thinking about launching a photography side hustle or have been taking photos professionally for decades, you need a memorable brand to network effectively online. Before you ever start networking, take time to work on your brand.
You need to carefully consider your digital footprint and the elements of your brand identity. These individual pieces come together to form your entire brand image and can drastically affect others' perception of you — hurting or improving your networking efforts.
Your business name
Do you have a specialty? If so, try including it in your name — for example, Jane Doe Premier Wedding Photographer. A subtle change to your business name can provide more clarity and set expectations when networking online.
Your logo
A logo is a way to identify your brand online. A memorable logo can improve your brand recognition, which will break down a lot of the networking walls. If you need help designing a professional logo for your photography business, try GoDaddy's Logo Design Services.
Your email and social usernames
Digital networking for photographers requires communication. As such, you will be using email or social media to communicate online. Your email address and social media usernames should be professional and relate to your photography brand. Avoid using a generic email, as it looks less professional than one connected to your domain.
Your website
A website helps tie all your digital branding assets together. It should represent your brand identity while also leaving a memorable impression on visitors. In addition to a great design, also consider the domain name that you pick for your website, as that also helps you create a memorable brand online.
2. Know with whom you want to connect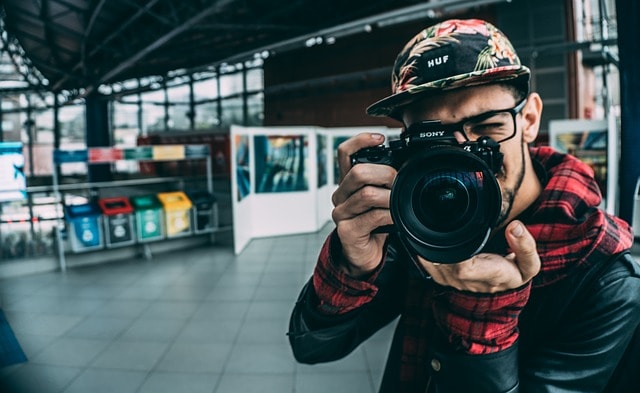 Networking for photographers is about developing mutually beneficial relationships with people or businesses. In order to measure how effective your digital networking efforts are, you need to have a clear perspective of your networking targets. This could mean potential clients, affiliates, mentors, or any number of other connections that provide short-term or long-term value.
Think outside the box when it comes to developing networking targets for your photography business.
For example, if you're a wedding photographer, network with other wedding service companies such as bakeries, wedding planners, dress stores and wedding venues.
3. Find the perfect channel for your target audience
An interesting component to photography is that it's not industry-specific. In other words, photographers can find networking opportunities almost anywhere online.
After you've outlined your networking targets, find where they spend their time online. It might be wise to ask your clients which social platforms, blogs, or forums they frequent the most. Using that information, you can decide which platforms to invest your time using.
If you focus on newborn photography, for example, you would typically want to market your services to women who are pregnant or moms of newborns. This might lead you to social sites like Pinterest, Instagram or Facebook, where that audience is typically more active.
4. Understand how to use the channels you choose
Finding the perfect channel for your target audience is easy. What's difficult is understanding the intricacies of that channel and how to get the most out of your networking efforts on that platform.
Facebook
Facebook is an amazing platform for interacting with people, and it's rich with information (as we've learned a lot about recently). This makes it a really incredible resource for networking. However, Facebook is not the best place for unsolicited messages because it's a network that is considered more personal than professional.
Sending business-related messages directly to people on Facebook could harm the potential relationship instead of help it.
With that said, you can find opportunities to network on Facebook. One of the best places to do that is within a group. As a local photographer, you can join Facebook Groups related to your city or interests, or you can create and manage your own group. The more you engage with Facebook Groups, the more networking opportunities you'll find.
Instagram
Instagram is another popular social platform for photographers to grow their network. Sara Magnolia, a photographer in Tampa, Fla., says that Instagram is one of the best networking channels she's found to grow her photography reach. She recommends always using hashtags and location tags on photos and posting consistently to keep followers engaged.
Hashtags and location tags are ways for large platforms like Instagram to filter similar posts for users interested in a topic or location.
For example, if you're taking photos for a wedding invitation at a popular city park, you could tag the park in your post so that it shows up when people search for photos of that park on Instagram. This strategy will increase your followers and can even result in people reaching out to you.
5. Test and modify your outreach strategy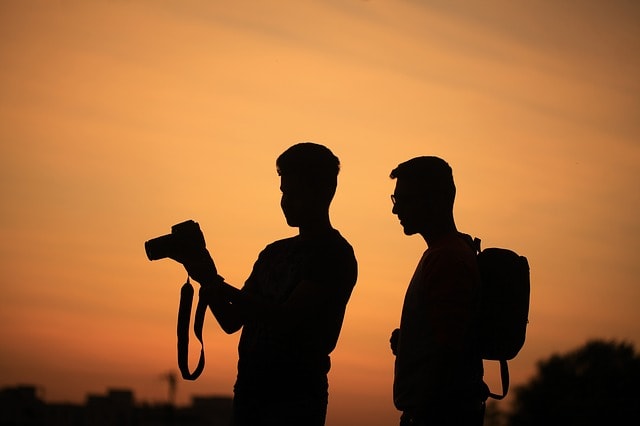 Outreach is a huge component of digital networking — and there is no right or wrong way to do it. Digital outreach involves sending cold emails or messages to your networking targets.
Crafting an outreach strategy for your photography business is about discovering what works best for you.
This will take some time and will involve a lot of unsuccessful attempts. However, if you can fight through the rejections and learn to outreach effectively, you'll generate a larger and more valuable network.
Here are a few general tips to help you when creating your outreach strategy:
Build rapport
Any salesman will tell you that the first step when making initial contact with someone is to find common ground. Because most of your outreach will be to people or businesses who know little to nothing about you, try to build rapport quickly. Fortunately, when you conduct outreach online, you have a lot of resources at your disposal to learn about the person you are contacting.
Pro tip: Take a few minutes to look at the person's social channels to see if you have any common interests. If they do, try to integrate that into your first message.
Offer them value
Outreach and networking for photographers are about finding creative ways to build a mutually beneficial relationship. Be generous and have something to offer to people when you do reach out. For example, maybe you found a popular lifestyle blogger in your city, and you want her to share your photos on her blog. Rather than emailing and asking her to share your photos, try offering her a free photoshoot for an upcoming post. While you might not enjoy doing free photography work, the potential benefits of the networking relationship could prove more valuable than the expense of one photoshoot.
Be persistent
It's estimated that 50 percent of sales happen after the fifth follow-up. While you might not be looking for a sales conversion with every outreach message, that statistic does indicate how important follow-ups are to your outreach efforts. Persistency doesn't just mean retouching the contact on the same platform four or five times without any response. Persistency means trying to reach out across multiple channels.
Pro tip: If you send several emails without a response, try tweeting the person, mentioning that you've tried emailing, and ask if there is a better way to get in touch.
6. Don't neglect your website
It's important to have a goal in mind when you start networking. For most photographers, that goal is to generate more business. One of the easiest ways to grow your sales is to push people to your website and convert them into a partner, lead, or customer.
Many photographers don't take full advantage of their website. They only use it as a digital portfolio for their photography, and they don't update it often enough to showcase their talent effectively.
If you want to improve your digital networking skills and increase the ROI of your networking efforts, create a website that is optimized to convert visitors. Optimizing for conversions means you should:
Create lead forms and pop-ups on your website to push visitors into an email funnel.
Add your phone number and other contact forms prominently on the site to drive more activity from highly engaged leads.
Clearly communicate your value proposition and services to visitors to better align.
Don't be afraid to network
Digital networking is a powerful way for photographers to grow their business. From conducting outreach, to local influencers on social media, to building a brand that brings interested partners to your door, there are a variety of techniques to help you grow your professional network.
As you set out to build your followers and connect with influential people and businesses, remember that effective networking starts with being yourself and building genuine relationships.