Florida mom launches Swift Shopper app to help busy families reclaim time
Who has time to wait in line? Not Naomi Wilson, who homeschools her four children in Harbour Beach, Fla., and holds down the fort during her husband's frequent travels for work. After too many nerve-wracking trips to the store with the kiddies in tow, Naomi knew she needed to come up with a better solution for busy families. So she founded Swift Shopper Inc.
Swift Shopper is a shopping app for iOS and Android that eliminates lines and hassles at any retail store. You simply scan your items as you shop, check out, and go.
Swift Shopper aims to help users reclaim time by transforming the shopping experience.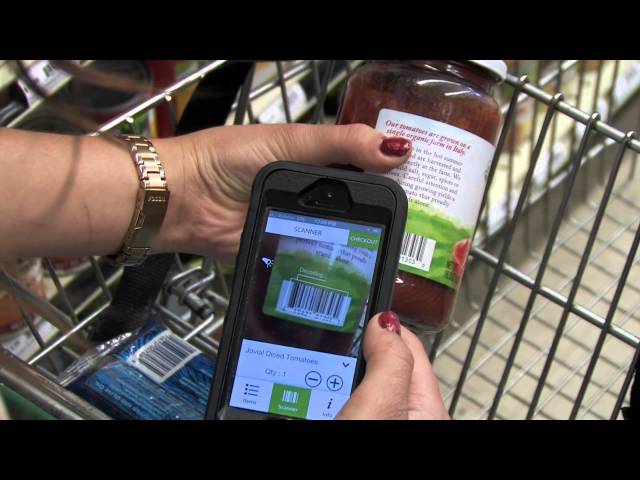 I had the good luck to sit down next to Naomi and her husband, Chad, at a recent marketing event. They shared a few highlights of an entrepreneurial journey that started four years ago and continues to gain steam. I had to learn more.
Q&A with Swift Shopper Founder and CEO Naomi Wilson
Q: What inspired you to start Swift Shopper?
A: "Going to the grocery store with a 9-, 8-, 5- and 2-year-old was never enjoyable, but it was necessary, especially since I was usually on my own. I can't tell you how many times I went through the Brew Thru, a place for most people to quickly get their alcohol, but I was there for milk so I didn't have to go into a grocery store.
A little less than four years ago, I had taken my four children to a Wholesale Club in Florida. When I go, I buy two weeks' worth of groceries just to keep from going back! On this particular day, the kids were jumping around and trying to entertain themselves. They knocked items off the shelves. My mommy, half-baked brain forgot a lot but I did my best to get through as fast as possible so I could get out of there.
Once we got to the checkout line, all hell broke loose. I was trying to put my groceries on the conveyor belt while my 9- and 8-year-old were fighting, my 5-year-old was going under the conveyor belt, and my 2-year-old was crying and trying to get out of the cart. It was horrendous. By the time I got home, I was in tears.
I went into my husband's office and slammed the door. 'That was the worst trip yet to the grocery store!,' I yelled. 'The kids were horrible! There has to be a better way to do this!'
He tried to reassure me. 'One day you will be able to walk out the door of a store and the RF ID tags will scan everything and even know to charge you for it. You won't have to go to the checkout lane again.'
'How far away is that?'
'Maybe 10 or 15 years?'
'By then, I won't need an easier way to check out! They will all be gone and I won't care!" I responded, as if it was his fault.
I went into the kitchen and started putting away the groceries that were stacked chaotically everywhere. It usually takes a good 30 minutes to put a shopping trip like that away, so while I worked, I thought. How can we fix this? The idea of Swift Shopper then came to me.
I went back into my husband's office and urged him to listen to my idea. 'What about having an app that, as I take the items off the shelf, it scans the barcodes and reproduces them to the phone as I am organizing them in my cart? Then I can present those barcodes from the phone to the cashier so I don't have to take any of the items out of my cart again.'
His response? 'If it hasn't been done yet, we absolutely should do this!'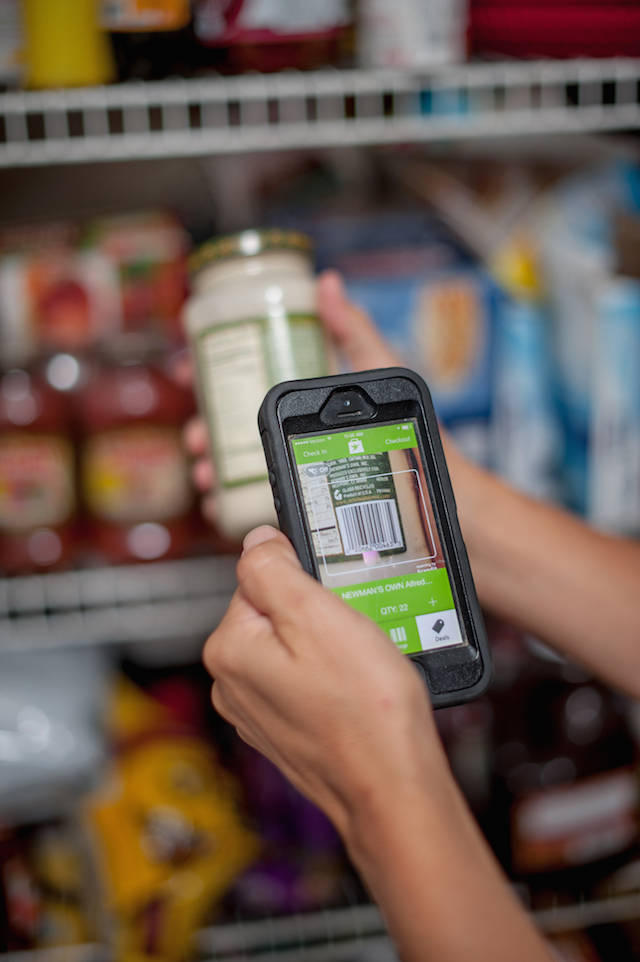 Q: What first steps did you take to get from idea to business?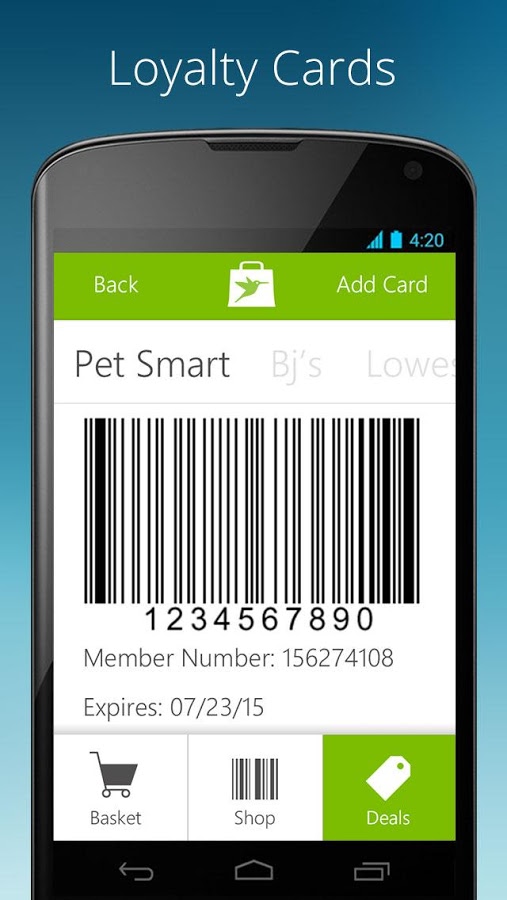 A: "We went and found our developer, Justin Mitchell of JMitch Consulting. He was fresh out of college at the time, but was willing to develop Swift Shopper for a price we could afford. We used the money my husband had earned from selling another company he had owned, and put it towards the app. We built the app with a shopping list, loyalty card, deals and the basic scanning and reproducing of barcodes for the cashier."
Q: So now you've got a product. What next?
A: "We put it in the store [App Store and Google Play] and people started downloading it. When I talked about it on social media, people loved it. We grew a reasonable amount all while bootstrapping it, but the amount we invested in lawyer fees and development exceeded our ability to fund it."
"Thankfully, we had family and friends who believed in the idea and invested to help us do the marketing."
"We got meetings with some big wigs from Florida to California. It was amazing. Because of the faith they had in our business, we were able to land a fully funded angel investor who has launched us into an amazing company."
Q: How did you identify your niche in the market?
A: "My audience has really been the moms of this generation. We all know what it's like to either have to bring children with us to the store or to be at work and have to go to the grocery store with hundreds of other people at prime grocery store hours, when we really just want to be home. No one wants to be there because the experience is always horrible, especially the lines."
"I identify with this group, and our business is focused on providing a better experience in everyday life that will help moms stop crunching their time and start living life."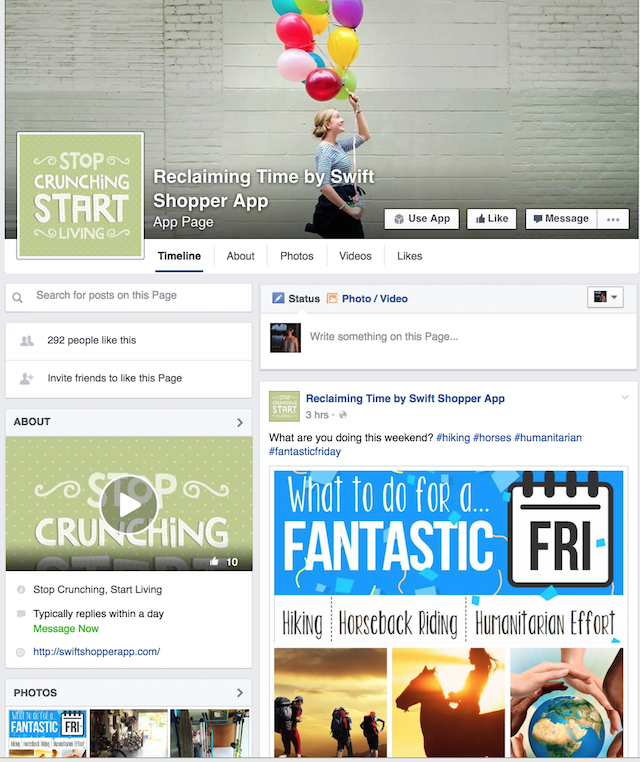 Q: What obstacles did you face as a startup?
A: "We had some hurdles when it came to the retailers. The marketers love the app, because they know it is going to be a platform to connect with their customers and others that are in their area. The operations guys have a little more issue because it revamps their entire operations, which are based around that conveyor belt and cash register. Their hand scanners are old and can't scan a mobile device. They have so much involved from who can touch the money, how they do loss and prevention, how do they funnel people in through the store, etc. It has been a battle to show them that there is a better way for people to check out — and they need to adjust.
But the world is changing, and after three years of banging on doors, the retailers are starting to realize that if they don't adjust, they will lose their customers.
The customer experience is the new wave of technology and it will benefit the retailer in more than just a cost savings way. They will gain truly loyal customers who will shop at their store just because they provide a more enjoyable shopping experience using a device they have grown to love and use in every aspect of the their lives. Even more, this is a technology that will bring about the mobile payment revolution. When we can finally use our phones to do the entire shopping process, we will finally start using the mobile payment process."
Q: As an entrepreneur, what core strengths do you bring to the table?
A: "I am a knowledge seeker. I love research. I love producing the best possible product or idea for people. I believe translating the user needs into an exceptional user experience is my No. 1 ability and my focus. I really love products and mobile apps that work well. I'm excited that other users identify with my way of organizing and managing tasks on mobile platforms."
Q: What online tools do you use to manage your business?
A: "We use GoDaddy for our web hosting. Our website, www.swiftshopper.com, is our largest tool to get downloads. Everyone is sent to the website to download the app, and it holds all the information for you to understand who we are and what we do."
"Having great web hosting, like GoDaddy, is a must. If my website goes down, there is nowhere to point my customers to for downloading or for specific information."
"We use Nimble as a CRM tool. Nimble holds all the information we have gleaned. It is a necessary tool for our workforce to stay in touch with working with our retailers. Nimble has made a huge difference in knowing what our best deals are at the time and where we are at in the process with each customer.
We use AWS from Amazon for our mobile backend, and the amazing Trello for project management. You can add images and notes and links of all kinds. It is like having a digital whiteboard with sticky notes."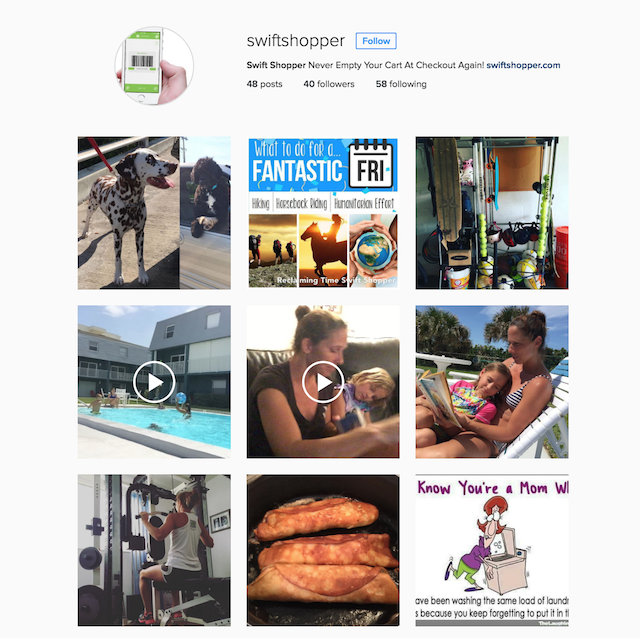 "Google has been a great tool to manage our email addresses as well as everything we have in the cloud. We use Google Drive to keep all our business information within clicks reach."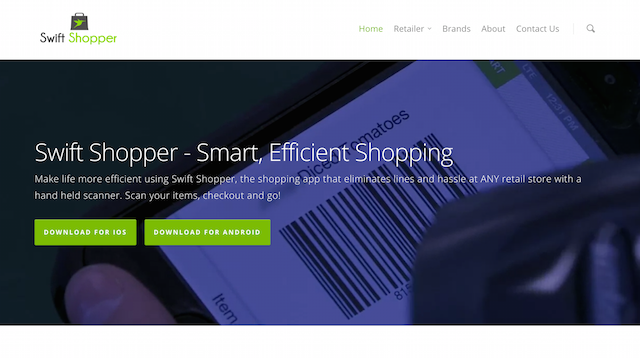 Q: What's the most valuable lesson you've learned since starting your business?
A: "Reaching out to others, asking for advice, listening and recognizing good advice is very important. I've learned that you need to evaluate continually so you can recognize limitations that you or your company has and learn when to reach out to your community for advice and help."
Q: What's your best advice for other entrepreneurs?
A: "I would advise growing a diverse community that you speak with regularly on business matters and matters of the heart. Being able to bounce ideas off of people from different fields and different opinions, with respect, helps grow great businesses."
Q: What does the future hold for Swift Shopper?
A: "I see ‪Swift Shopper as being the digital platform to connect shoppers and retailers, empowering the shopper with a tool to identify savings relevant to them and reduce the time to shop, while providing retailers a way to have a deep connection to their customers."
Image by: Kitt Creative