Introducing GoDaddy's new VPS Hosting platform
Over the last several years, GoDaddy has been making a lot of changes…we hope you've noticed. A major part of that change is a commitment to our customers to invest deeply in technology improvements with the promise of offering highly performant hosting and support solutions.
Our newest VPS Hosting platform is another example of our commitment.
If you've been thinking about upgrading your clients' sites to a VPS, need a server to run an app or just need a short-term development environment, then keep reading. We'll hit the highlights on how the new platform and plan options of GoDaddy VPS Hosting and Fully Managed VPS Hosting means better performance, scalability and easy admin to save you valuable time.
First and foremost – better performance and security.
All the bells and whistles don't mean much if your server can't handle the tasks you expect from it. Our 4th generation VPS platform is built using industry-leading hardware and software with 100% SSD drives on OpenStack for best performance.
With plan options up to 8 CPU and 32 GB RAM and unlimited traffic, GoDaddy VPS hosting can efficiently run all of your resource intensive applications with ease. To support faster speed regionally, we offer data centers located around the globe; at setup, you can choose a server location from US, APAC or EMEA.
Just as important as performance, is server security. Not to brag but…as the worlds' largest hosting provider, GoDaddy has well-established NOC and SOC teams and security protocols to provide 24/7 network monitoring and protection against the dreaded DDoS attack.
Additionally, the GoDaddy VPS Hosting platform uses KVM virtualization to offer enhanced security through VM isolation and access control. And, for unmanaged server configurations that can't take advantage of the SSL features that come with control panels like cPanel/WHM and Plesk, we include a free GoDaddy SSL certificate to establish secure data transfer.
Flexible server configurations that scale.
Whatever the size of your project, we have a broad choice of server configurations to handle just about any job. The plan choices range from  1 CPU up to 8 CPU, each with a choice of standard RAM or high RAM options to accommodate your specific resource needs around performance and capacity. It's also worth mentioning, you get full control with root access to customize your server to your exact specifications.
If you want to start off small and add more resources as your clients' needs grow, you can easily add more RAM and/or upgrade your CPU with a few clicks within the GoDaddy VPS Hosting dashboard. No more manual migrations just to upgrade your server!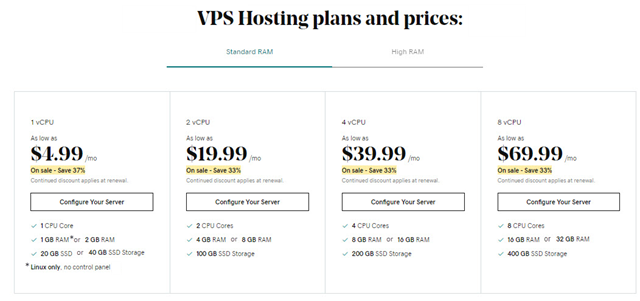 Easy admin using optional industry-standard control panels.
Whether you're a Linux user or Windows enthusiast, we have lots of flavors to choose from starting with Windows and CentOS. Both operating systems allow you to add Plesk Obsidian Web Host Edition.
The Web Host Edition is packed with features and built specifically to customize, provision and manage your hosting business. That includes account and subscription management for your clients, as well as, website & domain management tools.
It also includes the full WordPress Toolkit with 1-click installation, staging and testing environments, WordPress hardening and mass updates from a single dashboard.
If cPanel/WHM is your preferred management tool, we've got you covered on CentOS. GoDaddy VPS lets you create unlimited cPanel accounts without worrying about be charged per account.
Unlike some hosting providers that are passing along the price increases that came with the 2019 cPanel license fee changes,  GoDaddy VPS lets you create the number of cPanel accounts your business needs for one fair price.
Features that save you valuable time.
No matter how advanced you are at server management, we all can appreciate things that help save us time. Here, we will walk through the GoDaddy's VPS Hostings' clean and simple UI, and dig into some of the main features that makes time-consuming tasks easy.
If you REALLY want to save time, jump down to the end of this article to learn about new Fully Managed VPS Hosting where our experts do the heavy lifting for you.
GoDaddy VPS Hosting dashboard to simplify server admin tasks.
Access your server, perform server actions to stop/restart and rebuild, review uptime and resource usage and view recent history. A really cool feature our cPanel/WHM users love is the 1-click account creation right from the dashboard!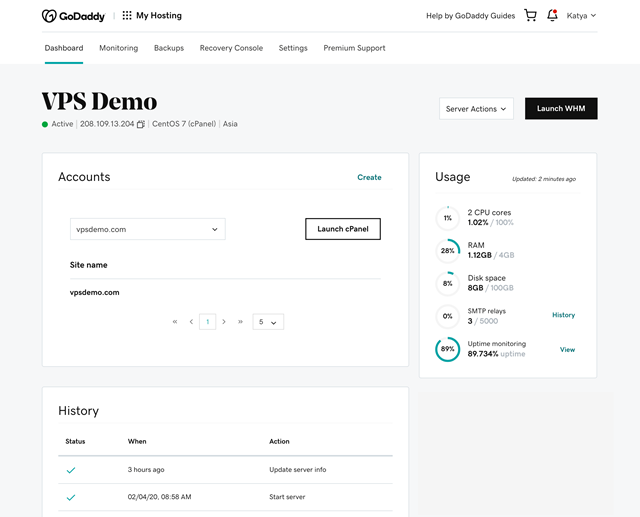 Server monitoring tools & alerts.
Check server uptime and deep dive to see usage trends in resources for CPU, RAM and storage by day, week, month and year. Set email alerts to discover issues before your clients do.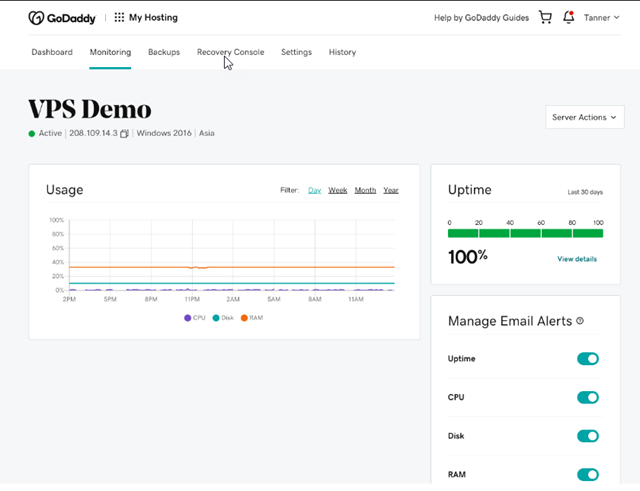 Automated backups.
All plans include automated weekly backups. Select the time window (morning/afternoon/evening) to perform your weekly backups, and for backup on-demand, schedule the day and time.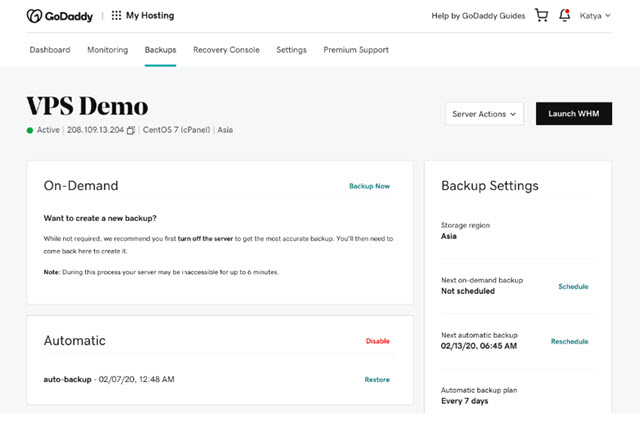 Server recovery console.
If you've ever been inadvertently locked out of your server by a new firewall rule or want to fix a mis-configuration, then we think you'll appreciate this feature. Just login to the GoDaddy VPS Hosting dashboard, click the Recovery Console tab, enter your server credentials and start typing.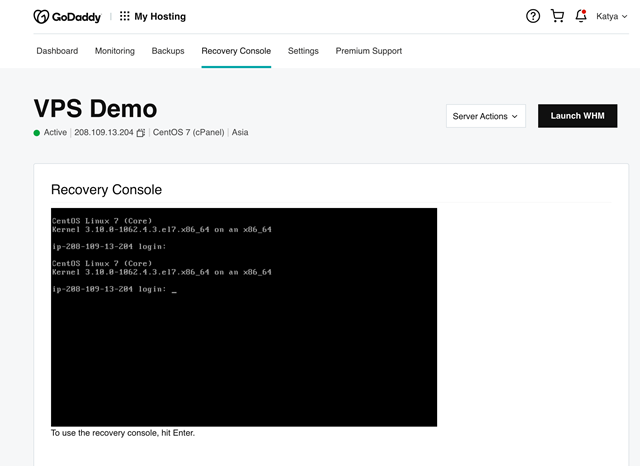 1-click server actions.
From any screen on the Dashboard, you're in control to Stop, Restart and Rebuild your server from scratch.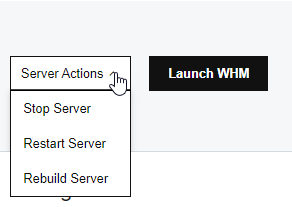 Around-the-clock expert support.
Did I mention GoDaddy is the largest hosting provider? And with that title, comes a ginormous Customer Care Center filled with dedicated folks standing by 24/7 to help guide you to a solution when you need it.
If you're more of a do-it-yourselfer, you can browse our robust Help Center or join our GoDaddy Community to get advice from your peers. Or if you just want us to do it for you, we have a Premium Support Team that are seasoned server experts that offer a whole list of task-based services they can perform for a per-service fee.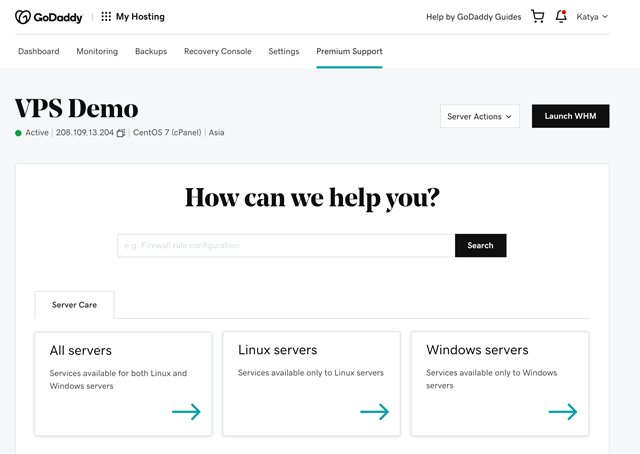 New Fully Managed VPS Hosting  – let our Dedicated Team do it for you.
For those of you that would rather focus your time on building websites or running your business, then Fully Managed VPS Hosting might be right for you.
With Fully Managed VPS, you get a high-performance server and unlimited use of all services performed by seasoned server experts.
Your dedicated team will monitor the performance and services on your server 24/7 to catch and fix any issues that come up and proactively update and patch your operating system and control panel, so that your server is always running on the latest and most secure software versions.
Our Fully Managed VPS Hosting plans start at $99.99/mo. Learn more about the full list of services and plan options.
Image by: In Schneider on Unsplash