This article was originally published on Nov. 10, 2017. It was updated on August 28, 2019.
There are lots of questions a small business owner needs to ask before they get a website online. Do you have a business plan? How much does hosting cost? Do you have a budget? It's also important to consider what type of hosting platform is best for you and if you need a web developer to help you out.
It's easy to just jump into the deep end and then realize, much too late, that you don't know how to swim.
But fear not.
I'm going to walk you through the necessary first steps to ensure you're not wasting time and money and sabotaging your dream before you even get a chance.
Here are the topics that we'll cover in this guide:
Establish a business plan.
Determine your budget.
Picking a hosting company.
How much does hosting cost?
Special considerations.
Let's take a look.
Establish a business plan
You've come up with a great idea. You're excited about what the future holds. Let's get online right now, buy some cheap hosting, and get going, right?
Wrong.
It's no use wondering how much does hosting cost until you have a plan. A good business plan will act as a roadmap for success. It's vitally important to figure out where you want to go and how to get there. You wouldn't plan a family vacation without a destination, would you?
Your idea is worth investing both time and money to ensure you succeed.
The best place to begin planning and getting some great tips is the Small Business Administration. In fact, if you have no idea how to begin a business plan, you can go to the SBA to get templates.
Related: Best business plan templates
Determine your budget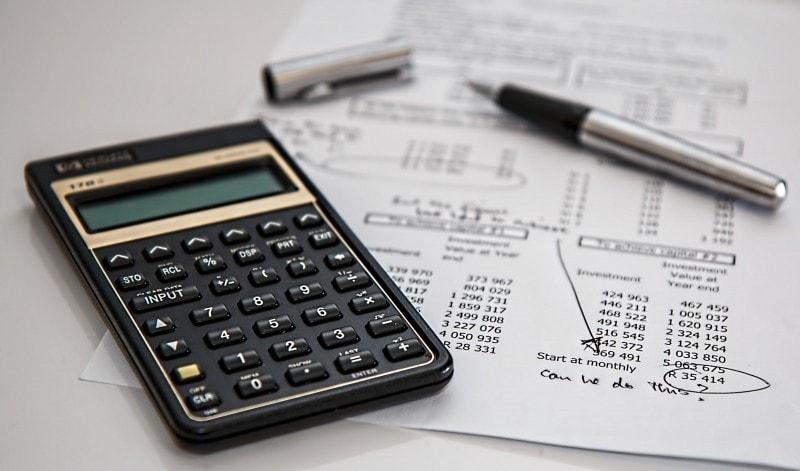 The next step is possibly the most important. You need to figure out your budget. Let's break down that idea:
Determine income sources
Figure out how much money you're currently bringing in monthly and what you can route toward your new business idea.
Determine fixed costs
Some costs will not change much from month to month. This is going to be the easiest part of the budget to figure out. Collect previous bank statements and look at your expenses.
Determine fluctuating expenses
Business costs that don't have a fixed price tag are called variable costs. You can scale your budgeting for this based on your monthly profit. That will be determined by your earnings after you've paid out all costs.
Determine one-time expenses
Once you figure out the numbers in the previous steps, this one will be easy. How much do you have leftover to cover costs, such as a computer replacement or the unexpected business from getting a new, high-profile customer?
A lot more is involved, but some simple research will get you where you need to be. Remember that hosting can cost anywhere from a few hundred dollars to thousands each year, and this will be determined by what you want to accomplish.
Once you have your budget established, it's time to turn your attention to hosting plans for your business.
Related: How to begin budgeting for a new product or service
Picking a hosting company
There are a lot of hosting companies out there, each offering a different experience. A lot of them offer low introductory rates, and then spike the prices when it comes time for renewal. Some promise world-class support and then don't deliver. Even more, still, have great hosting platforms, but don't offer much in the way of supporting products.
These are all huge considerations to make.
But the No. 1 thing to determine is who's really interested in your success. For example, GoDaddy's intent is to empower everyday entrepreneurs to succeed.
It's important to look beyond the fluff of introductory pricing and really evaluate the intangibles when you're looking for a hosting company.
For the sake of this article, we'll use GoDaddy as our provider. If you choose to go elsewhere, you'll want to double-check the features and benefits, as they might not be the same.
Let's break down what hosting platforms GoDaddy has to offer. As far as getting online, this will be a major step. I'm going to break them down by average cost and capability so you can make a more informed choice of platform.
Related: How to find the best hosting company
How much does hosting cost?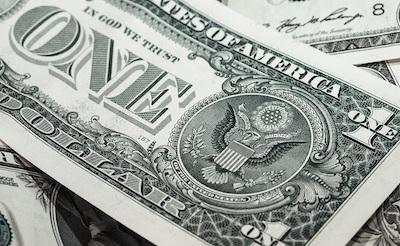 How much does hosting cost? It's probably one of the top factors you consider when choosing a plan, but the price really depends on the scope of your vision for your business. The old saying, "You get what you pay for," is true in this instance.
Going dirt cheap on your hosting solution is not recommended — regardless of where you purchase your product.
Most likely, yearly costs for hosting are going to be in the low hundreds to mid-thousands in your budget. Prices vary from company to company but keep in mind that service does as well.
Low-cost hosting solutions
With GoDaddy, you don't have to spend a lot to get a lot. If you're worried about cost, these are good options. The following hosting solutions come at an easy-on-the-budget price, yet offer considerable functionality.
GoDaddy's Website Builder. For those of you with little technical know-how, GoDaddy's Website Builder is a great option. Website hosting is included in all Website Builder plans.
This website building solution lets you get a digital presence out there quickly, as it's easy to use with the ability to get a basic website up in less than an hour.
The templates are based on statistical research, ensuring that people coming to your site will return due to the professional look and feel.
All the security is handled on the backend and an SSL is included by default — so your website visitors can feel confident that you're keeping their information safe.
GoDaddy's Website Builder packages everything you need into the plan you choose. There are no additional products to buy.
Shared Hosting. GoDaddy offers both cPanel Linux and Plesk Windows hosting for their shared hosting platforms.
These are attractive options if you want something more versatile than Website Builder.
You need a bit more knowledge about how hosting works, but you don't need to be a professional web developer by any stretch of the imagination.
With shared hosting, you have full control of hosting, but no control of the parent server. This takes away the stress of worrying about any updates or changes that you make taking the entire server offline. However, unlike Website Builder, you will need to consider the time that you will have to put in toward the maintenance of your hosting services.
Related: How to install WordPress on cPanel
WordPress Hosting. WordPress is huge. It's the most popular Content Management Systems (CMS) in the world and used by 60% of websites using a CMS solution.
WordPress powers about 30%of the world's websites, so it's not going away anytime soon.
It's a good choice for business because GoDaddy's WordPress Hosting lets you design the site of your dreams, with less in the maintenance department. You can spend more time creating content and developing customer relationships instead of trudging through the upkeep of your hosting.
Pro Tip: Every annual WordPress Hosting plan from GoDaddy comes with a free domain.
Related: How to build a WordPress website for the first time
Midrange hosting solutions
At some point, you might stop fussing about cost. If you're getting a lot of traffic, you might lose business due to slow load times because what you're currently using can't handle the volume. It's time to step up your game.
If you love the cPanel environment but hate sharing your resources, GoDaddy's Web Hosting Plus is the right choice.
You get server-level performance without the need for administration.
This is the platform you should select early on if you want to run a CMS like Magento or have unexpected traffic spikes.
Coupled with GoDaddy's Website Security and an SSL certificate, Web Hosting Plus is hard to beat.
High-end hosting solutions
When you need a solution for your now highly successful business that offers adaptability, speed and reliability — on a much larger scale — this is the route to go. Your company generates enough revenue at this point that you have an IT team, or at least a server admin/web developer on your payroll.
At GoDaddy, high-end hosting solutions come in three tiers.
Virtual Private Server (VPS). This is a cloud-based virtualization of a server. It's a stable environment to place your empire while you grow, until it's time to go dedicated. It packs power. You control everything, and no one controls what you can install.
Related: How to enable HTTPS on your server
Dedicated Server. This is your own box. GoDaddy takes care of it on the hardware side. You just make sure you take care of the website and all the other stuff.
You should either be a server admin or have one in your employment if you want to use this product.
For either a VPS or Dedicated Server, you can pick between three management styles:
Self-Managed. The setup and management of the server, including installations of other applications, lies completely with you. It's your call to make decisions and deal with the consequences. GoDaddy will make sure you can access the server, but that's it unless you upgrade.
Managed. GoDaddy will install a web hosting manager (WHM) to help make the management of the server easier. Automatic software updates will be applied occasionally. Everything else above still applies.
Fully Managed. GoDaddy will install certain things on your server for you and make sure it's running well. Some services will still come at a cost, however.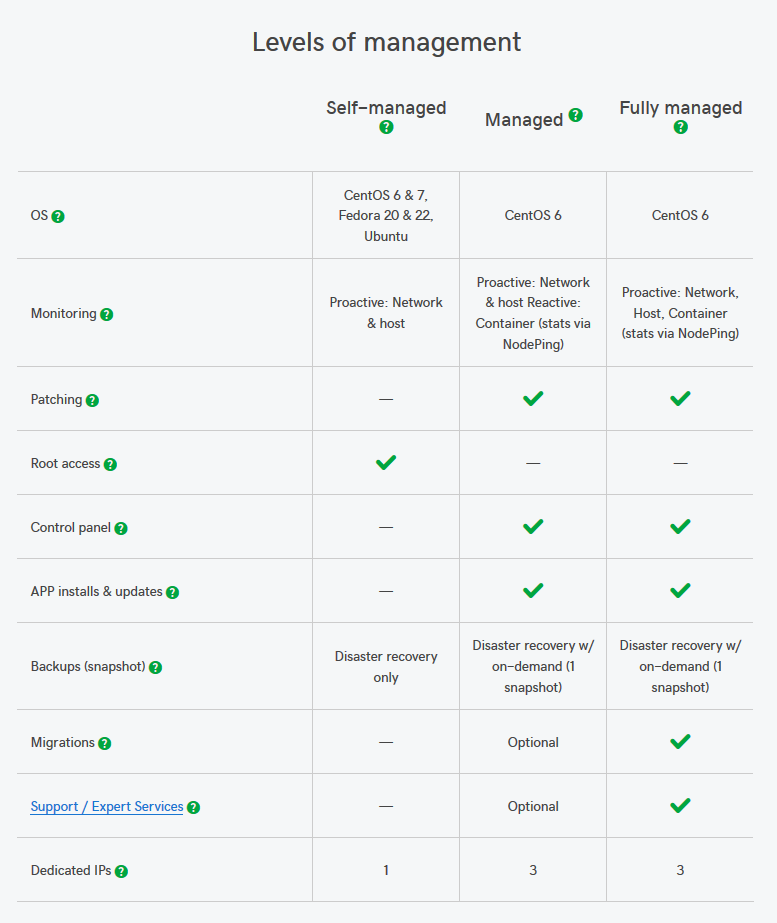 Special considerations
If you're running an eCommerce site, make sure you have plenty of bandwidth. Even a small site can soon be overwhelmed with traffic if the store becomes popular. Make sure you pick a hosting plan with at least a dual core processor.
Recommended hosting:
It's also important to lock down website security. Malware protection and an SSL are becoming mandatory today.
Want your site to show up on Google? You should probably get an SSL just in case you dislike flagging as a possible non-secure site.
GoDaddy offers Website Security as a fantastic way to keep your site free of malware without a lot of hidden costs that you'll find elsewhere.
Now you're all set for a productive, secure site!