Make online ordering easy in 5 steps
Why isn't online ordering a seamless experience by now? True, some companies, like Amazon, have it down to an efficient science. The site guides consumers from cart to checkout with ease, but doesn't hold their hands through the process either.
Countless other websites and apps, on the other hand, make placing an order a hassle. Maybe the site isn't properly optimized for mobile devices, it takes too long to load its pages or it attempts to steer customers' attention elsewhere (Apply for a store credit card now!). These little issues can present big problems for businesses, especially when consumers get fed up and decide to shop elsewhere.
If your online ordering process is causing you to lose sales, you've come to the right place.
You can seamlessly lead your customers from cart to checkout by following these five steps. Here's what you need to do.
Related: How to sell stuff online — A comprehensive guide to eCommerce success
1. Expand your online ordering channels
When it comes to ordering pizza, Domino's has covered every possible base. You can order on your phone, on their website, through their app, by texting or tweeting, with your Amazon Echo, and even through your Samsung Smart TV. Too excessive? Not if you're a pizza lover.
The reality is that consumers aren't shopping solely on their desktops anymore.
In fact, 60 percent are using smartphones, and 76 percent conduct product research on a tablet before making a purchase.
To capture this customer base, you have to make your company's ordering channels available across desktop and mobile devices. This means continually optimizing your site so it's responsive across all devices.
It also means ensuring your customer service team is covering all channels. If you commit to having several ordering options available to shoppers, you'll need to have customer service representatives on deck to answer any questions or concerns that come through in a timely manner.
Related: Start-to-finish eStore customer service tips
2. Make it easy to create an account — and offer the ability to check out as a guest
Imagine you're placing an order through a website you don't usually use, and you're forced to create an account. Now, you have to wait for the confirmation email in order to activate your account. So you wait. And wait some more.
While most sites send these emails out immediately, others aren't nearly as responsive. Maybe you hear back the next day or find the email wound up in your spam folder. But by that time, you've moved on and the company has lost the sale.
Don't let this happen to your business.
Whether a customer is ordering through a desktop browser or an app on a mobile device, pare down the process for creating an account. Request only a username and a password, and allow the customer to fill in additional account information, like billing and shipping details, once the account is created. Also, be sure to include an option to check out as a guest — you don't want to lose out on sales to folks who aren't interested in creating an account.
3. Accept several methods of payment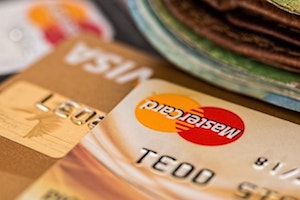 According to recent research, 56 percent of surveyed shoppers said having a variety of payment options available to them at checkout would get them to follow-through with their purchases.
It's not exactly fair to expect customers to pay with credit cards only when we live in an era of PayPal and Apple Pay. Offer a range of payment options in your online ordering process, including paying with gift cards and using promotional codes and coupons.
Related: How to encourage and accept payments online
4. Provide a delivery date up front
A majority of those same surveyed shoppers (60 percent) said that they would go through with a purchase if an estimated or guaranteed delivery date was included at the time of check out. This is crucial information for many shoppers, who may end up paying more for shipping — even if they would rather not — to receive their goods by a specific date. Include estimated delivery dates for all purchases on your site, whether they are done with expedited or regular shipping.
Related: What you need to know about shipping for small business
5. Save the distractions for after checkout
Walk into any brick-and-mortar store and you'll see racks of odds and ends clustered near the registers — everything from candy and snacks to neck pillows and plastic cups. You don't really need any of it, but why not grab a little something while waiting in line? It's an effective tactic that can boost a store's sales.
In the online ordering world, however, distractions placed before checkout can be a disaster for your business.
They can cause customers to be redirected to other pages or grow frustrated with the process. If you want to make the experience seamless, save any and all distractions until after checkout. Store credit card offers, survey requests, suggested items — you name it. Hold off until the customer has placed the order.