How to make an About Me site in WordPress
I love tryouts. I love to audition. I understand now that even for actors and actresses, this is kind of sick. If most people are terrified of public speaking more than death, auditions fall into a whole new realm of horror. People fear auditioning like they fear vampires. People fear auditioning like they fear the monsters in their closet.
But it's the perfect setup for finding talent. It's fast. It's efficient. You've got three minutes. Hand them your headshot, show 'em what you're made of, and then leave. That's it.
Sounds kinda like the Internet. Only, instead of three minutes, you've only got seconds to sell yourself.
I'm a big fan of personal web pages that you can use as a landing page to quickly show people who you are and provide links to all the places they can find you on the Internet. Just in case they like what they see.
There are a lot of great services out there that will do this. All of them make some really beautiful pages. Places like About.me and Flavors.me and Enthuse.me. They're great ways to build your personal brand and market yourself online.
WordPress is perfect for a personal marketing web page
But what if you want to make something that will grow a little? What if you want something you can customize a little more? Something that you can grow into a blog? Something that you can open up and get under the hood? If this sounds like you, WordPress might be the perfect stage on which to build your personal resume.
To show you how easy it is to get started, we're going to use a free theme called veecard. It's not the only option out there, but it's free, easy to set up, and looks great. If you're willing to put a little cash ($15 to $60) into your project, there are some other personal/portfolio themes you should also check out. Themes like Typographic CV or Chulan.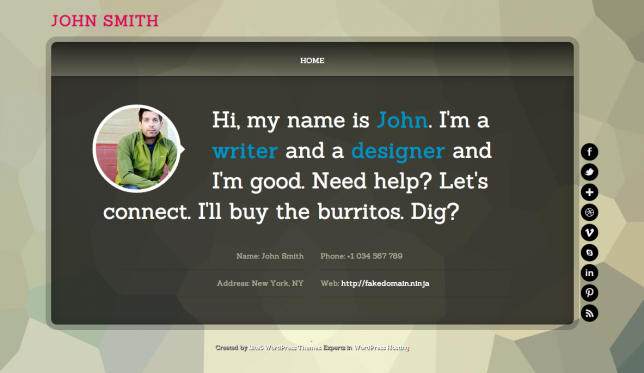 Setting up veecard
We're only doing a quick walkthrough for veecard here, but setup is straight-forward on all of the other themes we checked out and, like veecard, you can build your web page in pieces. Get something live today and add more tomorrow.
Step 1: Install the theme
This is the easy part. Download the veecard. Open up the Themes section in your WordPress Admin. Add New. Upload Theme. Choose File. Install Now. Activate. You're done. If you run into problems or really like to read all the stuff you can find on apps you play with, check out the documentation for veecard.
Once you install the theme, you'll see a Theme Options menu item in WordPress. That's where you're going to add all your information.
Step 2: Add your name and your short bio
Click on Theme Options and select the Homepage option. Add the name you want to show up on your web page. No need to get creative here; keep it simple. Under the space where you add your name, type in a short bio. Let me rephrase that: type in a VERY SHORT bio. Think of it more like a mission statement or tweet about who you are and what you do. In fact, you might want to grab your Twitter bio to start. It'll give you something to work with. Keep it short.
Anything that's wrapped in <strong> tags in this bio section will show up in a different color. It's a way to focus on key words or phrases that you want to stand out. If you're a writer it might look something like this:
Hey folks. My name is Samantha. If you're looking for a street-wise, straight-talking, poetry-loving writer, you've come to the right place.
If you're a voiceover actress it might look something like this:
I'm Stephanie. I'm a voice actress. I'm the only person you know that can sound like a movie announcer, magic unicorn, and Mr. Bean. Let's talk.
Step 3: Add your picture
If you've got a Facebook account, you have a picture you can use for your personal page. Grab that one. If you're feeling photogenic and have long arms, selfies also work. I recommend natural light. Maybe something at a café. Maybe something with bricks in the background. Try to look happy.
You might be wondering if you need a picture. Yes, you need a picture.
Step 4: Add your contact information
Veecard has four options for contact information on your home page. Birthday, address, phone number, and website. I know what you're thinking: If this is a personal site, what should I include? Should I really be publishing my address and phone number on the Internet? Well, that's up to you. I wouldn't. But I would want prospective employers or clients to know how to get hold of me and what city I'm based out of.
But, definitely not my birthday.
So, list the city you work in. Put a link to a website you work on or you're proud of. And, consider getting a second number for your business for websites and business cards. GoDaddy's SmartLine is an inexpensive choice and allows you to see who's calling, display your business number on outgoing calls, and read your voicemails.
Step 5: Add your social media profiles
This is where I think personal websites and landing pages are really powerful. It's one place where someone can find you on Facebook, Twitter, LinkedIn, Google+, Skype, and Pinterest. Instead of sending an email with a small list of places someone can find you online and see your work and what's important to you, you can send them to one page. You can send them to yourname.com or yourname.actor or your name.ninja.
Select the Social menu in veecard's options to add links to your social profiles. You can also add a custom RSS feed, if you have a blog or website you contribute to on a regular basis.
Step 6: Change your background
Almost there. This is the last step (for now). To get your personal landing page up and running we want to swap out the background image. You can totally keep the default one (it's pretty), but switching it out for something that fits who you are and what you do is the right way to go. Again, you might have something ready to go on your social media networks. Grab a background image from your Facebook, Twitter, or Instagram profiles. If that's not gonna work, try looking at a service like Death to the Stock Photo, where you can find beautiful, high-quality images that you can legally use.
To add a background image, you're gonna get out of the Theme Options section. From your normal WordPress menu, select Appearance and then Background. Make it something memorable.
Next steps
The great part about building your own personal landing page — your own About Me page — using WordPress is that you can add to it over time. You can extend it to include your portfolio, a resume, and a personal blog. Veecard includes all of these features. Check out all of their documentation for more information. For now, you have something a little easier you can refer people to.
Got some other easy-to-use resume themes for WordPress you'd recommend? Anyone tweak an existing one-page parallax business theme for their personal page? Let us know in the comments. We're always on the lookout for good stuff.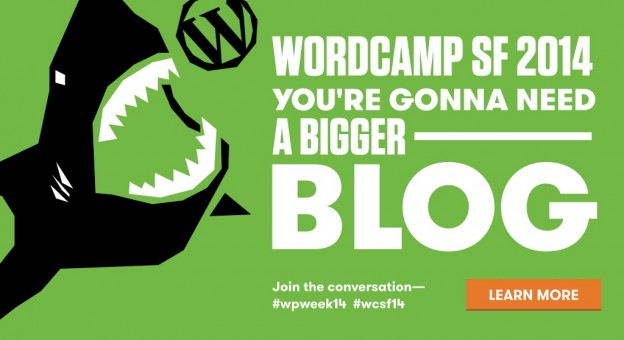 Image by: Der_Krampus via Compfight cc
The GoDaddy product information in this article is outdated and currently under review for accuracy. For the latest up-to-date product information please visit godaddy.com