GoDaddy guide to social media marketing for business.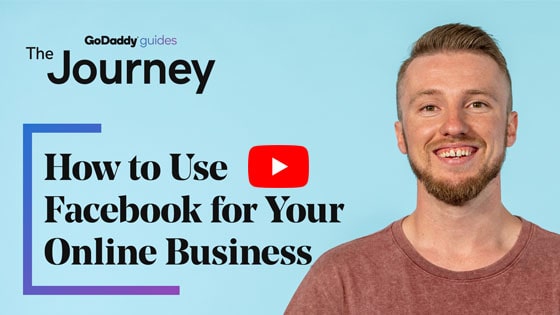 With the right strategy, social media marketing can help you drive real business results.
Using an effective social marketing strategy can help you build brand awareness and connect with the right folks to turn online interactions into lifelong customers.
From how-to videos to expertly-authored blog posts, we've got tons of inspiration and solid advice for you to use social media marketing like the pro you are.
Social media marketing for business
Social media is now more than ever a means of connecting businesses with their customers. Your current and potential customers are on social media right now looking to connect with you. We're here to help you make a statement and stand out from the crowd.
First, we'll help you create a unique brand for your business and tell your story through social media marketing. We'll give you tips to find your voice, design your brand's aesthetic, and develop a social media strategy.
Then, learn how to grow your brand.
Unleash your creative power on social media to get customers and keep them coming back.
In a successful social  strategy, you can use Facebook, Instagram and Twitter to engage loyal fans and build relationships with new customers. Post compelling content and interact with your customers on the social media platforms that matter most to them. That's what it's all about.
After all, a great brand doesn't let the customer's journey stop with one visit or one post.
Your content on Facebook, Instagram and Twitter has the power to get your followers familiar with your brand and excited about you. Show folks what your business is all about on social media, and you'll turn followers into customers.
Lucky for you, we've got exciting strategic content ideas that you can use across these key platforms and set up a compelling social media marketing strategy.
It's also important to have excellent social media customer care. Enjoy these key tips for responding to all of your reviews and recommendations across Facebook, Google and Yelp. Manage these platforms to protect your legacy.
To be a social media marketing pro, you also have to monitor your stats and measure key metrics. Measuring, analyzing and strategizing info from social media is the only way to know if your content is bringing your ideas to life and resonating with your audience.
Let your ideas thrive with social media marketing.