This post was originally published on June 6, 2019 and updated on Feb. 18, 2021.
Many small businesses, especially new small businesses, run a lean operation. They focus on necessities and urgent matters, only spending money when they need to. So, it's easy to see why some entrepreneurs might think a small business website is a luxury item they can afford to live without.
They might even believe a Facebook page is enough for an online presence, or that a sign with their phone number will generate calls, or that a traditional mailer will help them sell products.
But the truth is, a great small business website is the best way to showcase your venture.
A professional website isn't an expensive luxury or a frivolous endeavor — it's an affordable, fundamental tool that every company needs.
Editor's note: If you're ready to build your website, check out everything Websites + Marketing has to offer.
7 reasons you need a small business website
If you still aren't sure that a website is right for your business, consider these seven reasons why you need a small business website:
Let's look at why each of these reasons are important for setting up your success and how you can build a small business website and start reaping these benefits.
Then, we'll go over some things to do before you get a website, and cover how to start to build a small business website.
Let's go!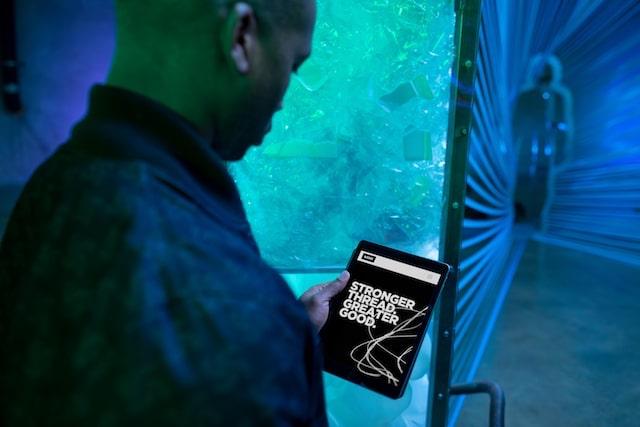 1. Use your website as an anchor for your marketing
Your marketing efforts begin and end with your website.
It's the place where you centralize all of your business information and marketing messages. It is where potential customers can go to learn about your business. And, it's where all of your other marketing efforts should drive interested customers.
Before you print a single business card or spend a penny on advertising, get a website.
Here are a few ways you can use your website as an anchor for all of your advertising efforts.
Take control over your digital brand
When you get your own website, you have a lot more control. Not only does it give you a home online, it gives you a platform to tell potential clients about your business: what you do, why you do it and who you are.
Instead of relying on someone else to tell people about your business, you get to frame the narrative and build a successful website yourself.
In terms of creating and communicating your brand, this is of paramount importance.
Editor's note: Your logo is a crucial part of your digital brand. Try GoDaddy's free logo maker today.
Put all of your important business information in one place
Make your website for local business a helpful resource so customers can visit your site to get all the details they need about your enterprise. Add information such as:
Your address
Your phone number
Contact form or contact email address
Menu or service list
Prices
Special promotions
Events
Create a final destination for your marketing efforts
When you build a small business website, you have an endpoint for all of your other marketing messages.
Produce a radio commercial? End it with a call-to-action to get more information on your website. Create flyers to hand out an event? Add your website URL so people can visit your site to learn more about your products and services.
A website is the gateway to your brand.
You own it, control it, and can use it to support all of your other marketing efforts.
Editor's note: Want a website, but would rather have a professional create the site for you? GoDaddy's Website Design Services puts a team of website professionals in your pocket. You'll have a beautiful and effective website in no time.
2. Promotes and sells your products or services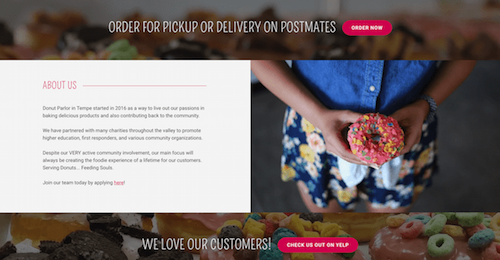 Your website for local business can act as a digital brochure, sharing up-to-date information about your offerings, as well as a direct sales tool.
It's a 24-hour sales staff that can make sales even when your business is technically closed.
Plus, you can update information in real-time — no waiting or paying for new print materials.
In addition to adding a simple product list or menu, add more to your site to help you make sales. Use your website for local business as a sales support system by adding the following elements.
Ecommerce store
When your website has an ecommerce component, you can actually do business right from your site. Customers can visit your website and directly make purchases from your brand. It acts as both the marketing and sales tool.
Set up an ecommerce site with the following elements to allow customers to purchase your products right from your site.
Payment processing
Inventory management
Shipping solution
Site security (SSL certificate)
Search feature
Integration with CRM
Coupon tools
Upselling and cross-selling features
Reporting and analytics
Customer reviews
Contact page
FAQs
It's not expensive or difficult to add these elements to a website and get the benefits of an online ecommerce platform.
Online booking calendar
If you don't have products to sell and are a service-based business, a website can also help customers take the next step toward doing business with you by allowing them to schedule an appointment, book a table, etc.
For example, a spa could create a massage website that allows their customers to schedule an appointment.
Customers love convenience, and they hate playing phone tag when trying to schedule an appointment.
The right small business website makes the scheduling process easy for both you and your customers.
Lead-generation functions
A website helps you not just make sales, but also make introductions that lead to sales.
You can set up your site to be a strong lead generation tool.
By creating an opt-in that allows website visitors to join your list, you can create a database full of interested prospects. (We'll continue the conversation on using your website for lead generation in a few minutes.)
Portfolios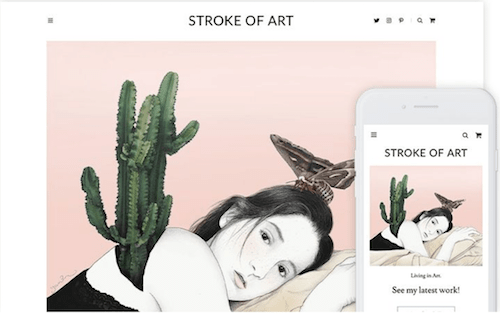 Many customers want to gather as much information about a business as they can before they choose to do business with them (especially for expensive or detailed projects).
You can use your website to help customers get the information they need by adding a portfolio to your site that includes case studies and photos of your past projects.
For example, a construction company could use a website to include some video walkthroughs of before-and-after shots of one of their large or extensive projects. The videos can be shot on a point-and-shoot digital camera and quickly uploaded to their site, providing a great way to show customers what the business is capable of.
About page
In their quest to gain knowledge before they decide to do business with you, many customers look to learn more about what your business stands for and who is behind it.
Your website for local business can help with this by including an about page that introduces your business, brand values, unique selling propositions and mission statement.
For example, a teacher's website might tell prospective students about what motivates them and what they'd like to accomplish with their students. It can discuss their background — where they went to school, special certifications, interests, etc., and include high-quality images or a video to help interested students learn even more.
Active blog
A blog is another way to allow customers and clients to get to know you (and your products and services).
You can share a wide range of content that shows off your expertise in your industry, how to get the most out of your products, and/or the ideas behind your products and services.
Plus, having a blog with fresh daily content can increase your search rankings.
3. Connect with new customers (and keep existing customers)
More often than not, people turn to the internet when they have a problem. When you have a website for your small business, you are there when customers search to find a solution to their problem.
Use your small business website to help new customers find you
When people want to find something, almost unilaterally, they search for it on Google. In contemporary parlance, it's not enough to say that Google is just a "search engine" — they've become more like the gatekeepers of the world's information. One part encyclopedia, one part mapping service, one part directory, and 10 parts everything else.
With so much sway over people finding stuff, it's a good (read: necessary) idea to make sure your business is included in Google's search results.
Without a website for your business, unfortunately, you have very little control over that happening.
Use your small business website to keep existing customers engaged, informed, and well served
Don't forget about your existing, hard-earned customers, either.
When you get a website, it gives customers a base to reach you 24/7.
You never know when someone's going to be in dire need of your services, and without a website, you lose potential business from people who already know (and support) you.
Imagine this: you're a local jeweler, specializing in reclaimed precious metals. You have two wonderful clients, Michael and Liz, who purchased their wedding bands from you a few months ago. As much as Michael loves his beautiful new wife, he's a little absent-minded and forgot her birthday is in two weeks — but he remembered at 10 p.m. Friday night.
Without a website, he's going to have to wait for you to come in Monday morning to place an order, and to assuage his anxiety, he might just take his business elsewhere. With a website, though, Michael could simply log on and buy the rose gold band Liz has been eyeing for months from your shop. Crisis averted for Michael; loyalty earned for you.
Use your small business website to generate leads
In addition to helping attract new customers and retain existing customers, your website for local business can also help you with the customers who fall somewhere in between.
Your website can help you generate leads from prospects and turn them into paying customers.
To generate leads on your site, add an opt-in offer such as a coupon, free eBook, entry into a contest, etc.
Require audiences to enter their content information to receive the offer.
Once you have their contact information, continue to nurture the prospect through email marketing campaigns.
This approach allows you to use your website to make a lasting connection with site visitors who aren't quite ready to buy and continue to develop the relationship to get them to eventually do business with you.
4. Compete with big brands
One misconception about websites is that they're only for national companies or worldwide corporations with audiences around the globe. Actually, websites are just as, if not more, beneficial for small businesses.
They provide a great opportunity for local businesses to connect with local customers.
Search engines prioritize local search and often rank results according to location, which is a benefit to local businesses.
With local search, if you're looking for "shoe stores near me," Google won't offer you a name-brand result in New York (unless of course, you live in New York). It will use local search to show you a list of nearby shoe stores.
What is local search?
Local search refers to Google's search algorithm factors that are designed to show nearby results to a user. It considers relevance, distance, and prominence when delivering results.
Rather than showing websites with the most influence (like that of a large brand), it shows relevant, local businesses that are related to the search.
This process helps small businesses stand out as a local search for "shoe stores" won't just show large, national brands; it will also show local businesses that are near the searcher.
Get your website to show up in local search
There are certain steps to take to help your small business show up in local search, including:
Create a Google My Business page and add your website.
Add your business to business directories and add your website.
Make sure your NAP (name, address, phone number) is consistent all across the web.
Add your business address in your website footer.
It's pretty clear — an online presence has big benefits even for small businesses who deal locally. No matter where you are located, you can get started with an efficient website that draws in customers.
5. Get a website and build your business's credibility
A small business website makes your brand look legitimate, serious and credible. Without it, customers can't find you, let alone learn to trust you.
Not showing up in the search engines (or on the internet at all for that matter) is one of the fastest ways to lose credibility as a business.
It makes you and your company look dated, out-of-touch, and untrustworthy.
Even if you're fantastic at word-of-mouth marketing, you could be missing out on a ton of referrals. Happy customers are quick to share what they think about your business, but what about their friends who haven't experienced your services yet? They'll take to the internet. And when they come up empty-handed, you'll have missed your chance for brand new customers.
Websites also make businesses feel more legitimate. Visitors can check you out and get a sense of what kind of business you run and, hopefully, become your customers. Plus, you can add a variety of on-site elements that make your brand look even more credible.
Website elements that build your credibility
Get a website to build credibility and make sure it includes the following elements.
Original photos: Rather than fill your site with stock images of staged scenes, take original photos of your business, staff, products, and services in action.
Before-and-after photos: Use photos to show off the value and quality of your work. Include before-and-after photos of what you can accomplish through your services.
Testimonials: Collect reviews and statements from customers and post them along with photos of the reviewer.
Logos of clients: If you operate in the business-to-business space, let clients see the other high-end clients that you work with. Include logos of clients you've worked with or have helped.
Logos of affiliations: Also include logos of authoritative, trustworthy companies or associations you are affiliated with. Display logos of industry organizations that you are partnered with or a member of.
SSL certificate and security logos: Add an SSL certificate to your site to add an extra layer of security to your website so customers can safely share personal and financial details. Also, display logos for the type of security software you use to protect information on your site to get customers to trust your site as they enter sensitive details.
Links to active social media profiles: Include links to your active social profiles so audiences can go to your other platforms to gather more proof that you are a trustworthy, active, and engaged company.
Informative blog: To get customers and clients to trust your company, show them what you know by writing informative blog posts. Sharing your knowledge helps your customers, gives them a reason to visit your website, and also makes them see you as an authority in your industry.
Terms and conditions page: At the bottom of your site include a link to a terms and conditions, disclaimer, and privacy policy page. These pages act as an agreement between your brand and site visitors and allows you to tell audiences what you are doing with their information and how they should use your site.
Website elements that break credibility
On the flip-side, there are things that can appear on your site that can quickly bring down your credibility. Make sure to avoid having these elements on your site.
Outdated information
Incorrect information
On-site errors
Spelling and grammar errors
Old, outdated layout
Work to keep your small business website up-to-date and operating properly to avoid losing trust with customers as they navigate around your website.
6. Control your online destiny
When you run your own website, you're in control of both the content you produce and the platform you maintain. This ownership gives you two major benefits.
You can control your brand story and business information
If your business relies on a third-party platform for your web presence, you're at their mercy. You can rely on review sites like Yelp to be the only way customers find you, but you're risking a lot: bad reviews, incorrect contact information, and no way to easily get more information about you.
It doesn't communicate your brand's vision or energy, either.
When you build your own site, you control what audiences see about your business.
You control your brand story and can ensure that only correct details about your business are being presented to customers.
You control your platform
To avoid setting up a website, some small businesses set up a presence on another platform like Facebook, Medium or YouTube. They believe that they can get the same benefit of having web visibility without needing to develop their own platform. But this could be a big mistake.
When you build your brand on a third-party platform, you are locked into their platform. They own your platform, you don't.
So if they change their guidelines, shut down, or decide that they don't for any other reason that they don't want you on their platform — they can kick you off. Your platform could be shut down with no input from you.
When you build a small business website on your own, you are in control. No other brand controls your story or your platform.
7. Websites for local businesses are simple and affordable to set up
Many small business owners rely on using third-party platforms or avoid setting up their own website because they think it's complicated or expensive.
But building and maintaining a website is easier and cheaper than ever before. Even if you aren't tech-savvy or creative, you can now use simple web publishing tools to quickly build a website.
With cheap hosting options that include a free domain, there are no more excuses.
If you're putting off building a website, you're hurting your business. It's time to get started! To help you take a step forward, use these tips to get prepared to build your site.
Things to do before you get a website
It can be a bit overwhelming when you are starting a website. To help you through the process, go through the following steps before you start to build a small business website.
Create your brand identity
Your website should accurately match and reflect your branding. So before you start designing and laying out your site, develop your brand identity. These details will drive the design and look of your site.
Brand colors
Logo
Font and typography
Photos of your business, team, products, etc.
Identify the primary purpose of your website
A small business website can serve many purposes and act in many ways, but it's helpful to know the top one or two main purposes of your site. That way, the site can be optimized for that purpose. The main purpose of your site may be to:
Attract traffic and grow an audience
Show your products
Share what you know
Advertise your business
Entertain your readers
Decide what you want users to do when they get there
It's great to get people to visit your website. It's even better to give them something to do when they get there. Decide what you want your audience to do when they get to your site before you start creating it so you can lay out the content and conversion points to drive users to take action. That action could be to:
Sign up for your list
Schedule consultation
Schedule an appointment
Buy a product
Visit your physical business.
Call your business
Create content
You can't launch a website without at least a little bit of content. When first launching a site, it might be overwhelming to think about all of the content you need. So before you start building your site, take steps to create the initial content you'll need to launch. You can develop other content later. Start with creating an:
About page: Create a page that describes who you are, what you do, who you serve, what makes you different and why you do it.
Product or service list: Create a page that introduces your top products and/or services.
Launch blog post: Create a blog post that announces the launch of your new website.
Start to build a small business website
Now you know why it's absolutely essential for a small business to have a website. A website is not a luxury or bonus marketing tool.
It's something you must have so you can:
Have anchor for your marketing efforts
Sell your products/services
Connect with new customers (and keep existing customers)
Compete with big brands
Build your credibility
Control your online destiny
Market your business in a simple and affordable way
To start reaping these benefits, take these steps to build a small business website.
Pick your domain name
Once you decide to get a website, pick a domain name that works best for your brand. To choose the best domain name:
Make it easy to type.
Keep it short.
Use keywords.
Target your area.
Avoid numbers and hyphens.
Be memorable.
Research it.
Use an appropriate domain extension.
Protect and build your brand.
Act fast.
Go ahead, give it a try:
Even if you aren't ready to build your site today, secure your ideal domain name so no one else can register and use it.
Choose your website builder
For a fast and affordable small business website that you can build yourself, start your free trial with GoDaddy's Website Builder. You can choose from a variety of industry-related designs to get your site started in under an hour.
Build a professional and attractive website quickly using industry-specific templates. Enhance your brand with marketing tools, create engaging social media content, and manage all aspects of your business from one centralized location. Choose the best website builder that fits your needs and business goals.
Configure your online store
If you have products to sell on your site, add the required details to start to process payments and manage purchases. With GoDaddy's Online Store, you can easily and quickly add shipping methods and set up your site to receive payment from major credit cards, PayPal, and Apple Pay.
Add products and content
The heart of your website is content. So once you get a website, start adding content that engages, informs, entertains, and serves your customers. Create landing pages, blog posts, and product descriptions, and add photos that help customers get to know your brand as well as your products and services.
Preview and publish
When your site is ready to go, preview it on multiple screens to get a feel for the experience on devices ranging from tablets to mobile phones. When you use a responsive design, the site will adjust depending on the screen size. So browse a few screen sizes to ensure that your site works well on a variety of devices. Once you nail down the design, click to publish and begin promoting your business.
Start your website for local business
Now that you know why you need to build a small business website and how to take the first steps toward creating your site, get started now. Start promoting your business the right way. Launch your small business website today.
This article includes content originally published on the GoDaddy blog by the following authors: Sergey Grybniak and Genevieve Tuenge.