Enterprising entrepreneurs start businesses during U.S. government shutdown
The entrepreneurial spirit is bringing hope — and income — to some U.S. government employees and contractors hit by the longest partial government shutdown in U.S. history. The shutdown is affecting an estimated 800,000 federal employees (both furloughed and working without pay) and 4 million contractors who work for nine out of 15 federal agencies. We're collecting and sharing an ever-growing list of affected workers who are making their own way in the midst of the furlough by starting businesses and launching side hustles.
Below is a list of businesses that have been started by furloughed government workers or their families, collected from social media and direct outreach. Have a business you'd like us to add to the list? Check out the instructions at the bottom of the post.
Related: Comprehensive list of resources for starting a business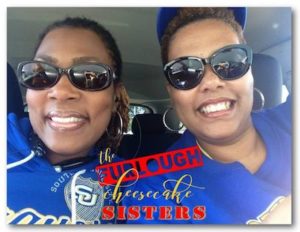 For the Maryland-based "furlough cheesecake sisters" — Jaqi Wright, who works for the U.S. Department of Justice, and Nikki Howard, who works for the FDA — entrepreneurial inspiration struck on New Year's Day. That's when Jaqi and her mom were enjoying sister Nikki's homemade cheesecake and realized it was delicious enough to sell.
"Initially we were facing a bit of a dilemma having to get our bills paid," Nikki said during an interview with CNN. "You get your furlough letter and they tell you to take your letter and you can use it with your creditors … but not so much. So we had our electric bill due; I have a college student who is going back to school in a couple weeks and that bill is due — so it's a whole lotta pressure trying to figure that thing out. So when Jaqi and our mom said, 'hey, we can do this,' I was all ready to do it and we jumped right in."
They are now selling their cheesecakes online for $29.98 each.
"It's been a blessing, all the love and the outpouring that's been coming in," Nikki continued, "and we hope to encourage people during this time."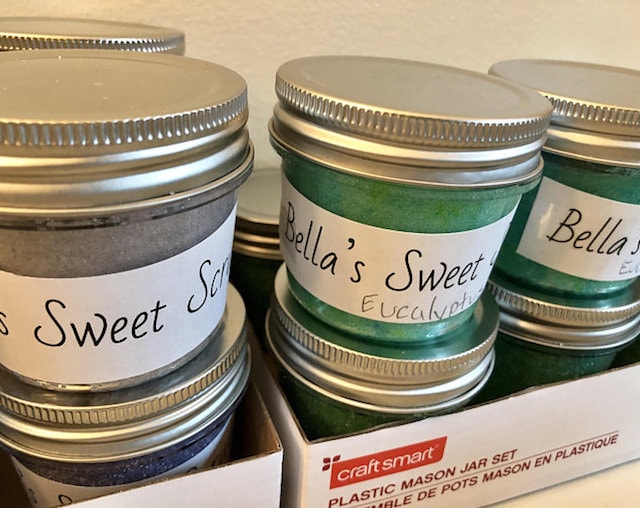 Who says only grownups can start businesses? Fifth-grader Bella Berrellez of Montgomery County, Maryland, launched a new business selling her handmade organic sugar body scrubs after the government shutdown resulted in her mother's furlough from the FDA. "My mind was just going through like, how can I help, how can I contribute to my family?" Bella told her local news station. Bella started selling her handmade products on Etsy, launched a Twitter account to help promote her entrepreneurial shutdown effort, and even delivers her scrubs to local buyers for an extra 50 cents.
Bella is selling her body scrubs online for $7 each.
It's not just furloughed employees trying to ease the pain of the government shutdown. To bring some cheer (or a few cheers) to furloughed employees, food writer Nevin Martell, food community Mess Hall, app developer 3Advance and activist Erick Sanchez started PayItFurloughed.com.
Built on the principle that "beer makes everything better," the website lets anyone buy a local craft beer for federal employees affected by the shutdown. In only days since the launch on January 13, more than 1,500 beers have been donated. Not only does it offer support to stressed out furloughed employees, but also brings in business for local breweries in the capital.
"Breweries have been hit really hard by the lack of foot traffic," Nevin told USA Today. "This seemed like a cool way to help everyone out in a fun way. What's more American than beer?"
Donated beers are available to any federal employee or contractor, 21 or older, furloughed or working without pay with valid I.D. at four participating breweries in Washington, D.C. (at the time of writing). Visit the website for donation and redemption details.
Some furloughed employees, like John Deal, are turning to their existing side businesses to support them full-time.
Deal, along with his wife, is a NASA contractor. Now that they are both furloughed, he is focusing on a different business. He has owned Deal's Heating and Cooling Company in Yorktown, Virginia for more than 25 years, though it was always his side hustle. Now, in the midst of the shutdown, it has become his full-time job. However, according to Deal, the timing isn't optimal.
"Nobody wants to spend money after the holiday, so [it's] kind of slow this time of the year," he told ABC News.
Becky Brown, a lawyer at the Department of Homeland Security in Washington, is no stranger to side hustles and government shutdowns. She registered a domain name with GoDaddy in 2011 and began to work on the blog, My Utensil Crock, in earnest in 2013, particularly during the shutdown that year.
This time around, she's focusing on a different venture: greeting cards.
"In a meeting at work, someone said something that was a total shared experience for employees at our agency, and we all laughed. Then he said, 'there should be a card for that,'" Brown recounted. With a greeting card line already under her belt, Brown knew this would be her next project and Federalisms™ was born.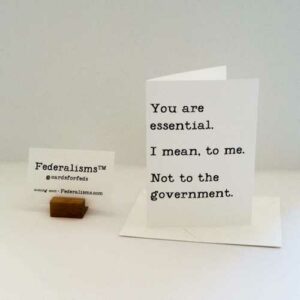 She registered federalisms.com with GoDaddy in December 2018, shortly before the shutdown began. Though she started the business pre-shutdown, it has allowed her to get it moving much faster than she originally planned. Production on the cards has already started and she plans to connect with retailers by the end of January.
Share your story
Have you started a business or side hustle during the government shutdown? We'd love to hear your story! Please share on Twitter or Instagram using the hashtag, #makeyourownway and we'll check it out and get it on the list.